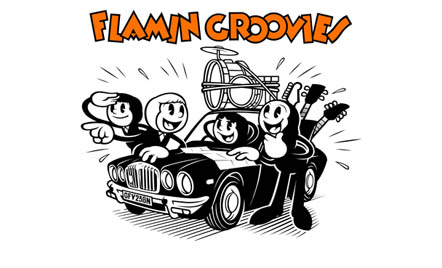 CLICK HERE TO LISTEN TO THE PREMIERE OF THE FLAMIN' GROOVIES' FIRST RECORD IN 30 YEARS!
AUDIO PREMIERES: Song Premiere: Hear 'Crazy Macy,' The Flamin' Groovies'
To celebrate their 50th anniversary, legendary punk forefathers and powerpop pioneers the Flamin' Groovies are releasing the new 7-inch vinyl single "Crazy Macy" on Record Store Day (April 16) via Burger Records. But you don't have to wait until Record Store Day to hear it… because Yahoo Music is premiering the audio right now, right here!
Written by Groovies founder Cyril Jordan and longtime lead singer Chris Wilson, "Crazy Macy" is the band's first new record in 30 years. Jordan tells Yahoo Music the song "was inspired by an episode of the TV show The Untouchables. It was about a crazy woman in Chicago who went on a bank-robbing shooting spree with a Thompson submachine gun. In the show, Walter Winchell says, 'She went down in a hail of bullets!' I think it would be a good song for Jerry Lee Lewis to do."
Additionally, the single, which is available for preorder on both 7-inch vinyl and cassette HERE, will feature the B-side "Let Me Rock," which was the first track penned by Jordan and Wilson in the early '70s but was only officially recorded recently. "'Let Me Rock' is the very first song Chris Wilson and I ever wrote together… right when he first moved in with us in my mother's house," Jordan recalls.
2016 looks to be a hot comeback year for the Flamin' Groovies, who reunited in 2013. In addition to the "Crazy Macy"/ "Let Me Rock" Record Store Day single, that day will also see the Rhino Records release of a limited-edition Warren Zevon/Flamin' Groovies "Werewolves of London" split picture disc, as part of Rhino's SIDE BY SIDE series. A new Groovies studio album and documentary film are also in the works.
https://www.yahoo.com/music/song-premiere-hear-crazy-macy-the-flamin-194029556.html