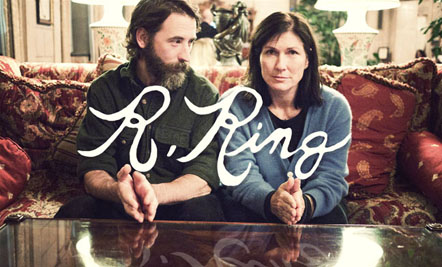 R. RING (FEATURING THE BREEDERS' KELLEY DEAL & AMPLINE'S MIKE MONTGOMERY) TO KICK-OFF U.S. SPRING TOUR APRIL 21ST IN CINCY!
R. RING'S 7″ VINYL SPLIT-SINGLE W/ KENTUCKY GARAGE-ROCKERS QUAILBONES OUT THIS JULY VIA SOFABURN RECORDS!
YAHOO! MUSIC PREMIERES R. RING'S NEW TRACK "SINGING TOWER"! CLICK HERE TO LISTEN
R. Ring is Kelley Deal and Mike Montgomery. It is voices, guitars and keys. It is sparse, chaotic, abrasive and lulling, often within the same song. It is new. It is, at the very least, a stark departure from the music they make in their other bands (Kelley with The Breeders and Mike with Ampline).
Kelley lives in Dayton, Ohio. Mike lives in Dayton, Kentucky.
R. Ring's 7″ split-single with Kentucky-based garage rockers Quailbones will feature the two respective songs "Singing Tower" & "A Tip to Trick the Tide" and will be released this July in 7″ vinyl & digital formats via Sofaburn Records. While this won't be available for a few months yet, R. Ring will be producing an extremely limited (100) handmade, custom-packaged version of it as a 12″ vinyl LP with screen-printed artwork just for thier upcoming tour (dates below).
In addition, R. Ring will also be putting out a second 7″ split-single this spring with another great act. Details to be announced soon.
R. Ring will be on tour all spring and will be joined by drummer Jose Medeles (The Breeders / 1939 Ensemble ) for a week of dates in the Pacific Northwest, before drummer/professional skater Kristian Svitak (The Heartaches / Swami Records) joins them for their leg back home from L.A.
R. Ring's friend Ali Calis at Able Projects in Cincinnati did the great poster art (above) for them depicting the "SS R.RING" atop a frothy sea, charging head-on into a giant, angry octopuss. R. Ring titled it, "Peril" and Ali of course titled it, "Pussy." So… they present to you the following confirmed dates for their 'Pussy-Peril' Tour!
R. RING'S "PUSSY-PERIL" TOUR DATES
4/18 – Wooster, OH – Lucky Records w/ Buffalo Killers and Ampline (noon)
4/18 – Dayton, OH – Omega Music w/ Buffalo Killers and Ampline (6pm)
4/21 – Cincinnati, OH – Northside Tavern
4/30 – Dayton, OH – Canal Public House
5/01 – Chicago, IL – Empty Bottle
5/02 – Madison, WI – Frequency
5/03 – Minneapolis, MN – 7th Street Entry
5/04 – Fargo, ND – The Aquarium
5/05 – Billings, MT – Pub Station
5/06 – Spokane, WA – The Bartlett
5/07 – Seattle, WA – Sunset Tavern
5/10 – Portland, OR – Mississippi Studios (w/ Bed)
5/11 – San Francisco, CA – Elbo Room (w/ 1939 Ensemble)
5/12 – Los Angeles, CA – Satellite (w/ 1939 Ensemble)
5/14 – Albuquerque, NM – Launchpad
5/15 – Denver, CO – Hi Dive
5/16 – Omaha, NE – O'leavers
5/17 – Lawrence, KS – Replay Lounge
5/18 – Columbia, MO – Cafe Berlin
5/19 – Louisville, KY – The New Vintage (w/ Quailbones)
(more dates to be announced soon)
MORE INFO ON R. RING:
http://rring.tumblr.com
https://www.facebook.com/rringsings
MORE INFO ON QUAILBONES:
https://www.facebook.com/quailbones
MORE INFO ON SOFABURN RECORDS:
http://www.sofaburnrecords.com
MEDIA & INTERVIEW REQUESTS:
Tony Bonyata
Pavement PR
e: tony[AT]pavementpr.com
http://pavementpr.wpengine.com