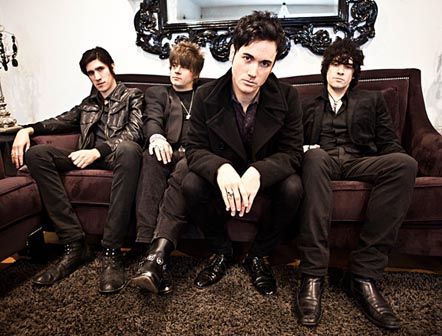 CLICK HERE TO LISTEN TO THE PREMIERE OF PRIMA DONNA'S KILLER NEW ALBUM "NINE LIVES & FORTY-FIVES" IN ITS ENTIRETY VIA YAHOO! MUSIC… AND FER GOD'S SAKE, TURN IT THE HELL UP!
Hear It First: Prima Donna's New Album, 'Nine Lives and Forty-Fives'
by Wendy Geller
Los Angeles-based band Prima Donna is doing its part to keep rock 'n' roll alive with the upcoming release of its latest album, Nine Lives and Forty-Fives, due out February 10. Yahoo Music is excited to offer fans a first listen to the set a full week before official street date.
Frontman Kevin Preston, who's also a member of the Green Day side project Foxboro Hot Tubs with Billie Joe Armstrong had this to say of the record: "We wrote and recorded Nine Lives and Forty-Fives during a marathon touring schedule. We even ended up recording a few of the songs in Italy. Every song has a different vibe, but all in all, it's a no holds barred rock n' roll record."
https://www.yahoo.com/music/hear-it-first-prima-donnas-new-album-nine-110002481546.html