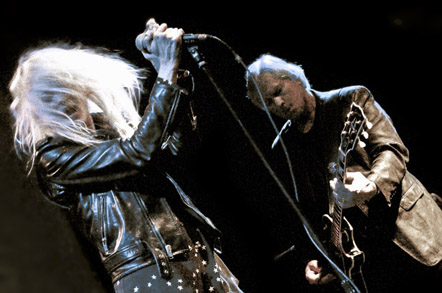 James Williamson with Alison Mosshart (photo: Heather Harris)
CLICK HERE TO WATCH THE FULL CONCERT JAMES WILLIAMSON'S RECENT L.A. CONCERT WITH ALISON MOSSHART, JELLO BIAFRA, JESSE MALIN, LISA KEKAULA, CAROLYN WONDERLAND, JOE CARDAMONE & MANY OTHERS RE-INTERPRETING STOOGES' RARITIES FROM JAMES' "RE-LICKED" ALBUM!
ELECTRONICS ENGINEER & STOOGES' GUITARIST JAMES WILLIAMSON NAMED 2015 RECIPIENT OF RONALD H. BROWN STANDARDS LEADERSHIP AWARD. CLICK HERE FOR MORE INFO
SET LIST FROM JAMES WILLIAMSON & FRIENDS' "RE-LICKED" 01/16/15 SHOW FROM THE BOOTLEG THEATER IN LOS ANGELES
1. "Head on Curve" w/ Jello Biafra (Guantanamo School of Medicine / The Dead Kennedys)
2. "Open Up and Bleed" w/ Carolyn Wonderland
3. "Scene of the Crime" w/ Joe Cardamone (The Icarus Line)
4. "She Creatures of the Hollywood Hills" w/ Frank Meyer (Streetwalkin' Cheetahs)
5. "Till The End of the Night" w/ Alison Mosshart (The Kills / Dead Weather)
6. "I Got a Right"w/ Lisa Kekaula (The Bellrays)
7. "Pinpoint Eyes" w/ Joe Cardamone
8. "Wild Love" w/ Jesse Malin & Alison Mosshart
9. "Rubber Leg"w/ Ron Young (Little Caesar)
10. "I'm Sick of You" w/ Frank Meyer
11. "Gimme Some Skin" w/ Carolyn Wonderland
12. "Cock in My Pocket" w/ Shea Roberts (The Richmond Sluts)
13. "Heavy Liquid" w/ Lisa Kekaula
14. "Wet My Bed" w/ The Richmond Sluts
Encore
15. "Search and Destroy" w/ Cheetah Chrome (The Dead Boys), Jesse Malin, and Jello Biafra
16. "Louie Louie" w/ James Williamson & Friends
HERE'S WHAT PEOPLE HAVE BEEN SAYING ABOUT JAMES WILLIAMSON'S RE-LICKED ALBUM:
"Unsurprisingly brilliant." – NME
"'I Gotta Right,' the second single from Re-Licked. is a manic, guitar-blazing rocker featuring belter Lisa Kekaula of The Bellrays." – USA TODAY
"James Williamson's aggressive guitar style may be the most influential in punk." – NPR's WORLD CAFE
"An avalanche of raw riffs… and Williamson playing white-knuckled leads like he absolutely refuses to let the Stooges' music go gentle into that good night." – PREMIER GUITAR
"…hard-charging, fast-paced punk" – EXCLAIM!
4 STARS! "A raft of top-notch guest vocalists (Lisa Kekaula, Bobby Gillespie, Ariel Pink, Mark Lanegan, Jello Biafra et al) bring the attitude while the band (featuring the remaining Stooges in parts) tear through what prove to be timeless tunes like the intervening years never happened. Inspiring." – THE MUSIC.COM-AU
"…a karmic correction" – HARVEY KUBERNIK
"This completely f*ckin' smokes." – DANGEROUS MINDS
"Williamson's axe still packs a formidable onslaught." – SHINDIG!
"Williamson reworks obscure Stooges songs with a dream line-up of vocalists. Great as Raw Power is, Iggy and James had more to offer still; here's some long-delayed proof." – VIVE LE ROCK
"Williamson himself still plays with a young man's vigour, alternating exhilarating unstable solos with murderously focuses riffs. And Jesus, that tone… you could shave Brian Blessed with it." – RECORD COLLECTOR MAGAZINE
4/5 STARS! "Every musician on this album brought his A game, and Re-Licked is a great listen. James Williamson has hit a home run with this one, and it's maybe the best Stooges record yet." – PUNK GLOBE
"Re-Licked is a kicking itself out of the garage with an intent to seek and destroy all naysayers, and along for the ride are some very special guest stars." – ARTROCKER
"The lion's share of Re-Licked effectively recreates what could and should have been the Stooges' second Columbia album, at the same time – and this is the important part – as liberating the songs' reputation from the concert environment. Some of the reworkings serve up what you'd expect, and are as great as they ought to be, too. But the real winners are the left field choices. Ariel Pink transforms the always-under-rated "She Creature of the Hollywood Hills" into a breathless slice of garage jazz fusion; Alison Mosshart's "'Til The End of the Night" is vividly chilled torch – not the band's first bona fide ballad (that was probably "Gimme Danger"), but their first to sound like one, and Joe Cardamone concocts such a beautifully swaggering "Pinpoint Eyes" that you can almost hear the original Stooges cheering him on from their bar stools." – GOLDMINE MAGAZINE
"A star-studded fuzz fest… Re-Licked rounds up vocalists from the famous to the obscure to rescue The Stooges' mythical post-Raw Power repertory. Scruffy, in-the-red backing is suitably Stoogian, but the material is impeccable." – UNCUT
"… gruff and propulsive" – CONSEQUENCE OF SOUND
"When you think of the sound of punk rock, real punk rock, what you hear is the sound James Williamson created in 1973 by plugging his Gibson Les Paul Custom guitar into a Vox AC30 amplifier and cranking it up until your ears bleed." – VH1.com
"…the 'Great Lost Stooges' album of 1974." – OUT MAGAZINE
"It goes without saying that the songs boast plenty of Williamson's firebreathing guitar… he remains a riffmeister supreme. Re-Licked is as ball-busting a rock & roll record as any to come down the pike in 2014." – BLURT MAGAZINE
"This project isn't just a re-hashing of old material, in fact far from it. Williamson has spent over a year bringing the tracks to life and finding the right vocalist for each song with the absence of Pop." – ABC12-TV
"These are some of the greatest rock 'n' roll songs ever written…. as killer a rock 'n' roll album as you're going to hear in these days of increasingly diminished expectations." – James Marshall / PLEASE KILL ME.com
FOR MORE INFO ON JAMES WILLIAMSON:
http://straightjameswilliamson.com