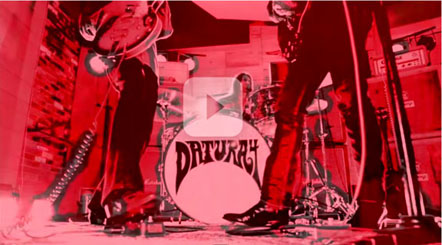 CLICK HERE TO WATCH DATURA4'S NEW TRIPPY NEW VIDEO "ANOTHER PLANET" VIA YAHOO! MUSIC
See It First: Datura4 Premieres 'Another Planet'
by Wendy Geller
Datura4 is the brainchild of Dom Mariani (frontman of legendary Australian garage rockers The Stems and Power Pop favorites DM3) andGreg Hitchcock (former You Am I and one-time New Christs' guitarist). In 2011 they joined forces combining a shared passion for full-tilt boogie, psychedelic rock, and progressive blues.
Yahoo Music is excited to premiere Datura4's new video "Another Planet," a track from their recently released studio album, Demon Blues, out via Alive Naturalsound Records.
As Mariani explains of the song: "Another Planet – the last song written for the album. We'd recorded the main bed live, but were unsure of how it would end up and I was feeling that it may not make the cut. The spontaneous guitar solos were cool, but it was the walking bass that was to play a major part in the groove, and once the layered vocals and signature guitar intro were complete, it really took shape. We had something special.
"The video was done by our friend Robbie Harrold who has a real interest in space science fiction. His ideas of using slow-motion shots set against the vibrant colours of the space-scapes give it a zero gravity, trippy feel."
https://rising.yahoo.com/post/129716313003/see-it-first-datura4-premieres-another-planet