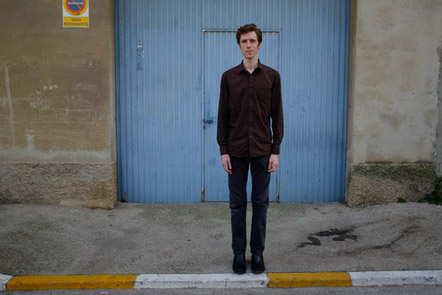 CLICK HERE TO LISTEN TO DANIEL MARTIN MOORE'S NEW SINGLE "HOW IT FADES" FROM HIS FORTHCOMING ALBUM "GOLDEN AGE" VIA YAHOO! MUSIC
"Our golden age is here," Daniel Martin Moore sings on the title track of his latest offering, and he could easily be singing about his own career. Moore has steadily gained a following as one of our most emotive and haunting singers since his acclaimed debut back in 2008. Those deeply moving vocals are pushed to new heights on Golden Age, which he coproduced with Jim James of My Morning Jacket.
The album is also a whole new sound for Moore. Known for his meditative singing and guitar-driven melodies, Golden Age manages to hold onto that calming element while also giving Moore a more upbeat quality on a larger canvas.
"We wanted a bigger sound—full band treatments, strings, outer-space, and less guitar," Moore says of his collaboration with James. "It was Jim's suggestion that we start each song from the perspective of the drums & bass, finding the right foundation, and then seeing how the rest of the instrumentation would fit into that. In the past, it had very much been the other way around—everything was based around what my guitar was up to. We turned that on its head for this record."
The result is Moore's best album to date. Golden Age defies description beyond being a solid and beautiful record. Lyrically tight and sonically adventurous, here is an album that demands you tap your foot along on tunes like "On Our Way Home", sway to the deep grooves of the profoundly singable "Our Hearts Will Hover" as it builds to its perfect mixture of piano and eerie electric guitar. The listener will sink into the cloud-like vocals and pensive melody of a song like "In Common Time" and be mesmerized by the humming perfection of "Lily Mozelle" or the eyes-closed-with-feeling singing style displayed on "Proud As We Are" that finds Moore remaining sultry and low while the instruments climb toward full exhilaration. The record fairly bursts with emotion, chiefly hope, and firmly establishes a new chapter in the interesting evolution of Moore's music.
His debut was a storied one: after serving in the Peace Corps, Moore sent an unsolicited four-song demo to the legendary Sub Pop Records that garnered him a record deal. Sub Pop released three of his records: Stray Age in 2008, co-produced with Joe Chiccarelli, Dear Companion in 2010, an album of duets with acclaimed cellist and singer Ben Sollee, which James also produced, and In the Cool of the Day in 2011, a deeply spiritual album that reimagined gospel. Along the way he played at the Newport Folk Festival, toured the world, and became a darling of NPR. Moore went on to found his own record label (OK Recordings) and released two more albums (Farthest Field in 2012 with Joan Shelley, and Archives, Vol. I. in 2013). Through it all James has been one of his biggest supporters and frequent contributors. Their artistic vision gelled completely on Golden Age.
James says the album is much like "a flower tucked back in the tall grass" and hopes that listeners "will recognize themselves reflected back from the sounds…and discover a magical place for their mind to wander and wonder."
Moore found James's presence a centering force. "He is always encouraging the pushing of boundaries. It's in his nature to expand and elaborate until he finds the spot he's looking for. He's a deep well of creative energy – it's like he can see the way the future bends the present."
Golden Age manages to be a lament but also hopeful at the same time. For Moore the album is very much about "the nature of togetherness and how our perspective shifts when we lose someone, when we gain someone."
Even more interesting than the profound themes of the album is the sound.
The record is populated by a fine cast of players and singers including a masterful Dan Dorff, Jr. on piano, organ, and keyboards; Dave Givan providing rousing percussion; Alana Rocklin and Zak Appleby (Houndmouth) weaving bass grooves throughout while Charlie Patton's cello and Scott Moore's violin float like evocative ghosts. Joan Shelley's ethereal vocals are on fine display here in what Moore calls her "inspiring ability for disappearing into a harmony"; and James bringing his unique guitar stylings and vocals.
Again and again Golden Age reminds us that this is an album that is not afraid to celebrate love, friendship, and—best of all—the wonderful power of outright possibility that is suggested by every song on the record. Always there is the power of music in Golden Age's expressive piano solos, in the thump of bass, in the soaring vocals or in lyrics that tell us "maybe we can never know / these things we love so well / but the music never leaves / the dusk & the dawn & the memories."
Daniel Martin Moore's new studio album Golden Age will be available October 9th via Sofaburn Records. 
GOLDEN AGE TRACKLISTING:
01 Golden Age
02 Our Hearts Will Hover
03 Proud As We Are
04 Anyway
05 Sign Of Life
06 Lily Mozelle
07 To Make It True
08 On Our Way Home
09 In Common Time
10 How It Fades
DANIEL MARTIN MOORE TOUR DATES:
Sep 19 – Nashville, TN – AMERICANAFEST Musician's Corner
Oct 06 – St. Louis, MO – ST. LOUIS COLLEGE OF PHARMACY
Oct 10 – Cincinnati, OH – RIVER GRILL FEST
Oct 11 – Louisville, KY – BROWN THEATRE
Dec 8 – Chicago, IL – SCHUBAS
Dec 9 – Bloomington, IN – THE BISHOP
(more dates to be announced soon)
MORE INFO ON DANIEL MARTIN MOORE:
http://www.danielmartinmoore.com
https://www.facebook.com/danielmartinmoore
MORE INFO ON SOFABURN RECORDS:
http://www.sofaburn.com
MEDIA & INTERVIEW REQUESTS:
Tony Bonyata / Pavement PR
e: tony@pavementpr.com