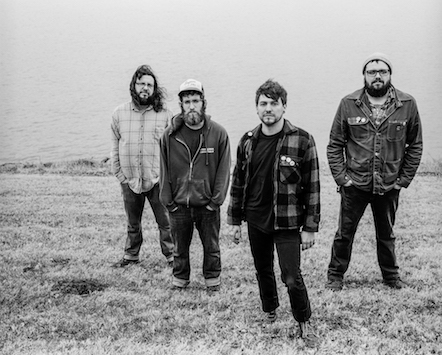 CLICK HERE TO CHECK OUT THE TILLERS' NEW TRACK "DEAR MOTHER" VIA WIDE OPEN COUNTRY
Song Premiere: The Tillers Unveil Heartfelt New Track 'Dear Mother'
BY BOBBY MOORE
Cincinnati-based Americana outfit The Tillers' forthcoming self-titled album tells folk-inspired stories through traditional string band instrumentation, as heard on their new track "Dear Mother."
The band uses roots music traditions to share a heartfelt plea for folks to be better stewards of the land. It's in the lyrical spirit of Lynyrd Skynyrd's "All I Can Do is Write About It."
"When I wrote this song I was personally seeing issues of environmental destruction in my neighborhood, city, country and all over the world," says singer and guitarist Sean Geil. "As a father I am very concerned with what the future of our planet looks like for my young son. I find singing a song is the best way I can speak out about these things. I am lucky to know a lot of passionate folks, organizations, festivals, community gardens and musicians who are fighting for Dear ol' Mother. This song is for them."
Such stances seem normal for a band inspired by Woody Guthrie and other key, politically-driven figures in American folk music history.
Founded in 2007, the band is now helmed by Sean Geil, upright bassist Aaron Geil and multi-instrumentalists Michael Oberst and Joe Macheret. They quickly built a following around Cincinnati through a blend of old-time music and do-it-yourself self-expression. Like John Doe and John Moreland before them, the four Tillers came to roots music through punk rock. Together, the band transitioned from youthful rebellion to an more traditional-sounding yet equally cathartic way to calibrate their moral compasses.
The Tillers' self-titled album is out digitally, on CD and vinyl on March 25 via Kentucky-based imprint SofaBurn Records. It's the band's fifth studio album overall and the first since 2013's Hand on the Plow.
The Tillers' 2018 Tour Dates:
March 23 – Columbus, OH @ Woodlands Tavern (w/ Pert' Near Sandstone and Al Scorch)
March 24 – Newport, KY @ Southgate House Revival (w/ Pert' Near Sandstone and Al Scorch)
March 29 – Madison, WI @ High Noon Saloon (w/ Pert' Near Sandstone and Al Scorch)
March 30 – Chicago, IL @ The Hideout (w/ Pert' Near Sandstone and Al Scorch)
March 31 – Indianapolis, IN @ The Hi-Fi (w/ Pert' Near Sandstone)
April 12 – Louisville, KY @ Zanzabar (w/ Pert' Near Sandstone)
April 13 – St. Louis @ Off Broadway (w/ Pert' Near Sandstone)
April 14 – Bloomington, IN @ The Bishop (w/ Pert' Near Sandstone)
April 21 – Albany, TX @ Walk This Earth Fest
May 31-6/1 – Bean Blossom, IN @ John Hartford Memorial Festival
June 15 – Eau Claire, WI @ Blue Ox Music Festival
http://www.wideopencountry.com/the-tillers-dear-mother/