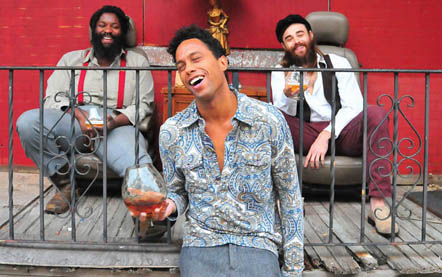 CLICK HERE TO LISTEN TO JOHN THE CONQUEROR'S NEW SONG "WHAT AM I GONNA DO" VIA WALL STREET JOURNAL'S SPEAKEASY!
John The Conqueror Has A Worried Mind On 'What Am I Gonna Do' (Song Premiere)
By Eric R. Danton
California record label Alive Naturalsound has catered to fans of garage-blues for 20 years—the Black Keys released their first album on Alive in 2002—and John the Conqueror fits right in. The Philadelphia-via-Mississippi trio digs into a taut groove on "What Am I Gonna Do," a track from their new album that premieres today on Speakeasy.
Drummer Michael Gardner's lean beat and bassist Ryan Lynn's dirty bassline create a spare, in-the-pocket feel for singer and guitarist Pierre Moore, who adds stinging electric licks and sings in a soulful, raw voice on the song. Like the others tunes on the "The Good Life," the follow-up to John the Conqueror's self-titled 2012 debut, Moore drew from his own life in the lyrics. In this case, he was fretting over leaving for an upcoming tour.
"I'd fallen hard for a wonderful woman a few months before and she helped me clean up my life," Moore told Speakeasy. " I didn't know how I would make it through those hard nights without her by my side and I couldn't bring myself to tell her. I wrote her this song to tell her what I was feeling even though I knew she already knew. She's the best thing that ever happened to me."
"The Good Life" is due Feb. 25 on Alive.
http://blogs.wsj.com/speakeasy/2014/02/03/john-the-conqueror-has-a-worried-mind-on-what-am-i-gonna-do-song-premiere/