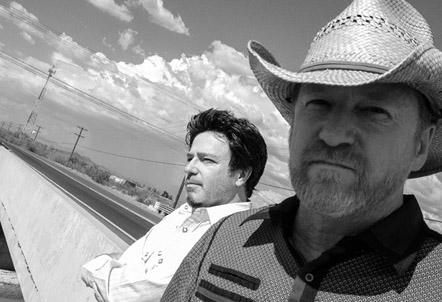 CLICK HERE TO WATCH THE EXCLUSIVE VIDEO PREMIERE OF CRACKER'S "TORCHES AND PITCHFORKS" VIA WALL STREET JOURNAL'S SPEAKEASY!
Cracker Mirrors Early Labor Struggle in 'Torches and Pitchforks' Video (Exclusive)
By ERIC R. DANTON
Cracker and Camper Van Beethoven leader David Lowery has been rather forthright in his opinion that artists aren't getting a fair deal from streaming music services. In fact, it's the subtext of Cracker's new song "Torches and Pitchforks," a video for which premieres today on Speakeasy.
The fast-paced acoustic number features soft vocals from Lowery edged with steely determination as he sings lines like, "We will fight your bought-off Congressmen/ You cannot take what isn't yours." The video pairs the song with vintage images of workers on strike juxtaposed with newer scenes of gleaming skyscrapers and police stations and the U.S. Capitol.
"'Torches and Pitchforks' is stylistically playing with the language, songs and slogans of the early labor movement in the U.S.," Lowery says by email. "If you want to draw parallels between that time and artists' current efforts to be paid fairly by digital services, you may. That is the intention."
The song comes from Cracker's latest album, "Berkely to Bakersfield," a two-disc release split between songs influenced by punk and garage-rock, and songs reflecting the band's more countrified sound. The album came out last month on 429 Records. What do you think of the video for "Torches and Pitchforks?" Leave your thoughts in the comments.
http://blogs.wsj.com/speakeasy/2015/01/12/cracker-mirrors-early-labor-struggle-in-torches-and-pitchforks-video-exclusive/