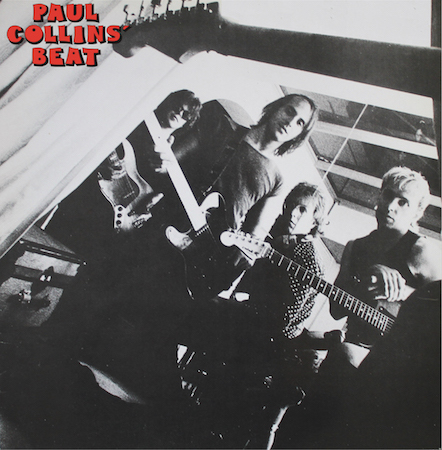 CLICK HERE TO CHECK OUT PAUL COLLINS' TRACK "ALWAYS GOT YOU ON MY MIND" VIA VIVE LE ROCK MAGAZINE
GOOD FRIDAY JUST GOT BEAT-ER!
BY Gerry Ranson
L.A. powerpop lords PAUL COLLINS' BEAT have two of their classic 80s EPs reissued this month, and they're sharing a track with Vive Le Rock!
'Always Got You On My Mind' is taken from Long Time Gone / To Beat Or Not To Beat which is issued through Lolipop Records on 28 April.
Formed in 1979 by Paul Collins, former drummer of THE NERVES – of 'Hanging On The Telephone' fame – The Beat became Paul Collins' Beat in the mid-80s, following a dispute that caused Dave Wakeling's mob to be renamed The English Beat in the US. To show there were no hard feelings, both bands toured together in 2012.
To Beat Or Not To Beat, featuring current TELEVISION guitarist Jimmy Ripp and PATTI SMITH drummer Jay Dee Daugherty was originally released in 1983, followed two years later by Long Time Gone, produced in the UK by former MOTORHEAD and WARSAW PAKT drummer Lucas Fox.
Speaking of 'Always Got You On My Mind', Collins says, "Steve Huff and I were living full time in New York – up all night, sleep all day, that was our M.O. Hanging out all the cool clubs like Danceteria and Mud Club. We had been touring all over the area with Jay Dee Daugherty and Jimmy Ripp. We decided it might be a good idea to take it out of state and go back west. Jimmy couldn't make it so we met up with guitar slinger Werner Fritzsching. He had done time with Hall & Oates and that was good enough for us! After one long tour out west we got back to NY and we really wanted to have one more cut to round out the EP To Beat or Not To Beat as it was being released in Europe, so we went back into the studio. This time we went to the Power Station to get that big time rock sound we wanted so badly. Back then everything had to have that big radio friendly sound. We came pretty close and you can hear the slick production sound on this recording, thankfully the song holds up and it still sounds good today. My favourite part is where Werner starts rocking out at the end, I always loved his guitar part on this song!"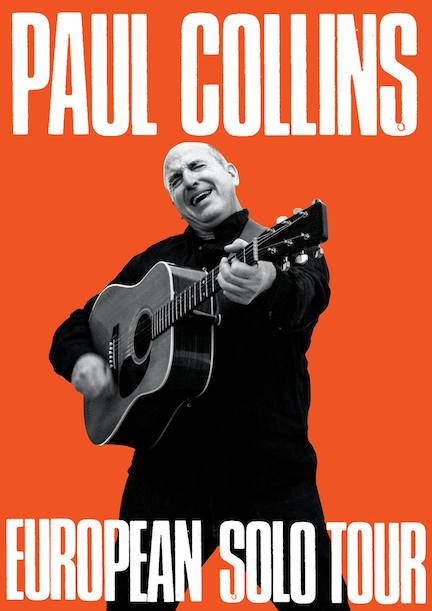 Paul hits Europe on tour from May, including a UK show at a special Dirty Water Club night at The Finsbury, London on Saturday 13 May. Support comes from LUCY & THE RATS and SEE NO EVILS. Tickets priced £8.50 are available here. Full dates are….
PAUL COLLINS 2017 EUROPEAN SOLO TOUR DATES
FRANCE
5/6 Clermont-Ferrand @ Bombshell
5/7 Marseille @ Le Jam
5/8 Toulouse @ Dispensary
5/10 Rouen @ 3 Pieces
5/11 Vannes @ Jam Session
5/12 Paris @ La Mecanique-Ondulatoire
ENGLAND
5/13 London @ The Finsbury
5/14 Adam Smith's Black Wax Radio Live Show
BELGIUM
5/16 Kortrijk @ Den Trap
NETHERLANDS
5/17 Rotterdam @ V11
5/18 Haarlem (Amsterdam) @ Patronaat
GERMANY
5/19 Düsseldorf @ The Tube
5/20 Berlin @ Cortina Bob
5/21 Hamburg @ Monkeys Music Club
SWEDEN
5/23 Malmo @ Folk & Rock
5/24 Gothenburg @ Liseberg Amusement Park Power Pop Festival
5/25 Eskilstuna @ Ölkultur
5/26 Karlskoga @ Rockbar
5/27 Stockholm @ Pet Sounds record shop show
SPAIN
5/30 Madrid @ Fun House
5/31 Burgos @ Matarile
6/1 Leon @ Chelsea Bar
6/2 Zarragoza @ Teatro Arbolé
6/3 Irun @ Terraza del Aia
6/8 Barcelona @ A Wamba Buluba
6/22 Elche @ Hotel Galicia
6/24 Fuengirola @ Fuengirola Pop Weekend Appearing with The Beach Boys
PORTUGAL
6/29 Lisbon @ Popular Alvalade
SPAIN
7/1 Carballo @ Rockin´Carballo Festival 2017
FRANCE
7/21 Tourville-Sur-Mer "Le Sable, Les Mouettes et Les Guitares Electriques" Festival