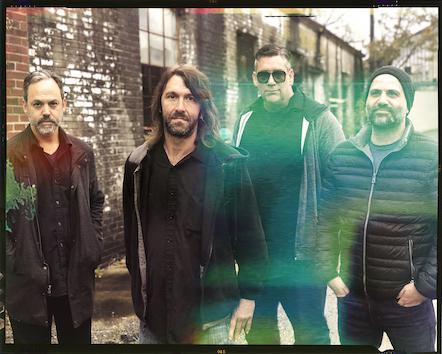 Click here to listen to Holiday Gunfire's new track "She's Got A Machine" via Blurt Magazine
Video Premiere: Holiday Gunfire "She's Got A Machine"
Trippy track plucked from the group's recently released debut on Cornelius Chapel. (Photo credit: Jackie Lo)
Less than two years after the Alabama-based Holiday Gunfire came together over fireworks, booze and BBQ, the group is already out with their self-titled debut LP. The record is a raucous, wildly diverse tour through the world of rock, drawing in influences across the spectrum from punk and garage to power pop and '90s alternative.
By John B. Moore
Given that, BLURT jumped at the opportunity to host the trippy video premiere for the band's latest single, "She's Got A Machine."
"The initial idea of the song happened when I was visiting the Hemingway House in Key West," said Lester Nuby III. "I had the idea of an actual physical machine that someone could use to break someone's heart. Destroy their life/Kill their spirit. What would that look like? Where is it kept? And over time, the person that uses it also is destroyed. A true uplifter! Enjoy!"
With that in mind: enjoy!