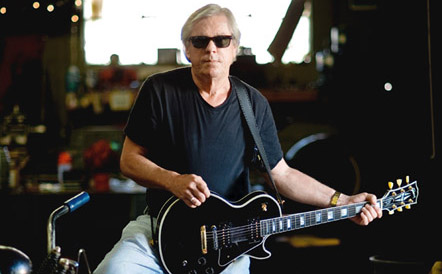 USA TODAY – Song Premiere: Stooges' 'I Gotta Right' by James Williamson
Edna Gundersen, USA TODAY
Guitarist/producer James Williamson, best known for his frenetic fretwork with Iggy Pop and The Stooges, will release solo album Re-Licked in the fall. Meanwhile, he's serving up "I Gotta Right," a manic, guitar-blazing rocker featuring belter Lisa Kekaula of The Bellrays.
The song, penned by Pop circa 1970, will be released July 29 as a seven-inch vinyl and digital single, backed by "Heavy Liquid," which Williamson wrote with Pop in 1973. It can be pre-ordered here.
"This song is one of my favorites from our canon of work," Williamson tells USA TODAY. " We (Iggy and The Stooges) have played this song since 1970, when I joined the band, and continued to play it live up through our most recent tour.
"It was recorded as a demo, which was a candidate for our 1971 project Raw Power but was rejected by our management at that time, so was only released on bootlegs and on underground labels.
"I'm joined on this new rendition by Lisa Kekaula's powerful voice teamed up with Petra Hedan's amazing backing vocals. I love this version! It grabs you and doesn't let go until the last note."
On Re-Licked, Williamson revives lesser-known Stooges tracks, including 'Rubber Legs,' 'She Creatures of the Hollywood Hills,' 'Scene of the Crime' and 'Wild Love.' He's backed by Steve Mackay, Mike Watt and Toby Dammit (all from the touring version of The Stooges), plus such guest vocalists as Jello Biafra, Mark Lanegan, Alison Mosshart, The Orwell's Mario Cuomo, Ariel Pink and Carolyn Wonderland.
'I Gotta Right' follows the release of Record Store Day exclusive single 'Gimme Some Skin'/'Open Up & Bleed'.
http://www.usatoday.com/story/life/music/2014/06/18/song-premiere-james-williamson-i-gotta-right-stooges-rarity/10653453/