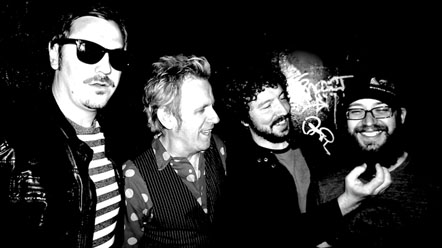 CLICK HERE TO LISTEN TO THE PREMIERE OF THEIR NEW SINGLE "HOME WITH YOU" VIA USA TODAY'S POP CANDY!
THE DELTA ROUTINE TO RELEASE THEIR FOURTH STUDIO ALBUM "YOU AND YOUR LION" OCTOBER 14TH!
This October The Delta Routine will be releasing their fourth full-length album, You And Your Lion. While this effort follows a similar path laid out on their last acclaimed album Cigarettes & Caffeine Nightmares – incorporating elements of garage, power-pop, punk and classic rock – the Milwaukee foursome also add a more rough-hewn Americana undertone to the mix. This decidedly rootsier approach was influenced, in part, by the band's heavy tour schedule, which as frontman Nick Amadeus admits, "The last year and a half of touring has been pretty important to me… getting to see a ton of the Midwest and East Coast, going into the mountains and seeing Colorado for the first time. Seeing Austin and Texas for the first time, first trip to New Orleans, first time playing Nashville, etc. I think all of that stuff really helped shape the direction of the new album. It's also probably my closest thing to a travel album. I wrote a good majority of the lyrics on the road and that shows up a lot on this record."
The Delta Routine's You And Your Lion was recorded at the Factory in Chicago and co-produced by bandmembers Mike Hoffmann and Nick Amadeus. It will be available October 14th in both CD and digital formats.
THE DELTA ROUTINE TOUR DATES
7.24 – Nordic Fest – Decorah, IA
7.25 – Club Underground – Minneapolis, MN
7.26 – Atwood Festival – Madison, WI
8.2 – Brat Days – Sheboygan, WI
8.8 – Mile of Music – Appleton, WI
8.15 – Old Franklin Township Historical Society Party – Plain, WI
8.21 – Elbo Room – Chicago, IL
8.23 – Victory Lane – Merrill, WI
9.5 – WAC (stripped down) – Milwaukee, WI
9.17 – Hebe Music – Mt. Holly, NJ
9.18 – Rockwood Music Hall – New York, NY
9.19 – Finnigans Wake – Philadelphia, PA
9.20 – Millhill Basement – Trenton, NJ
9.21 – Wooley Bully's – New Brighton, PA
9.23 – Shortnecks – Newport, KY
9.25 – Hideaway Saloon – Louisville, KY
9.27 – Czars 505 – St. Joseph, MI
10.17 – Intermission – Wausau, WI
10.18.14 – Big Brown Jug – Minocqua, WI
(more dates to announced soon)
HERE'S WHAT PEOPLE HAVE BEEN SAYING ABOUT THE DELTA ROUTINE:
"I've lived in a variety of places — Chicago, New York, Knoxville, Tenn. — and it's rare I find music that reminds me of all of them. An exception: The Delta Routine. This fall the Milwaukee-based group releases its fourth album, and I think it's a standout, particularly because it blends old-fashioned rock 'n' roll with the rootsy sounds you often find down South. Fellow fans of Americana music should check 'em out, starting with today's Pop Candy premiere of 'Home With You'." – Whitney Matheson / USA TODAY'S POP CANDY
"The Delta Routine serve up eleven tracks with full-realized hooks and maximum swagger, that are as gritty as they are sexy. I suggest that The Black Keys should watch their backs if these guys ever get into the music licensing game, because these fuzzy, guitar-centric ditties are poised and ready for primetime." – GHETTOBLASTER MAGAZINE
"Milwaukee's Delta Routine can rock the blues and deliver grade-A hooks just as well as any of its contemporaries. It's no wonder they've been receiving plenty of accolades in their hometown"– MAGNET MAGAZINE
"The Delta Routine's Cigarettes and Caffeine Nightmares is exemplary rock 'n' roll with overtones of Mott the Hoople and The Rolling Stones circa 'Downtown Suzie.' This is a band in control, and all the more rocking for it." – NASHVILLE SCENE
"Influenced by the Stooges, the Stones, Kings of Leon, the Ramones and Robert Johnson, Milwaukee's The Delta Routine is built upon the raw elements of guitar-driven rock. Singer, songwriter, and guitarist Nick Amadeus creates memorable hooks and quirky riffs all while paying homage to the old days of rock & roll." – THE PHILADELPHIA INQUIRER
"On its third full-length album, Cigarettes & Caffeine Nightmares, the band serves up 11 fat-free slices of hooky, slithery, and perfectly pitched tunes that wouldn't be out of place in the early '00s—or the '70s that inspired those early '00s. It's an unabashedly enjoyable collection from one of Milwaukee's most unabashedly populist bands. Cigarettes & Caffeine is a big step up from 2011's More About You, and finds The Delta Routine up to its ears in songs exceedingly well-crafted." – THE ONION'S A.V.CLUB
"The Delta Routine ups the ante on Cigarettes & Caffeine Nightmares, an album that finds the band hitting their stride like never before." – Joshua Miller / SHEPHERD EXPRESS
"'I won't waste your time now,' Delta Routine frontman Nick Amadeus sings with his Liam Gallagher-esque vocals on the opening track. He's true to his word. At 32 minutes, the album is mercifully low on fat but thrills all the same with warped organ and guitar reverb snarls on 'Switchblade.' Likewise, 'Around Your Neck' does its bluesy, White Stripes-like, swagger-soaked thing in less than two minutes time." – Piet Levy / JOURNAL SENTINEL
"… sounds like early Oasis, but with a definite Midwest vibe." – 88NINE RADIO MILWAUKEE
"Down-and-dirty barroom blues/rock." – WHEN YOU MOTOR AWAY
"If you love a mixture of '60s rock 'n' roll, angsty punk and modern day indie, then The Delta Routine's Cigarettes & Caffeine Nightmares is definitely an album you'll love." – SHOW ME SOMETHING DIFFERENT: UK
"The beat on The Delta Routine's sophomore album Cigarettes & Caffeine Nightmares is unstoppably sultry. The vocals by Nick Amadeus make this one great album, with him spitting syllables in a tongue-twisting, rap-singing style that only he could have invented. This is a 'must buy' record." – JOHN SHELTON IVANY's TOP 21
FOR MORE INFO ON THE DELTA ROUTINE:
http://www.thedeltaroutine.com
http://www.facebook.com/pages/The-Delta-Routine/32837004660
FOR MEDIA & INTERVIEW REQUESTS:
Tony Bonyata
Pavement PR
p: 262.903.7775
e: bonyata@wi.rr.com
https://pavementpr.com