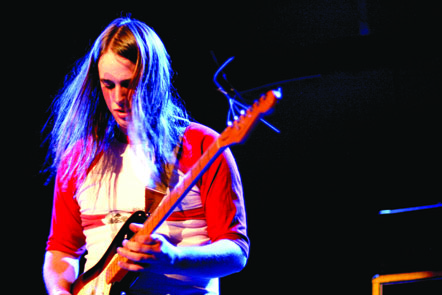 RADIO MOSCOW – The Great Escape Of Leslie Magnafuzz
Sound: Radio Moscow obviously made a name when it comes to modern hard rock, or blues rock, or whatever you wanna call it. I would call it as "70's music at its finest in the middle of the 00's" or something like that. No wonder these guys have been discovered and helped by The Black Keys, which (you like it or not) also plays a great role when it comes to "modern blues rock", let's put things like that.
So, after two critically acclaimed albums, Radio Moscow came back in 2011 with their third studio release, "The Great Escape Of Leslie Magnafuzz". Keeping it totally rooted in the late 60's/early 70's sound, this album introduces himself with three fast-paced as hell, hard rock tunes, "Little Eyes", "No Time", and probably the most crazy one, "Speed Freak". Then, "Creepin'" comes in, slower, but not less heavy, with some true bluesy added to it (featuring a great harmonica lick, also!).
After that, another great, neck-breaking fast song comes in, "Turtle Back Rider". Then, again, the psychedelic vein of them strikes, with the beautiful piece "Densaflorativa", made of 3 minutes and a half of great guitar work and percussion. This song fades into "I Don't Need Nobody", which pretty much sets the ground for the rest of the album: again, tons and tons of heavy blues, solos, brutal riffing and crushing rhythm section (still, there's "Deep Down Below" here, which is like ZZ Top lost in Iowa again, like "City Lights" from "Brain Cycles"). I gotta praise the production here as well, which is just really crystal clear but still sounding organic as hell and not overproduced at all. Cutting things short here: this is another album containing the identity and true essence of Radio Moscow, and if you enjoyed the previous albums, you'll sure thing love this one too. If you haven't listened to them before, well, I think you got a hint here. // 9
Lyrics and Singing: Lyrics here on this album are also the kind of thing that always came from Parker Griggs' head, approaching themes like typical women and love issues on songs like "Misleading Me", "Insideout" and "Creepin'", but also stuff like trippin' your mind out of your head, with "Turtle Back Rider" being a great example: "The mind is flying high/Gotta let it ride". No bigger surprises here, but I think they're really well written and they fit just fine in the band's sound.
When it comes to Parker Griggs' vocals, my opinion is that his voice just keeps getting better and better and this album proves it. From an even sometimes "shy" voice on their first album, to more "uninhibited" tunes on "Brain Cycles" like "No Good Woman", to reaching some moments of real craziness and sounding really great on this album, like on "Insideout" and "Speed Freak". But still, even if he isn't the best singer on this planet, I really got used to his voice and right now I can't even think of another guy singing in Radio Moscow. // 9
Impression: "The Great Escape Of Leslie Magnafuzz" proves that Radio Moscow is still in the peak of their creative force and totally capable of making great records, bringing back the essence of 70's music. If it's possible to make a comparison here, I would say this is like a mix of Cream, Led Zeppelin, The Jimi Hendrix Experience, Blue Cheer and any other bands from that same period that were responsible for creating such a magnificent kind of music. It's also hard to highlight two or three songs on this album, because I think the entire album is a masterpiece. But, just for the sake of mentioning them, I think my favorite ones right now are "Insideout", "Densaflorativa" and "Speed Freak", but they change all the time, so, don't worry with my opinion that much and buy this album right now if you're into blues rock or hard rock, or psychedelic rock, or anything cited in this review, you'll love it. Speaking of which, I would totally buy this album again if it were stolen, lost or something like that. A true masterpiece. // 9
http://www.ultimate-guitar.com/reviews/compact_discs/radio_moscow/the_great_escape_of_leslie_magnafuzz/index.html?no_takeover