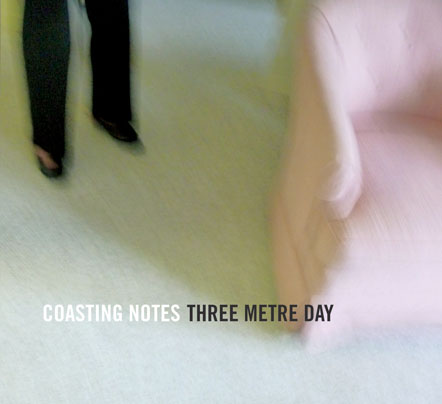 Three Metre Day " Coasting Notes"
3MD Records, 2011
Impressive debut of atmospheric soundscapes.
Three Metre Day (3MD) are a Canadian trio who combine roots music with a smooth jazz and blues sensibility. Playing pump organ, violin and guitars they are augmented on this debut by bass and drums to create an album that is initially reminiscent of kd Lang's torch song period.
There's no denying the classy playing and Michelle Willis certainly has the requisite sultry voice that charms and insinuates its way into the listener. This is most apparent on the two opening songs "I'm Like an Oak" and "Absecon Bay". The latter especially is mightily impressive.
Further listening finds the band moving into a meditative mode with songs that slowly ebb and flow and meander like a lazy river. The pump organ wheezes throughout, the fine guitar playing of Don Rooke (of The Henrys) sparingly adds tasteful curlicues and Hugh Marsh's violin plays sweet or nasty as required. A song like "Honey Drip" is an atmospheric and sweaty trip into the everglades where Willis offers advice to the unwary on how to survive in a culture that oozes mañana. This and the following song "Reputation Girl" could easily sit on a Ry Cooder soundtrack album.
Overall this is an impressive debut, challenging at times but ultimately a richly textured document that repays repeated listening.
http://www.americana-uk.com/