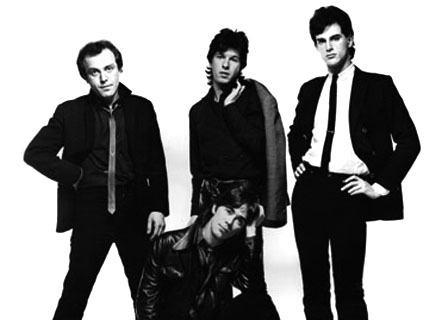 It's Gotta Be Pop
With Kurt Baker
Hey folks! Welcome back to "It's Got To Be Pop!" with yours truly! Normally, the idea for this little bloggy type thing is to post some great old rock n' roll videos with a little commentary here and there (and who knows where we might run with this??), but for this second installment the wonderful folks over at AMP were gracious enough to give me a chance to interview Arthur Alexander of SORROWS. Although, I learned in doing this interview that there is definitely no "THE" in Sorrows, it was quite a pleasure to pick the brain of a long time rock n' roller, who continues to tour and release records! I first heard about Sorrows through my pal Fletcher from the Copyrights. I was at his old place in Oak Park one evening after a show, drinking beers and listening to records. He has a great collection of vinyl. I was in a stoned haze but he busted out this piece o' wax.. "You ever hear of Sorrows, man?" I hadn't! The back of the album had the group with all their guitars and skinny ties.. I knew just by looking at them that this record would be great. It's funny, but after diggin' deep to find as much quality power pop music as I can, I've come to the conclusion that if you were in a group between 1978-1981 and wore a skinny tie it was pretty much guaranteed you'd get a record deal! Where the F was I 30 or so years ago? Dammit. ANYWAY, back to Sorrows.. Once Fletcher let the needle hit the grooves I was sure in for a treat! Their debut record Teenage Heartbreak was soon one of my favorite albums of the genre, and I even enjoyed their second album Love to Late (Arthur.. maybe not so much).. but you'll read all about that! SO here ya go..
"It's Gotta Be Pop!" Interviews Arthur Alexander of SORROWS!
Hey Arthur! How are you? Right now the Sorrows are out touring the West Coast in support of the latest BOMP! reissue Bad Times, Good Times. How have the shows been?
Thanks for taking the time to talk to me! Things have been going very well. The Bad Times Good Times release has been getting a pretty amazing reception and reviews. We just did our last show of the West Coast leg of the tour. It's been a total blast, seeing so many old fans come out, and the most gratifying part discovering that so many young kids are into our band and getting so into our music… what a great feeling! Playing all these West coast shows has allowed the band to really jell and come together as a musical unit so we've been kickin' some serious ass! Now we're getting ready for the East Coast leg of the tour, starting the end of September and we're really psyched about it.
Your readers can check our pages on Reverbnation (http://www.reverbnation.com/sorrowsnyc) or Facebook (http://www.facebook.com/SORROWSnyc), if they just want to check us out, or get info on our shows…
Let's bring it back to the beginning. Originally you were in a group called The Poppees, and were one of the first bands on the N.Y.C club scene in the 70's to play a throwback 60's styled Mersey Beat/Beatles type sound. What was it like in the early days playing a stripped down rock n' roll/pop music when the grittier punk rock movement was beginning to take root in clubs like C.B.G.B's and Max's Kansas City?
It was like a breath of fresh air, to be able to do pretty much anything you liked while the rest of the world was still in the throes of disco, and corporate, assembly line and arena rock! Of course, we had NO IDEA how much more corporate and assembly line it was all gonna get 30 years later!
The best part of that scene was a sense of it being a SCENE, all the bands hangin' out and people coming to the clubs not just to see a band of their boyfriend and split after the set, but to simply be there, be a part of what was happening.
Growing up, what were some of the records and bands you loved and influenced by that eventually lead you to start playing catchy rock n' roll music?
Oh boy, you're gonna have a good laugh with this one… I grew up in communist Poland, so everything and anything we managed to get from "the West" was sacred! The first rock 'n roll (or so I thought!) I heard was stuff like Pat Boone signing "Tutti Frutti" or Connie Francis' "Where The Boys Are," or Paul Anka's "Diana," and of course there was Bill Haley and Elvis!!! I went crazy… man, this shit is awesome, I wanna be like Pat Boone: white loafers, skinny tie… how cool is that?! Of course I had no clue we were like 10 years behind with all that stuff, so to me, all of this was a total revelation! But then I started digging deeper… Chuck Berry, Little Richard, Howlin' Wolf, John Lee Hooker, Gene Vincent, Johnny Burnette… you know, all the true American icons. Of course, there was also Cliff Richard and The Shadows over in the UK. The Shadows definitely made me pick up the guitar! And then came The Beatles, Stones and the whole British rock n' roll armada… and that was it, I was hooked; the 9 to 5 world lost me for good!!!
BOMP! Records, who released your current album, also put out the early Poppees singles back in the day. How did you end up connecting with Greg Shaw and the legendary rock n' roll record label?
The Poppees had broken up by that time. It was around 1974, early '75? I then got together with Paddy, our bass player, and produced and recorded a demo tape in my apartment, mainly of his and my songs, and a couple of songs we used to do with The Poppees. Shopping this tape around in New York to record labels, publishers and managers led me to Greg Shaw, who had just launched Bomp Records in Burbank, California. Greg heard the tape and immediately signed us to his new label. The Poppees were reborn and started playing on what was then just starting out to be the whole punk/new wave scene in New York.
When the Poppees split, you went on to form the Sorrows with Jett Harris, while other members went on to form the Boyfriends. How did the Sorrows come together as a group and what did you and Jett want to do differently than the Poppees with the new group?
This would be as good a moment as any to bring to your attention the fact that there is no 'THE' in Sorrows, it's just SORROWS, ok?! A battle I have been successfully losing from the day I came up with this damn stupid idea that I can get people to say Sorrows without saying "The"! lol… Ok, now that we got that cleared up… By the time I left The Poppees, Jett was already gone and playing with Wayne (Jane) County & The Backstreet Boys. The main reason we both left was the Poppees was over the proverbial "creative differences." Jett and I both enjoyed the whole slavish Merseybeat thing we were doing, and we did it quite well, but it was time to move on, expand and grow musically, while staying true to ourselves, to our roots and our music. The other guys had immersed themselves in the whole punk scene a little too much and the band started to sound like The Heartbreakers… ummm, thanks, but no thanks! I mean, I LOVED the Heartbreakers and still think that if they could have held their shit together they would have become one of the greatest bands EVER, but that wasn't my scene and I was not about to start sucking up and paying homage to my beer drinking buddies just to try and become a scene darling like they were!
I wanted to do the music that would retain the core of what I was about, my pop and rock n' roll sensibilities, a well crafted songs, strong melodies, hooks left and right, harmonies, and all that played with a kick ass ferocity! Something I said to Jett to describe the musical concept I had in mind of the band: "ABBA meets The Sex Pistols." That's pretty descriptive, isn't it?!
For those who are unfamiliar with the group, who made up the original Sorrows line up, and who do you have playing with you today?
I actually started Sorrows with a bunch of different people, but dissolved that lineup after a few months. I just wasn't happy where it was all going. Then I split for Europe to see what's up there and when I came back I called Jett and asked him to join me. We started looking for people, and along came Joey Cola on guitar, and after a long succession of fill-in bass players, Ricky Street.
Sorrows debut "Teenage Heartbreak" is considered a classic Power Pop album to many (including myself!). Many of the songs on that original album are featured on the new record. Are these tracks different re-recordings or re-mixed from "Teenage Heartbreak?" Tell us a bit about how that original first record came into formation.
No, none of the original "Teenage Heartbreak" masters were used on the Bomp release. For reasons I will never understand, after years of trying, we couldn't get CBS/SONY to be bothered with releasing our records. Even though over the years seemingly every piece of dreck from their vaults had been dredged out and released in one form or another, SORROWS albums have never even been re-released in a CD format, till now. Frankly, no great loss, if you ask me, since we always felt the original mixes on the record didn't do our music much justice. We always knew that Mark Milchaman, our co-producer and the recording engineer on "Teenage Heartbreak" cut great tracks, but the mixes and mastering were thin and puny sounding, or as I used to say, "we got the ABBA part, but The Sex Pistols didn't get their Wheaties that day!" Or to put it differently: we were a power pop band and we got the pop part alright, but the power must have been out that day.
For this release I used outtakes, demos and did all kinds of crazy stuff using the tools I have my studio, plus additional recording of exacting overdubs to give me some control over balances of guitars and vocals, and how they should sit and sound in the mix. I was hell bent on making sure that, THIS TIME, by the time I get thought with it, this record is gonna kick ass to kingdom come!
When I first heard "Teenage Heartbreak," one of the songs that stood out to me right off the bat was "She Comes and Goes," and I think that the new version on "Good Times, Bad Times" truly reveals the songs brilliance. This track is so interesting to me. It pre-dates 90's grunge but tone- wise the intro has this almost Nirvana-ish feel to it, yet all of a sudden it breaks into a epic Phil Spector/Brill Building Wall of Sound bridge.
Yeah, a lot of people seem to say, this song's the magnum opus on this album. (I'm) definitely very proud of that one. As for your observation about the middle break… yes, you nailed it, and it goes back to exactly what I said about how we felt about the original mixes… when I wrote the song, my whole idea of the middle part was to go from this small, intimate ballad to a "rip your fucking head off" middle part, sounding like "Phil Spector meets Nirvana/Foo Fighters," only 30 years ahead of them. Well, what we got was the Phil Spector looking for his balls… the girls sounded terrific, but the band was nowhere to be found!
I heard that Ellie Greenwich is actually on that recording? What was it like working with her?
Yes, for that middle part we assembled our super girl group – "The Sorrowettes"… Ellie Grenwich, Mikey Harris, Ellen Foley and Karla Devito. It was an absolute blast working with these ladies. Also kinda funny and humbling to have this "backup" group of superstars on a record by a bunch of upstarts. They were an absolute delight to be around: funny, down to earth, no diva bullshit, and they worked their asses off. And not only were they fantastic in the studio, but what a bunch of hot looking chicks! Back in the late 70's and early 80's, what were some of your favorite bands to play with? Ramones, Heartbreakers, Dead Boys, Tuff Darts, Cramps, Laughing Dogs, Mink DeVille… I'm sure I'm forgetting some.
Any wild tour stories?
When do you want this interview back… this year?
The members of Sorrows all took turns taking lead vocals. Were songs written together as a band or did each musician bring a song to the table and sing lead for it?
From the get-go, it was part of the concept I had for Sorrows that we would have three lead singers. Though I wrote most of the band's material, I either spread the songs among us based on the fit, or actually wrote them specifically with Joey or Ricky in mind. But aside of that, both Joey and Ricky also wrote some truly great stuff.
The second Sorrows record "Love Too Late" was a bit different sounding than your debut. Produced by Shel Talmy (the Who, The Kinks, Easybeats), this record focuses more on a Pop Studio sound rather than the raw live sound of "Teenage Heartbreak." What was it like working with Shel on this album? I also read once that ABBA was influence on this group.. I definitely hear that on some of the piano driven tracks, and the wonderful ballad "Breaking My Heart". What are your thoughts on this record?
Ummm… now you've pushed some dangerous buttons! "Different sounding?" Here, the word "shite" comes to mind. I really need to contain myself, for now anyway, so let me just say this: that record was a total cluster fuck. It destroyed this band and became one big lesson I've carried with me all my life: "a producer does not a band make."
We are already in the process of working on our next album, which will include most, if not all the songs from "Love Too Late", and when that comes out, check in with me, and make sure you got a big shovel handy, for all the dirt I'm gonna give you then.
After "Love Too Late" Sorrows split. How had the musical climate for pop music changed since you had originally formed the Poppees and Sorrows? What did you and the rest of the members do after the band broke up?
Yes, "Love Too Late" album was the beginning of the end for the band. Personnel changes, acrimony with the label, it just wasn't fun anymore. One day I showed up at the rehearsal and said, "this band is over, I quit," and that was that. The whole scene was changing too, or more like falling apart. All the better bands either got signed and moved on, others either gave up, broke up or self-destructed, like The Heartbreakers did. Max's got sold, CBGB was fast becoming a tourist trap… Grunge and speed metal seemed to be taking over the scene. Not my cup of tea, I've lost interest, the fire just wasn't there, I stopped hanging out. It also corresponded to the time I started putting together my own studio and concentrating more on producing my own music and other artists, so my own musical focus was also shifting.
After many years Sorrows got back together. How did the reunion come about?
I've been living in LA and in 2009 I was coming to NY for a family visit. Joey had the idea to reach out to Jett and Ricky to see if they would like to get together and just play. So we did that, and everyone had a blast! Then when "Bad Times Good Times" was coming out, we did several shows in NY and it just felt fantastic to be playing in the band again. I was really hoping we could keep the original lineup, but it didn't work out that way. I guess it's for the better, if your heart's not in it anymore, you shouldn't be doing it. The new SORROWS lineup consists of Joey and me, Robbie Rist on bass and Luis "Weedge" Herrera on drums. Great guys, superb musicians, and it feels like a band again.
Well, thanks so much Arthur! I really appreciate it, and hope to catch you at a show on the East Coast soon!
You're welcome, Kurt, thanks for taking the time to talk with me, and looking forward to the next one…and yes, we hope you can catch one of our East Coat shows next month.
http://www.ampmagazine.com/18951/its-gotta-be-pop-a-blog-by-kurt-baker/