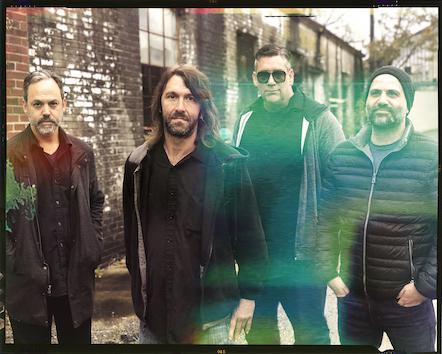 Click here to check out Holiday Gunfire's new track "Falling Down" via The Vinyl District.
TVD Premiere: Holiday Gunfire – "Falling Down"
BY ROGER CATLIN
What if Hüsker Dü came from the deep south instead of the frozen north? It'd probably sound a lot like Holiday Gunfire, the Birmingham, AL, band of rock veterans whose ringing barrage of guitars and unerring bottom serve to encase melodic turns in seething vocals.
Guitarist Lester Nuby III, a noted producer who was also part of Verbena, churns up the trebly guitar and provides a yearning vocal drone not dissimilar to the kind Bob Mould did in Minnesota. Sparks fly in Nuby's guitar interplay with Jason Hamric, formerly of Twinside (and a force behind Birmingham's underground radio station).
Behind them bassist Craig Ceravolo, once of Great Lakes and drummer Michael Williams, who played in 13 Ghosts and Nowhere Squares, balance all that treble with a solid and shattering bottom end.
Holiday Gunfire's self-titled debut won't come out until February 15 on Cornelius Chapel Records, but The Vinyl District is proud to premiere today on the site one of its gems, "Falling Down," which caps the collection's eight tracks.
There may be grey in the beards and temples of Holiday Gunfire, but that only reflects some experience and acquired smarts that may open the ears of listeners far and wide to the kind of talent that has been brewing in Birmingham (a place that is also about 40 degrees warmer than Minneapolis as I write this).
Holiday Gunfire's self-titled album arrives in stores on February 15th via Cornelius Chapel Records—on vinyl.
http://www.thevinyldistrict.com/storefront/2019/01/tvd-premiere-holiday-gunfire-falling-down/