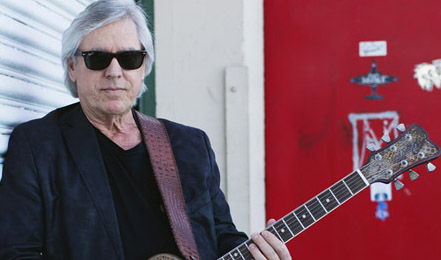 THE STOOGES' GUITAR LEGEND JAMES WILLIAMSON ANNOUNCES THE RELEASE OF HIS NEW EXCLUSIVE RECORD STORE DAY VINYL SINGLE "OPEN UP AND BLEED"/"GIMME SOME SKIN" ON APRIL 19TH!
THIS LIMITED SINGLE IS AN EARLY TASTE OF JAMES WILLIAMSON'S FORTHCOMING "RE-LICKED" STUDIO ALBUM, WHERE HE'LL BE JOINED BY STEVE MACKAY, MIKE WATT & TOBY DAMMIT OF THE STOOGES TOURING BAND & WILL FEATURE A NUMBER OF GREAT GUEST VOCALISTS RE-INTERPRETING LESSER-KNOWN STOOGES GEMS
CLICK HERE TO LISTEN TO THE PREMIERE OF JAMES WILLIAMSON'S "OPEN UP AND BLEED" VIA DANGEROUS MINDS/THE PHARMACY
While on a break from touring this year, the members of The Stooges (sans Iggy) got together and recorded songs that were originally penned by Iggy Pop and James Williamson in 1973/74. These songs were never properly recorded since the band didn't have a record deal at the time.
James Williamson always wanted to revisit these songs and has done so with a powerhouse lineup of singers who don't disappoint on his forthcoming album entitled Re-Licked. "Open Up & Bleed"/"Gimme Some Skin" is the first single from Re-Licked, which will be out later this year. Williamson, Steve Mackay, Mike Watt & drummer Toby Dammit are joined on both tracks by Texas blues singer & guitarist Carolyn Wonderland, who adds her own forceful and soul-drenching takes on these two rarely heard gems.
Re-Licked will also feature other lesser-known Stooges tracks properly recorded and mixed for the first time. Songs such as "I Gotta Right," "Rubber Legs," "She Creatures of the Hollywood Hills," "Wild Love" and others will be fronted by a wealth of talented vocalists such as Mark Lanegan, Ariel Pink, Jello Biafra, Lisa Kekuala (The BellRays) and others to be announced soon.
James Williamson & Carolyn Wonderland's new limited vinyl single "Open Up & Bleed"/"Gimme Some Skin" will be available at independent record stores worldwide on Record Store Day, April 19th.
CLICK THE IMAGE ABOVE TO WATCH THE VIDEO TEASER FOR "OPEN UP & BLEED"

FOR MORE INFO ON JAMES WILLIAMSON:
http://straightjameswilliamson.com
Carolyn Wonderland & James Williamson (photo: Heather Harris)
FOR MORE INFO ON CAROLYN WONDERLAND:
https://www.facebook.com/wonderchicken
FOR MEDIA AND INTERVIEW REQUESTS:
Tony Bonyata
Pavement PR
p: 262.903.7775
e: tony@pavementpr.com
https://pavementpr.com