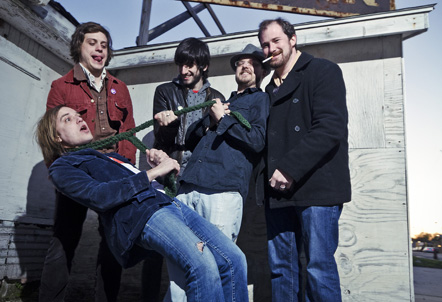 Detroit's The Sights have been turning on thousands of fans in many of the nation's finest music venues as part of their summer tour with Tenacious D. As you can see from all the features, interviews, show previews and album reviews below it appears that media has been riding shotgun with the boys for damn near the whole trip so far….
THE BIG TAKEOVER (national quarterly music magazine) – Positive album review in Michael Toland's Top Ten.
Michael Toland's Top Ten — July 29
by Michael Toland
The Sights – Left Over Right (self-released)
Given how long the Sights have been bashing away, it's amazing that the band hasn't surfed the same wave of semi-popularity as their fellow Detroit contemporaries. Here, dashes of Beatlesque piano pop join the band's usual melodic garage rock and R&B-flavored power pop for another ripsnorting good time. Picks to click: "Not As Pretty," "Mercy"
http://www.bigtakeover.com/top-ten/Michael-Toland-120729
MOTOR CITY ROCKS (Detroit online music site) – Positive album review with album art and related link.
ALBUM REVIEW: THE SIGHTS – LEFT OVER RIGHT
The Sights' new record Left Over Right is a sweet collection of high-energy rock and soul from this Detroit quintet who have been pounding the pavement for some 14+ years now.  I instantly latched on to the fast and poppy stuff, but after about a listen-and-a-half I was starting to fall head-first into their slower, catchy grooves and infectious hooks too.  Fans of Sloan will easily relate to the up-tempo tracks (Left Over Right, Anything to Anyone) but the core of this record is the more groove heavy, slower tracks like Prayer and You Are the Sunshine.  Then there's the 70's am-radio gem Mercy, which kicks in sort of lo-fi before taking on the warm, full production prevalent throughout the rest of the record, and the surprise-left-turn countrified closer Easy Living that wouldn't be out of place next to Glen Campbell or the Ozark Mountain Daredevils circa 1975.
It seems apparent that great thought went into what goes where – this organ riff, that sax solo, a double vocal here, a dropout there, but the record does not come across as overthought.  Taking it all in does require a commitment from the listener, though.  The deepest pop-hooks are the ones that you pick up after hearing a song a couple times.  "Hey – I remember that from when I listened to this yesterday!" rather than the easy shots taken by lesser-songwriters and producers that grab you right away but fade quickly as the record is passed over for the next new thing.  The Sights have it down and the reward is at the creamy center.  This one will be in rotation for a while.  Keep an eye out for these guys who will hopefully be doing some more local gigs when they return from supporting Tenacious D. on tour all Summer!
http://www.sightsarmy.com/thesights/
http://motorcityrocks.com/2012/07/album-review-sights-left/
303 MAGAZINE (Denver monthly A&E magazine) – Feature with Eddie interview with photos, video and related links to preview Red Rocks show
Event Horizon: The Sights & Tenacious D
by Sal Christ
Yo, Detroit by way of Denver! Show your hands for some hometown mischief makers as the Sights prepare to tackle their first appearance at Red Rocks tonight with none other than Tenacious D.
This raucous quintet proffer hooky guitar riffs and a vibrancy missing from much of the rock scene in recent years and released their seventh album, Left Over Right, on June 19th. Fans of fellow Detroit band The White Stripes will appreciate the heart-thumping tunes that lead singer Eddie Baranek and his bandmates bang out.
Baranek had this to say in a brief Q & A precluding the band's arrival in Denver for tonight's gig.
Is this your first time playing at Red Rocks?
Yes, but we've played Denver many times–it's a great city.
What can Sights newbies expect at the live show?
One can expect a balls out, high-energy "rock-n-roll" with no BS.
Favorite part of the tour so far?
Earning the opportunity to play your songs in front of thousands every night…I'm grateful.
Any plans to take part in any of the microbrews that Denver offers?
Yes! Maybe a nice young lady can help me open a bottle or two.
Most outrageous recording session for the new record?
Actually, we're sort of reserved in the studio. We like coffee, cashews and try to maintain a sense of order. Try…
What are your favorite songs off Left Over Right?
While it is difficult to pick, I think "Left Over Right" and "Fool" have a long shelf life and will stick around a bit. It felt good writing them and they're fun as hell to play live.
Dream collaborators (dead or alive)?
I wouldn't mind doing a 45 with Ian "Mac" McLagan of the Small Faces or maybe Jenny Lewis.
What's playing on your iPod right now?
Some Crabby Appleton, a little Ennio Morricone spaghetti western soundtrack stuff and the Compulsive Gamblers.
The Sights play with Tenacious D at Red Rocks Amphitheatre tonight, 8 p.m.
http://303magazine.com/2012/07/event-horizon-the-sights-tenacious-d/
THE REBEL YELL (Las Vegas college weekly) – Las Vegas  review of Tenacious D's show with positive mention of The Sights.
The opening band had a hard road ahead of them; opening for Tenacious D is no easy task. Fortunately for them — and the audience — Yet The Sights rose to the occasion. With high energy and exceptional musicianship, the Sights banged out a style of rock that could be described as a clash between The Rolling Stones and Arcade Fire.
If there was anything to take away from their set, it was that these guys know how to play their instruments. Guitar solos, drum solos and even a saxophone solo made an appearance in the 30 minute opening act.
http://www.unlvrebelyell.com/2012/07/31/tenacious-d-show-cut-short-after-fan-stabbing/
KANSAS CITY STAR (Kansas City daily) – Show review of Tenacious D's show with brief mention of The Sights in their Back To Rockville music blog.
"a Detroit-based band dedicated to reviving rowdy garage rock"
http://backtorockville.typepad.com/back_to_rockville/2012/07/review-tenacious-d.html
JESTER JAY MUSIC (online music blog) – Positive Red Rocks show review with photos and related links,
Concert review – Tenacious D with The Sights
26 July 2012 (Red Rocks Amphitheatre, Morrison CO)
The show contrasted a serious young band full of nervous energy and a well practiced, experienced headliner. Both acts gave fair value with strong sets.
The Sights were out of their element. This tour is certainly exposing them to some large audiences and Red Rocks is long way from the Michigan bars back home. Where a lesser band might have been cowed, The Sights stepped up with their incredible bar band energy and played large enough to own the stage.
Eddie Baranek's manic stage presence comes through in The Sights' YouTube clips, but he was even more amped as he strutted the stage here. The whole band was hyped as they pounded through the relatively short set.
They mostly favored the new album, Left Over Right (review), but they pulled out some older cuts, too. I loved Baranek's wicked guitar jam kicking off the bluesy rocker, (Nose to the) Grindstone.
The Sights emphasized their rocker side, which was appropriate for a Tenacious D crowd. So, they toned down some of their soul sound. Still, their tight pop harmonies sweetened the mix.
They wrapped up the set with an amazing version of Fool (I Can't Stop Making Out With You). Baranek set his guitar down on the edge of the stage and let it feedback in an extended version of the album track's tease intro. Then, he took the mic with his harp and threw down against Dean Tartaglia's wailing sax. The vocals still reminded me of Eric Burdon and the Animals, but with the band off their leashes. Tartaglia doubled down on free jazz sax riffs, playing two saxes at the same time. Kyle Schanta's heavy bass lines anchored the tune.
Sweaty and spent, the band took their bows at the end. They seemed a little shell-shocked. Eddie Baranek looked dazed as he thanked us for the "Best night ever". No, Eddie. Thank you.
http://jesterjaymusic.blogspot.com/2012/07/concert-review-tenacious-d-with-sights.html
RIVERFRONT TIMES (St. Louis weekly) – Photo gallery of The Sights at The Pageant.
http://www.riverfronttimes.com/slideshow/tenacious-d-37381380/1/
DAVECHMIL (online music blog) – Positive album review with album art and related links
Album Review – "Left Over Right" – The Sights
July 24, 2012 by davechmil
The fifth studio album from Detroit rockers The Sights starts exactly the way you'd expect it to – earth shaking & electrifying. Left Over Right displays their take-no-prisoners style of rock n' roll and blends British-style rock with the quintessential sounds of the Motor City. The result is enthralling and best enjoyed LOUD! When I saw this band back in 2003 (for the first time), they played so intensely that the paint was literally peeling from the walls. It was of such pure sonic quality, that it actually sounded better as they became louder! I'm sure that The Sights Army would agree with me…
If you're not familiar with their discography, please start with their self-titled album The Sights. Songs from this particular record have been featured on major motion pictures such as "Just Friends" and "Wedding Crashers".
The Sights have been touring non-stop this summer opening for the likes of Jack Black and Tenacious D. Eddie Baranek (leader of the The Sights) and Jack Black are brothers cut from the same cloth in that they are both involved (at one time or another) in the School of Rock.
Their latest album, Left Over Right opens with a fierce and frenetic track possessing the same name as the album. Lush background harmonies frolic around the verse and chorus creating a robust, atmospheric quality to this track. Eddie Baranek seems to reflect on past experiences and emotions he felt as a young man trying to fit into the scene. He symbolically describes a new phase in life, one that he embraces with confidence and pride: "In my rear view mirror / are all my peers / broken promises and tears / the end is near". He doesn't reminisce very long and by the end of the song, the singer is peeling out in a 500HP Chevy Corvette leaving his past in a wake of smoke and exhaust.
"Fool" starts out with Eddie Baranek pining away on a distorted and feedback induced harmonica solo. The horn section chimes in and fattens up the chorus as Eddie wails "I can't stop making out with you". The dynamics shift on a dime from a confessional whisper, to blaring horns and explosive drumming – all the while maintaining control and deliberateness.
"Mercy" literally "brings you to your knees" on the fourth track – providing no respite to the guitar and piano driven onslaught. "Bad Man" brings the mood to a reflective state – and shows a more serene and introspective side of Baranek. Various piano sounds swirl around the listeners head during the bridge, while the guitars pan from the left to the right speaker in a clever manner. "Anything to Anyone" continues the introspective theme by showcasing the softer and melodic side of The Sights. Baranek prods and asks "that if it all went away / would you still stay?". Dean Tartaglia adds suspense to Baranek's question via a tasteful yet mournful saxophone solo.
"You are the Sunshine" is a cute and quirky ditty complete with whistling and goofy vocals. Don't get me wrong – it's a great song and all but it seems a little out of place on this album. However, I respect that Eddie "throws a bone" to the other members by occasionally featuring them on a tune or two.
"Easy Living" starts out like a gregorian chant and sets a serious and somber tone. The mood quickly changes and unfolds into a breezy, countrified gem. After picking up some steam, the tune chugs along like a coal-driven train slithering through the Smoky Mountains.
Comfortable in his own skin, Baranek clearly understands his role on this Earth. Not all of us are so lucky to know why we are here. However, Eddie confesses to the listener that "One thing's for certain / I'm trying to be a better person" – and that's something prophetic that the listener can take away from this record. So even though you might be on the right path, you must still strive to better yourself each and every day.
Overall I think Left Over Right is more cohesive and focused than their last record. And after this summer's tour supporting Tenacious D, you can expect that the Sights will return to the studio with even greater tenacity than ever before. Not only has Eddie become a better songwriter over the years, but his band has consistently stepped up to the plate – elevating his vision of what rock n' roll is really about.
http://davechmil.wordpress.com/2012/07/24/album-review-left-over-right-the-sights/
ST. LOUIS POST DISPATCH (St. Louis daily) – Show review of Tenacious D's show with positive mention of The Sights' performance.
The Detroit-based band the Sights made the most of its brief opening set, playing a half hour of glorious '60s-style garage rock including "How Do You Sleep" and "Fool (I Can't Stop Making Out with You)."
http://www.stltoday.com/entertainment/music/reviews/tenacious-d-brings-raucous-party-to-the-pageant/article_cfa693f6-d5af-11e1-b637-001a4bcf6878.html
AUSTINIST (Austin A&E site) – Show review of Tenacious D's show with brief mention of The Sights' performance, with photos.
Opening act The Sights from Detroit did an able job of warming up the assembling masses, many of whom had lined up early that day for the chance to be front-and-center for the show.
http://austinist.com/2012/07/23/tenacious_d_at_the_austin_music_hal.php#photo-1
THE BACKSTAGE BEAT (Atlanta music site) – Show review of Tenacious D's show with Sights photos gallery.
http://atlanta.thebackstagebeat.com/2012/06/tenacious-d-and-the-sights-at-the-tabernacle/
DALLAS OBSERVER (Dallas weekly) – Show review of Tenacious D's show with mention of The Sights' performance.
Tenacious D, The Sights
Palladium Ballroom
Friday, July 20
Detroit's The Sights might have fared better opening for Jonathan Tyler and the Northern Lights. The five-piece's sound, which had callbacks to the MC5 and Exile On Main Street-era Stones, was satisfying, but it just didn't seem to fit on a Tenacious D bill.
http://blogs.dallasobserver.com/dc9/2012/07/tenacious_d_the_sights_-_palla.php
TULSA WORLD (Tulsa weekly) – Show review of Tenacious D's show with positive mention of The Sights' performance.
Opening act The Sights opened with a set of late-'60s and mid-'70s-era rock and roll, complete with saxophone and and tambourine and harmonica and big beat drums and even a Hammond organ.
Their garage sound swaggered with influences ranging from punk to glam, blues to the Kinks to Queen.
http://www.tulsaworld.com/blogs/post.aspx?PHOTOS__REVIEW_Tenacious_D_at_Brady_Theater/29-16158
KDHX RADIO (St. Louis community Radio) – Stripped-down studio session Mon. July 23rd 11am-1pm . Session also featured on their website with photo gallery and positive write-up.
The Sights 7/23/12
Written by Chris Bay
Call it garage soul, call it ragged power pop, or simply call it rock 'n' roll. But whatever the label, the appeal of the raucous typhoon that erupts when the Sights kick into gear is undeniable.
The Detroit-based quintet — featuring Eddie Baranek (guitar and vocals), Jarrod Champion (keyboards and vocals), Dean Tartaglia (saxophone and vocals), Kyle Schanta (bass) and Skip Denomme (drums) — performed live at 88.1 KDHX while on tour in support of their most recent record, "Left Over Right." The session featured 4 songs from that release, including the organ- and sax-led romp "Not As Pretty," as well as the title track, which features a fierce four-on-the-floor rhythm and jagged, squalling guitar.
http://kdhx.org/music/live-performances/the-sights-7-23-12
THE COMMERCIAL APPEAL (Memphis, TN daily) – Positive album review with album art, tour dates, LOR mp3 and related links.
Garage rock band the Sights continues to grow its profile
By Bob Mehr
Eddie Baranek, the singer, songwriter, guitarist and mainstay of Detroit band the Sights, has always been an object of fascination to those in the know.
A garage rock prodigy of sorts, Baranek seems to have been blessed with an uncanny ability to evoke the best work of Humble Pie, Badfinger and Mott the Hoople in his songs — often in the same tune.
Though long beloved by more discerning music fans, Baranek and the Sights have been turning on new audiences lately, spending the summer touring as the opening act for comedy-rock combo Tenacious D. "It's a pretty macho testosterone-heavy crowd …," says Baranek of the shows. "We've always played to a hipster rock scene. So it's been a great opportunity to get in front of different people."
In between Tenacious D gigs, the Sights have been doing a handful of club dates. The band will make its much-belated Memphis debut with a show at the Hi-Tone Café on Tuesday.
Baranek formed the group in the mid-1990s while he was still in high school, and the Sights' twisting journey has been his own life story as well. "It is weird for me to have grown up in this band," he says. "It started out as a fun thing, a way to get free beer and talk to girls," he says.
"Over the years, it does morph and evolve and change. Now I have a mortgage; my priorities are different. You grow up a little bit. But along the way there's always that thread of passion — if you don't have that passion, then you need to get out."
In 2002 the Sights released its sophomore album, Got What We Want. A minor masterpiece, it came out in the midst of the White Stripes-inspired frenzy over Motor City garage rock. "When we first started, 'garage' was an adjective we would use to describe ourselves. As time went by and the media went crazy over 'Detroit garage rock,' we tried to stay away from that tag," says Baranek.
"It certainly was an element of who we were; we were reflecting what we were listening to. But being from Detroit — and it's probably the same as being from Memphis — there's was always huge soul/R&B grit to it too. Plus, I always felt a little bit more pop than a lot of Detroit bands. Basically, we weren't limited to one thing."
With an abundance of talent and a tart personality, Baranek and the Sights were on a fast track, generating critical praise in America, loads of attention in the U.K., and touring with the likes of Robert Plant and the Donnas.
In 2004 the Sights signed with the well-heeled New Line record label — an offshoot of the film company — and released a self-titled LP the following year that was supposed to have been the band's breakthrough.
Though the record sold well enough to warrant a follow-up, Baranek's subsequent demos were received coolly by the band's label and publisher. Things began to go south and the Sights' momentum sputtered.
"Back then I would've blamed New Line and pointed fingers. But I was young and stupid, and didn't realize the whole music industry was going down the toilet at the time," says Baranek.
After a nearly a decade, where he'd grown from fresh-faced schoolboy to rock star in waiting, Baranek had hit a wall. He decided to put the Sights on hold at the end of 2007. "I'd lost the passion, and that was scary," he says. "I sorta crawled in a hole, went back to school, tried to get a degree."
Baranek later began student teaching English literature and working with kids at a local School of Rock. "I got my life together and didn't worry about the Sights. But there was always this gnawing, nagging thing in the back of my head — like, 'Come on, man; you're still hungry. Get off your ass and do this.'"
Following a five-year gap, Baranek finally re-emerged with a reconstituted Sights lineup for the 2010 LP Most of What Follows Is True, a largely autobiographical work — a mix of chugging '70s rock and pastoral pop — that perfectly captured Baranek's musical evolution.
After touring in support of the disc, Baranek followed up relatively quickly, writing songs for the recently released Left Over Right. Unlike past efforts, the new album is less bluesy and guitar-driven, and offers a more R&B-oriented sound, built around horns and keys.
"I don't know how conscious I was of it, but I was getting tired of playing guitar," says Baranek. "Most of this record was written on a piano at my house. It's actually an old, out-of-tune piano that I got when my grandparents passed away."
"I left it in that busted-out tuning; I guess I didn't want to fix it, since it's how it was when they were alive. But I would I just write on that, and I think that's why the songs are in distinct keys and have a different flavor to them."
Recorded with longtime engineer/producer Jim Diamond, Baranek and a revolving crew of musicians cut the album sporadically over a six-month period. "It took a couple band members leaving and joining to get it done," says Baranek, chuckling. "I had like seven guys on this record."
The current Sights lineup — a five-piece featuring Jarrod Champion (keyboards/vocals), Dean Tartaglia (saxophone/vocals), Kyle Schanta (bass) and Skip Denomme (drums) — has proved Baranek's most adroit backing crew.
As its only consistent member, the Sights have long been a vehicle for Baranek, and he's occasionally considered, then resisted, suggestions he "go solo."
"I am the only constant in the band," he says. "But I never wanted to change it or call it something else. I can't detach myself from my baby, I guess."
Since resuming the band's career a couple years ago, Baranek has seen the Sights continue to grow its profile. The group's music has been getting a steady stream of film and commercial placements — including a couple for hometown carmaker Chevrolet.
"I feel like it's finally coming to me. Frankly, it's the result of a lot of hard work," he says. "I'm happy doing this and — it probably sounds strange — but I feel more like myself than I ever have."
The Sights, Shana Falana
9 p.m. Tuesday at the Hi-Tone Cafe, 1913 Poplar. Tickets: $5, available at hitonememphis.com or at the door. Call 901-278-8663.
http://www.gomemphis.com/news/2012/jul/12/garage-rock-band-the-sights-continues-to-grow/
BLURT  (National music monthly magazine) – "Left Over Right" mp3 premiere with band photo, tour dates and positive write-up.
MP3: New Sights
By Blurt Staff
Detroit's garage/power pop monsters The Sights, fronted for the past decade and a half by Eddie Baranek (guitar/vocals), have just released their seventh effort, Left Over Right, the followup to 2010's Most of What Follows Is True (reviewed here at BLURT). On it, Baranek is joined by Jarrod Champion (keyboards/vocals), Dean Tartaglia (saxophone/vocals), Kyle Schanta (bass) and Skip Denomme (drums) where they deliver not only their most soulful album to date, but do it with all of the intensity that has fueled their previous recordings and live shows for well over a decade.
http://blurt-online.com/news/view/6467/
AUSTIN EXAMINER (Austin A&E site) – Feature interview with Eddie to preview Austin show, with band photo and related links.
10 Questions with Eddie Baranek of The Sights
By: Thomas McAleer
Eddie Baranek is the frontman of The Sights (www.sightsarmy.com) who are on tour this summer supporting Tenacious D, having just released their full length cd "Left Over Right". They are coming to Austin Music Hall tomorrow night, July 19. Eddie recently answered 10 questions for me.
Who are your songwriting influences?
*My ex-girlfriend, mainly. But I am also influenced by Alex Chilton/Big Star, Jenny Lewis, Tim Hardin, Otis Redding. It all starts with a good song.
When and where was your first public performance?
*I was 16 years old, and it was at a venue for teens here in Detroit. We played 15 songs, and I remember covering "Trash" by the New York Dolls. I was hooked on this rock 'n' roll thing.
What was the first record or cd you purchased with your own money?
*The first LP I bought was Highway to Hell 'cos Angus and the boys looked so scary I knew they knew something and I wanted in on it.
What was the first live concert you attended?
*When my family was coming home from a vacation white water rafting in Virginia we accidently stumbled upon a free summer concert of The Monkees somewhere in Pittsburgh. I was around 11 or 12 years old.
Which venue would you most like to play that you haven't yet/ and which is your favorite venue to play?
*On this tour with Tenacious D we played the Ryman in Nashville, The Gorge in George, and many beautiful ballrooms and old theaters across the U.S. I must say, I am one lucky guy.
What is the best career advice you've been given, and by whom?
*I remember Johnny Hentch of Detroit's The Hentchmen telling me one time "maintain your edge, Eddie. Don't soften up just 'cos you're getting older." I liked that.
Who are you listening to now?
*At the moment, I've been loving Jenny Lewis' solo stuff, the new Small Faces' reissues, and Nina Simone.
What is your best story about life on the road?
*The cliche of "life on the road" is not what anybody really thinks it is. It's hard work, it's unforgiving, and it can take a lot out of you– but I wouldn't trade that journey for anything or anyone in the world.
What recordings are available to the public and where can they be purchased?
*You can order our lp/cd directly from us here, at www.sightsarmy.com, buy it on iTunes, or get one from me at the show!
When and where are you playing next?
*We're out this summer supporting Tenacious D, and it's been one hell of a run. We're hitting the south and west coast July-August, so come say hi. Playing Austin on July 19 at Austin Music Hall.
http://www.examiner.com/article/10-questions-with-eddie-baranek-of-the-sights
LOS GRILLOS  (L.A. online music magazine) – Positive album review with album art, tour dates, LOR mp3 and related links.
The Sights – LEFT OVER RIGHT
The first two tracks off the latest from Detroit's The Sights, Left Over Right, announce an album that strikes a balance between classic power pop and heavy soul, with infectious opening title track bringing the former and advance single "Fool (I Can't Stop Making Out With You)" rocking the latter before track three brings it all together with the bounce and grit of "Prayer". From there the band, coming on like Badfinger with a kickin' horn section, delivers a series of tunes that can easily be described as Beatle-esque in their mix of melody and harmony as well as studio work courtesy of producer Jim Diamond (White Stripes, Dirtbombs). Hell, there's even one for Ringo to sing in the form of goofy, jaunty "You Are The Sunshine". The end result is a winning, layered mix of garage, pop and soul that gets better with each listen (and sounds even better from the speakers of my car stereo than it does at home) and boasts enough studio flourishes and solid craftsmanship to have plenty of appeal to the audience that pushed the latest from The Black Keys and the recent Jack White release to the top of the charts.
Left Over Right is out now via HRM. Check it out here.
The Sights are currently on tour in support of the album (and sharing the stage with Tenacious D for a number of shows). Catch 'em live if you can…
http://www.losgrilloscollective.com/the-sights-left-over-right
DAGGER  (online music magazine) – Positive album review with album art and related link.
The Sights – LEFT OVER RIGHT (HRM)
Detroit's former boy wonders, The Sights are back with a new one. And all's just a little more right with the power pop world. Well, it's not entirely, or only, power pop – the band has a strong soul influence, with a bit of hard rock to it as well. In any case, Left Over Right is a five-man life force, it's so full of irresistible hooks, '60s-inspired songwriting, and passionate rock 'n' roll affection. For anyone who's familiar with Sights founder/lead singer/guitarist Eddie Baranek's story, it's pretty inspiring (basically, after achieving an enviable degree of success and acclaim in the early '00s, the band broke up, after which Baranek kind of fell apart, then pulled himself together and started over). His current co-Sights are Jarrod Champion (keyboards, vocals), Dean Tartaglia (sax/vocals), Kyle Schanta (bass), and Skip Denomme (percussion). With two songs being used for Chevy ads and a summer tour with Tenacious D, the new construction's looking as good, or better than the older one(s). So far, my fave track's the title one, which rivals Big Star for joyful exuberance and four-to-the-floor energy. "Mercy" is a soulful rocker. And "You are the Sunshine" is a juicy burst of honky-tonky pop that has some of the Small Faces' mischievous verve. Doesn't look like Baranek & Co. are likely to run out of ideas any time soon. www.sightsarmy.com MARY LEARY
http://daggerzine.com/reviews_main.html
JESTER JAY MUSIC (online music blog) – Positive album review
Recording review – The Sights, Left Over Right (2012)
A perfect storm of retro rock and soul
I first heard about Detroit retro-rockers The Sights because they're touring with Tenacious D this summer. The blurb included a link to Fool (I Can't Stop Making Out With You) from their new album Left Over Right. A flirt of feedback and drum stick click count started the song and I was transfixed within seconds. A haze of harmonica and sax settled in on top of the deliberate drive of the guitar and bass riff, but then the discord clarified to reveal Eddie Baranek's vocals. His verses conjured Eric Burdon and the Animals. Then the soulful chorus broke the tension with a tidal wave of sound: horns, harp, and tight rhythmic stabs.
As much as I love the convenience of my iPod, Fool made me long for my turntable again. The volume knob crept higher with each replay. After swallowing this hook, I had to hear more.
Fool's intro is more modern, but the bulk of the track screams 1965, in large part because of Jim Diamond's old school production. The softened woomph of the kick drum, the roomy vocal reverb, the subtle build on the keyboard – these sonic decisions nurture both those stripped down verses and the headier choruses.
The rest of Left Over Right provides similar moments of satisfaction. The sound creeps forward to visit late '60s/early '70s classic rock, decorative bits of psychedelia, and even folk rock. There are so many whispered influences (The Animals, Badfinger, Bowie, The Band) that it's not so much a tribute as a long comfortable soak in a bygone era.
Diamond's engineering on Left Over Right is such a strong contributor that it almost deserves band-member status. Like a sculptor, he tweaks the texture to generate subtle effects and elicit the perfect mood. On Mercy's intro, he slathers on a thick mono layer of retro, like a teenager's cheap phonograph. This opens into a fuller, soul-tinged rocker that pushes the clock forward by about seven years:
The three sides to every truth
Are yours, mine, and the absolute
Which one are you gonna choose?
Whichever one suits your needs
The musical question is appropriate. Are The Sights retro-purists, gold diggers, or just naturally groovy? As Left Over Right time travels back and forth, the band blends in like chameleons. Still, every track sounds natural as the production, arrangement, and the writing create the appropriate mix.
The band itself seems to address the credibility question. On Anything to Anyone, The Sights offer a more modern sound, like Portugal. The Man's psych-pop. Baranek tosses down the gauntlet:
I look at myself and wonder, what would I become?
Anything to anyone?
I could sing without pretense
Or dance in your decadence
Would you think it's all an act?
With candor, he pushes the question back to the listener. He knows who he is and challenges his audience on their own consistency.
Without a yardstick for this longtime band, I can't judge their classic cred. But Left Over Right is a damn good reference point and a great album.
http://jesterjaymusic.blogspot.com/2012/07/recording-review-sights-left-over-right.html
RED RED WINE ON A SUNDAY  (online music podcast) – "Not As Pretty" featured on their "Best Of 2012 – So Far" podcast.
http://redredwineonasunday.blogspot.com/2012/07/red-red-wine-on-sunday-142-when-i-fall.html
KTSW RADIO (San Marcos, TX college radio) – "Could Not Call It Love" aired on 07.05 (per MD Jessie Clemons)
WMSE / "ZERO HOUR" (Milwaukee, WI college radio) – "Not As Pretty" aired on 07.06.12. and "Could Not Call It Love" aired on 06.29. High-fives to our pal, Andy Turner!
http://zerohourradio.blogspot.com/2012/07/playlist-for-62912-live-from-summerfest.html
REAL PUNK RADIO  RED RED WINE ON A SUNDAY SHOW  (online music site/podcast show) – "Not As Pretty" spun on show #142 on July 3rd.
http://realpunkradio.com/red-red-wine-on-a-sunday-142-when-i-fall-down/
AFTER 5 DETROIT  (Detroit online A&E site) – Positive feature with band photos, Fool mp3 and related links.
The Sights
By Yuliya Harris
From Motown to rock, this city has always been the epicenter for amazing music…and the beat hasn't slowed down yet.  With hopeful stars on the rise, we direct our attention (and ears) towards the city's latest up and coming band, The Sights.
The blues/rock band surrounds the likes and sounds of Eddie Baranek (guitar/vocals), Jarrod Champion, Skip Denomme, Kyle Schanta, and Dean Tartaglia that came to be "when a couple of high school friends came together over a mutual love of music," says the band. For The Sights, "the Detroit music scene was really heating up and we got caught up in all the fun." So much fun, that it's been ongoing for this band for the past 10 years.
In a day when studios are able to alter sounds and songs to any liking, The Sights stick to the good ole' heart and soul of true rock and roll.  So what sounds can you expect to hear from The Sights?  According to their own bio, they "combine the unobtrusive honesty of The Band with countless slivers of influence from their own personal record collections: Ike & Tina, Solomon Burke, The Everly Brothers, Bob Seger, Tim Harden and all manner of raucous infectious songwriting."
This year, they will celebrate their fifth record, "Left Over Right." The record, according to the band, "is our tightest record: everything in every song is in there for a reason." And from listening to the tunes, I can understand why this album is their best yet. My personal favorite song, "Fool" – which you can click to listen and download it for free – click here.
So on May 16th, they begin their nation-wide tour, with their first stop in St. Louis – but not before playing a farewell gig in Ypsilanti this Saturday, May 12th.   And then it's on the road, making stops around the nation to play alongside Jack Black's band, Tenacious D. With a three-month nation-wide tour and a new record on the horizon, the band is feeling pretty good about their immediate future.
Although the band is going to be touring the nation, they still call Detroit home and find time for a few shows in our own backyard. On June 16th you can find the band performing at the Park Bar in Detroit and we're proud to announce The Sights as our opening act at The Fillmore on June 14th.
The city's influence on the band resonates in their music. "Well, we're not cutesy sunshine pop all the time. Neither is Detroit. We've got energy and creativity flowing through these veins and streets." Perfectly said.
I had the chance to listen to the band at Michelle Elder's LiveWorkDetroit event in April. Although the crowd was quite serious, once the band took the stage—we all turned into schoolgirls with front row seats to our favorite band's concert. It only took one concert and we became quick fans, so if you are a lover of rock and roll and lively performances, check out this local band on the rise.
For the rest of their tour dates, check out their summer schedule.
http://www.after5detroit.com/play/people?id=1776
CONCERTLIVEWIRE (Chicagoland online music site) – Positive Chicago show preview with band photo in "This Week's Picks".
This Week's Picks: A polished Diamond, see The Sights, Hawthorne Effect heads home, Ringo revs up
Show up early for The Sights: Technically Tenacious D is the headliner at the Aragon Ballroom on Saturday, and while its comedic brand of irreverent rock always hits the spot, be sure to show up early for local heroes Urge Overkill and openers The Sights. Those latter Motor City soul/garage/blues rockers just wrapped up the recording sessions for "Left Over Right," which could fit just as comfortably alongside The Band, Solomon Burke or Bob Seger, packing plenty of pop sensibility at every turn. Saturday, July 7 at Aragon Ballroom: www.jamusa.com.
http://www.concertlivewire.com/dailydish.htm
BROOKLYN VEGAN (NYC online music blog) – D & Sights Show preview.
http://www.brooklynvegan.com/archives/2012/06/tenacious_d_pla.html
…and Brief Union Hall show mention.
If you missed the Sights opening for Tenacious D, like we did, there's always Union Hall tonight.
http://www.brooklynvegan.com/archives/music/to_do/
KDHX RADIO (St. Louis community Radio) – Stripped-down studio session Mon. July 23rd 11am-1pm (with Nick Acquisto)
WRAT RADIO / "The Electric Ballroom" (Lake Como, NJ Rock Radio) – Stripped-down studio session Sat June 30th at 11:00am est (with mainman Keith Roth) Will air Sun. July 8th between 1opm-midnight est.
EAST VILLAGE RADIO (NYC Internet Radio) – Studio visit with Eddie (interview and spins of some fave tunes) on Mike Newman's "Beyond Beyond Is Beyond" show Thu. Jun. 28th at 1pm.
Listen to Beyond Beyond Is Beyond on Thursday at 12pm (Noon) ET as host Mike Newman welcomes Eddie Baranak, singer/guitarist for Detroit rockers The Sights, to the program. Baranek will be dropping by during the show's second hour to talk about his long-running band's new LP, Left Over Right, life touring with the lords of rock, Tenacious D and to do some guest DJing. If this doesn't sound like a rock & roll party, we don't know what does. Listen live here or via our free mobile app for iPhone and Android.
For now, dig on the title track from The Sights' new album and peep their remaining summer tour dates at the bottom of the page.
http://www.eastvillageradio.com/content/content.php?id=4123
NYC EXAMINER (NYC online A&E site) – Positive show review.
Tenacious D, The Sights tear the roof off the Hammerstein. Second show tonight.
About midway through the opening set by Detroit's The Sights you could close your eyes and just about be at the Fillmore in 1971 watching Humble Pie. In fact, if you squinted at the stage at diminutive frontman Eddie Baranek's direction as he leaped about the stage, attacking his hollowbody Gibson, you might've just thought the ghost of Steve Marriott was in the house.
That's no mean trick. Setting aside what a seminal figure in rock Marriott was, The Sights were merely the opening act. The centerpiece of the evening was the triumphant return of Tenacious D.
http://www.examiner.com/article/tenacious-d-the-sights-tear-the-roof-of-the-hammerstein-second-show-tonight
TIME OUT NEW YORK  (NYC weekly) – Brief positive Union Hall show preview.
 The Sights + The Brought Low + The Wicked Tomorrow
Time Out says
Detroit's the Sights do a fine job of combining garagey crunch with retro-pop melodies. Their latest is Left Over Right. Support comes from greasy boogie-rock combo the Brought Low, which is something like our fair city's answer to Foghat.
Union Hall
702 Union St, Brooklyn
http://www.timeout.com/newyork/music/the-sights-the-brought-low-the-wicked-tomorrow-union-hall-july-1-2012
CITY BEAT  (Cincinnati weekly) – Positive show preview with Sights video.
The new group DAAP Girls makes its live debut tonight, opening for solid Detroit rockers The Sights at MOTR Pub in Over-the-Rhine.The Girls consists of members of local Rock band The Lions Rampant and NoKy Ska/Reggae crew The Newport Secret Six. Lions/DAAP Girls member Stuart MacKenzie describes the band as a "dance-oriented mix of early Stones' guitars, Funk breakbeats, three-part harmonies and Reggae bass." Tonight's free show kicks off at 10 p.m.
Headliners The Sights begin touring with Tenacious D tomorrow (playing Nashville's Ryman Auditorium) and are promoting their latest release, Left Over Right. Here's the Garage Pop band playing the title track at a show in Ypsilanti last month.
http://www.citybeat.com/cincinnati/blog-3627-music_tonight_art_vs_science_beneath_oblivion_and_more.html
ATLANTA EXAMINER  (Atlanta A&E site) – Positive album review with  band photo to preview Atlanta show.
The Sights release 'Left Over Right" and hit the road with Tenacious D
The Sights are a band out of the motor city that delivers pop heavy tunes infused with the right amount of fuzz and soul. Longtime critical darlings, their 14 year career has yielded multiple albums full of musical nuggets that scream DETROIT! Their latest album, Left Over Right, is a whole lot more of the same.
After giving their new record multiple spins it is more enjoyable with each listen. Musically they pull from a vast array of resources, just listen to "Prayer" which is loaded with smooth rhythms or the Beatlesque "Anything To Anyone". There is "Left Over Right", a fast paced guitar driven track that needs to be cranked up loud. They tap into 60's pop with "Bad Man" and "Mercy" which are full of melodic harmonies and jangly guitars. Just when you think you have The Sights pegged they whip out "Easy Living" full of country twang. From start to finish the music on Left Over Right employs the soulfulness of Motown, the frantic energy of the MC5 and catchy lyrics to create a musical environment for the listener to enjoy.
With a new record comes a tour across America to bring the music to the masses and that is exactly what The Sights have set out on. They have signed on as the supporting act for Tenacious D assigned the task of riling up the fans before the "D" hit the stage to melt faces. The tour stops in Atlanta on Monday June 25th at the Tabernacle. The doors open at 8pm with The Sights hitting the stage not long after that. Check out their new record Left Over Right then see them live in Atlanta, it should be a good night of music.
WHO: The Sights & Tenacious D
WHERE: The Tabernacle
WHEN: Monday, June 25th, 8pm
http://www.examiner.com/article/the-sights-release-left-over-right-and-hit-the-road-with-tenacious-d
MIDNIGHT TO SIX  (online music blog) – Positive album review with  album art.
The Sights – Left Over Right (HRM Records)
Left Over Right is The Sights' fifth album since they burst onto the Detroit scene in the late '90s as teens, and their second since going on hiatus in the back half of the 2000s. Since returning to action, lead singer and only original band member left, Eddie Baranek has toned down some of the garage rock bashing that defined their raucous early years, and focused in on development as a songwriter and singer (his soulful voice compares favorably with Steve Marriot). Left Over Right is a testament to Baranek's maturation, with he and the current five-man line-up of the band sweetening their songs with Beatles-y touches like harmonies, intricate arrangements and thickly layered instrumentation that makes the most out of Jim Diamond's production techniques. The brilliant garage rock producer's (White Stripes, The Ponys, The Dirtbombs…etc.) skill behind the board really allows the band go the extra mile, as he makes the studio as big a part of The Sights' sound as anything else. Everything that the album has to offer comes together magically on lead single "Fool (I Can't Stop Making Out With You)" which is a catchy strut of a rock song that recalls their early swagger but with horns, organs and harmonica embellishing the song into a large-scale production. Elsewhere on the album they make a good case to be this millennium's Badfinger (minus all the death and depression) on "Bad Man" and "Anything To Anyone", and find a way to add gospel flourishes to high-energy rock on "Not As Pretty". The only song they fall flat on is "You Are The Sunshine", a cloying attempt at cutesy '60s balladry that even The Monkees might have dismissed as too fluffy. Cast that track aside and Left Over Right is the perfect album to give the person in your life who complains that they don't make bands like they used to anymore.
http://midnighttosix.wordpress.com/2012/06/21/the-sights-left-over-right-hrm-records/
CULTURE BRATS  (online music site) – Positive album review with  album art, related links and Fool mp3.
CD Review: The Sights, Left Over Right
Today marks the release of Left Over Right, the fifth full-length album from The Sights, who are touring this summer with Tenacious D. Now a quintet, this Detroit band has been excelling in bluesy power pop since 1998 and this album is no exception. If you're excited by the throwback soul/rock sounds that have been showing up on the radio, The Sights' latest album may be right up your alley.
The album starts off strong, opening with the bop-worthy track "Left Over Right" and followed by the screaming guitars of "Fool," both catchy, high energy tunes that show off their heavy '60s rock influence but tempers the retro feel with updated power chords. After that is the track "Prayer" which displays the same energy but has a definite soul sound, reminiscent of Creedence Clearwater Revival. It is that melding that most characterizes the album in its entirety.
However, there is a fine line between showing your influences and becoming a tribute to them. The middle of the album gets a little same-same after awhile. The tracks "Bad Man" and "You Are The Sunshine," while still displaying energy, are a little too retro and threaten to pour on more saccharine '60s sweetness than I think modern audiences are attuned to. The songs are still fun standalone, but my gut says that infusing a tad more modernity into the pop here, or alternatively, slowing down the tempo, would spice up the album as a whole.
That criticism aside, the album then brings it on strong again with the piano-driven energy of "Not As Pretty" and the attention-grabbing "Could Not Call It Love" that couples lyricism and fuzzy drums. The album ends well with the surprisingly twangy track "Easy Living," which is upbeat but slightly softer than previous songs.
Overall, the band has a great infectious energy and consistently strong, harmonic vocals. The addition of saxophone and organ elements both add to the '60s sound and push the energy higher (think The Isley Brothers), but I especially love how they captured the bassy, dry sound of '60s/'70s era drums. When I hear these songs I think the house party that started as a backyard bar-b-que and got a little rowdy (which is kind of how we all want our bar-b-ques to go, am I right?). I hope to hear these guys picked up on more radio stations – my bet would be on "Left Over Right" or "Fool" but I have a fondness for "Could Not Call It Love." Sometimes soaring, this album is a solid offering and showcases that what The Sights do, they do very well.
http://www.culturebrats.com/2012/06/cd-review-sights-left-over-right.html
BIRMINGHAM FREE PRESS  (Birmingham online music site) – Show preview with press press release and band photo.
http://birminghammusicnews.blogspot.com/
HELLHOUND'S MUSIC (online music blog) – News post (from press release) with album art, band photo and related links.
http://hhmzine.blogspot.com/2012/06/sights-new-left-over-right-lp-out.html
CW'S PLACE (online music site) – News post with album art and related links.
http://cwsplace.wordpress.com/2012/06/14/the-sights-new-full-length-album-left-over-right-drops-on-tuesday/
WORDS, MUSIC… & SOMETIMES BASEBALL  (online music blog) – Positive album review with band photo, video, album art, related links and Fool mp3.
The Sights – Left Over Right
June 18, 2012
About ten minutes into Left Over Right by The Sights it was easy to tell this was going to be a 'toss some burgers on the grill, put the beer and soda on ice and yell for all the neighbors to come over and have a party' album.
The tracks are rock with a great rhythm & blues vibe running through them. My favorites are Fool,with it's slammed by a freight train intro,
You Are The Sunshine, for its Carolina Beach Music sound that pulls everyone out on the patio to do the shag, and Mercy because sometimes I just need a cool saxophone sound with my guitars.
Left Over Right is an awesome album you will want to share. Pick up a copy, have your family or friends over and just throw a party or barbecue while it plays.
You can check out more music from the band on their website or their facebook page. You can also follow them on Twitter @TheSightsArmy.
Left Over Right releases tomorrow, June 19th and is available on CD or Vinyl from the website and as a digital download from iTunes and Amazon.- Kit
http://www.wordsmusicbaseball.com/?p=7030
CHICAGOIST  (Chicago online A&E site) – Very positive show preview for June 7th Chicago show with band photo and related links.
The Sights Blow Out Ears, Deliver Beyond Expectations
The first time The Sights were described to us the mental image we conjured was of a soul band's heart beating in a garage band's body, and that wasn't far off. Their earlier albums are scrappy, turbulent affairs and the first few times we saw frontman Eddie Baranek perform we kept waiting for him to either pass out or fall of the stage.
As the years passed the band continued to put out solid albums people with a rotating case of musicians with the band remaining based in Detroit. We admit, though, that we didn't really see the band growing so we lost touch with them over the years.
The Sights' new album, Left Over Right, has returned our focus to the group though, filled as it is with songs that show that little soul heart has leapt out to overtake the garage rock body in a big way. These songs show the band growing into a true R&B machine, mixing southern horns into guitars that continue to roar with a Motor City ferocity. Baranek delivers his vocals with the abandon of a preacher about to slip into tongues as he channels his spirited tales to lay along the walls of organ-flecked pandemonium underneath.
The Sights have always been a great live band. And their albums always showed they were capable of delivering solid studio work. But Left Over Right show as the band has finally wrassled that live fervor and captured it down to tape to finally reveal their full potential. And a more potent result we couldn't have asked for.
The Sights play Sunday at Double Door, giving us a chance to see these new songs in action, but download "Fool" off the album and get a taste for what to expect.
MP3: The Sights "Fool"
The Sights play on Sunday, June 17, at Double Door, 1572 N Milwaukee, 8:30 p.m., $10, 21+
http://chicagoist.com/2012/06/15/the_sights_blow_out_ears.php
ILLINOIS ENTERTAINER (Chicago music monthly magazine) – Show preview for June 7th and July 17th Chicago shows.
You wouldn't know it from their music, but Tenacious D clearly have a thing for Cheap Trick. The openers for their Chicago set next month are Urge Overkill and The Sights, the latter of whom will give a special showcase for the forthcoming Left Over Right (HRM) this weekend. The title track borrows a little "I Want You To Want Me" bounce, while the rest of the album deftly mixes churning guitars with left-of-center, Beatlesque power-pop melody. (Sunday@Double Door with Reigning Sound.) – Steve Forstneger
http://illinoisentertainer.com/2012/06/thats-the-sway-i-like-it/
TOP 40 CHARTS (online music site) – News post (from press release) with album art and related links.
http://top40-charts.com/news/Pop-Rock/The-Sights-New-Full-Length-Album-Left-Over-Right-Drops-June-19th/79261.html
HUGHSHOWS (Pittsburgh music blog) – First/Last interview with Eddie and band photo.
First/Last-The Sights
"2012 is shaping up to be The Sights' best year yet. They've already supplied the music for two Chevrolet ads, and this summer will bring a new single ("Eso No Está Bien Pequeña/Like Two Little Kids") as well as the release of their seventh effort, Left Over Right. On it, Baranek is joined by Jarrod Champion (keyboards/vocals), Dean Tartaglia (saxophone/vocals), Kyle Schanta (bass) and Skip Denomme (drums) where they deliver not only their most soulful album to date, but do it with all of the intensity that has fueled their previous recordings and live shows for well over a decade. If you love – really love – passionate songs that fire your imagination and move your ass, then you're gonna really love The Sights."
I want to thank the band's frontman, Eddie Baranek, for taking a few minutes to participate in this edition of First/Last.
The first album you ever bought?
The first album I bought on vinyl was ACDC's "Highway to Hell" because the dudes looked evil on the cover.
Your last album bought?
The last album I bought was "The Great Memphis Sound" by The Mar-Keys, the lifeblood of Stax Records.
Favorite album of all time?
Why the newest Sights' record, of course. It's called "Left Over Right" and you can get it from me at the show or online or order it on our website.
First concert attended?
My first concert was The Monkees on accident. I was with my family coming home from a white water rafting adventure in West Virginia and the show was near Three Rivers Stadium at some outdoor venue. I was about 11 years old.
Last concert?
The last concert was the one we did with Tenacious D. In fact, we'll be out all summer supporting them. Great band and sweet dudes.
Favorite concert ever?
I am still in love with the one time I saw Jonathan Fire Eater in Detroit in about 1996. They eventually became The Walkmen.
Least favorite concert?
Anything with a laptop.
Any thoughts, experiences about Pittsburgh?
I love Pittsburgh, it has such a Detroit feel to it. I remember going to Primanti Bros. after a gig and some asshole was yelling at his woman 'cos she wanted fries on the side, not in the sandwich. How can you yell at someone for the way they eat something? Who cares?
Thanks, Eddie.
http://hughshowsredux.blogspot.com/2012/06/firstlast-sights.html
ZOIKS! ONLINE (online music blog) – News post (from press release) with tour dates.
http://www.zoiksonline.com/2012/06/sights-join-tenacious-d-for-highly.html
BEHIND THE HYPE (online music magazine) – Positive Sasquatch show review.
The Sights
Heavy rock/soul straight from Detroit. Since their  single "Rock & Roll Circus" we've been waiting to catch them ilive. They're even better than we imagined! Each member had their own moment. The frontman Eddie Baranek throws his whole body into every song and the tenor sax solos killed! Apparently Tenacious D agrees, because the Sights are opening for them for the rest of the tour.
http://www.behindthehype.com/featured/sasquatch-2012-review/
FILTER (national music magazine) – Positive posting with band photo in Getting To Know recap feature.
Getting To Know: The Sights
Where They Were Then: The Sights were getting clumped into the Detroit rock sound with bands like the White Stripes and the Von Bondies…and did not like the comparisons. They were also on the verge of releasing their third album, The Sights.
Where They Are Now: After a five year full length recording hiatus, The Sights released their next full length album Most Of What Follows Is True in 2010. The trio also just announced on their website that they will be opening for Tenacious D this summer.
FILTER Said: The Sights' self-titled third album is a kinetic mosaic of sound that pieces together British Invasion pop with classic rock and '60s harmonies with '70s guitar.
They Said: "I wanted to start a band that either sounded like the Jam, like a clean power pop thing, or like Traffic, improvise, really psychedelic—you know, the complete opposite of the Jam. And then I was like, 'Oh fuck, why can't I just combine these two?' And I think that's what I'm trying to do."
http://filtermagazine.com/index.php/exclusives/entry/10_years_of_filter_issue_14_revisited_getting_to_know_sage_francis_stars_mo
FEARLESS RADIO (Chicago Internet Radio) – One hour unplugged session with  interview on Mon. June 18th at 2pm (cst).
MUTINY RADIO (San Francisco Internet Radio) – Studio session Friday, May 25th at 11am (pst) with Ashley Welton.
SPINNING PLATTERS (online music magazine) – Positive Oakland show review as part of their Tenacious D review.
Show Review: Tenacious D with The Sights at Fox Theater, 5/24/2012
by Stacy Scales
I spent the day prepping by listening to these deliciously fun records and got myself to the venue in plenty of time to await the opener: The Sights. It seems it could be a bit tricky to find a band that fits the bill to open for Tenacious D, but what the hell did I know? I knew one great song by the Sights, "Fool (I Can't Stop Making Out with You)" from their current release, Left Over Right, and liked what I'd heard. When they took the stage though, I was unprepared. Throughout their set, I couldn't shake comparisons in my head to classic rock bands, yet they have a distinctly modern feel. I made a note that said "classic rock meets 21st century" and went back to enjoying the music. The band's full sound is thanks in part to its many musical elements, which surpass the basic drums/bass/guitar trio by adding keyboards, saxophone, tambourine, and even a sick harmonica solo from the front man. I particularly liked a song called "Mercy," and between songs, lead singer Eddie paused to say hello, saying that they had a few more for us, "and then I think you guys know what's going on…"
The next two songs, "Left Over Right" and the aforementioned "Fool" were enough to put this band's album at the top of my to-buy list. My only gripe is with myself, and it's that I couldn't put my finger on which classic rock band(s) in particular they reminded me of. I thought briefly maybe it was a little Steve Miller Band, or The Who. Maybe it's Iron Butterfly, or maybe that was just the organ. In the end it didn't really matter. All I know is that I thought they were great, and well-seasoned performers. They know how to make a rowdy, antsy crowd happy, and I can only imagine that's no small feat.
http://spinningplatters.com/2012/05/26/show-review-tenacious-d-with-the-sights-at-fox-theater-5242012/
CINCY GROOVE (Cincinnati music blog) – News post  with band photo, Fool mp3 download, related links and Cincy show preview.
http://www.cincygroove.com/?p=8591
FEARLESS RADIO (Chicago Internet Radio) – News post  with band photo, Fool mp3 download and related links.
http://www.fearlessradio.com/musicians/press-releases/5460-the-sights-hit-the-road-w-tenacious-d-for-summer-tour–new-qleft-over-rightq-lp-out-june-19th
CULTURE BRATS (online music blog) – "Fool" mp3 download and band photo featured.
http://www.culturebrats.com/2012/05/sights-fool.html
METRO TIMES (Detroit weekly) – New album and tour feature with "Fool" mp3 download, band photos and related links.
The Sights New Album, Major American Tour, Free Download and Road Diary!
May 1, 2012
By Brian Smith
Let us offer up a toast of cheap red wine to the Sights for earning the respect of thespian rock star Jack Black after some Hollywood shows the band did several years ago in which singer Eddie Baranek called it like he saw it with chords and words. (Baranek's a proper rock 'n' roller, ya see, which also makes him a master of self-sabotage – he even once told Rick Rubin to fuck off after a Sights Troubadour show, and nearly got his band tossed off a Robert Plant tour for numerous infractions.) Black obviously sees the giant in diminutive Baranek so he personally tapped the Detroit combo (now a quintet) for Tenacious D's "Rize of the Fenix" U.S. tour this summer. Black said he wanted a "real rock 'n' roll band" to support them. Good thing we here at Metro Times – who've long supported the Sights – aren't the only ones who know the worth of Baranek et al. (Look, we've watched and documented Baranek, from his loss of innocence to his growth into a songwriter's writer.)
The multi-month tour, which kickstarts in St. Louis on May 16 with a handful Sights solo dates, will see the band play storied American venues including Denver's Red Rocks, Manhattan's Hammerstein Ballroom and Nashville's Ryman. Longtime Sights road man Shades will head up band's caravan.
Tour Diary: We also couldn't resist dispatches from said tour so we enlisted Baranek to keep an online tour diary, updated every other day, in our blog section with accompanying photos by Shades, who also happens to be a rising photo journalist.  Eyeball that in both our Music Blahg and Star Traction blogs beginning May 18.
New album: Each time the Sights make a new record we say it's their best yet. No sense straying from tradition and getting up off our knees now 'cause their new, AutoTune-free, Jim Diamond-helmed album (their seventh!), Left Over Right, is the band's finest moment thus far. No shit. It's out June 19 on CD, digital and limited-edition vinyl.
Free Download: Here's a free download of the song "Fool"  from the forthcoming full-length.
The Sights are playing two shows this weekend too. One's a Cinco De Mayo celebration on Friday at Royal Oak's Tequila Blue. Look for a collectable Sights 7" single whose A-side's sung in Spanish! Saturday the band hits Detroit's Town Pump.
http://blogs.metrotimes.com/index.php/2012/05/the-sights-new-album-major-american-tour-free-download-and-road-diary/
THE WASTER (online music site) – New album and tour post with "Fool" mp3 download, band photo, tour dates and related links.
The Sights: New Album/Summer Tour
The Sights have released a new album entitled Left Over Right, available now via HRM. The Detroit rockers are on tour this summer in support of Tenacious D! Check out the new track 'Fool' below…
http://thewaster.com/index.php?option=com_content&view=article&id=2354:the-sights-tour-datesfree-download&catid=6:news-wire&Itemid=82
MUSIC INDUSTRY NEWS NETWORK / Mi2N (online music industry site) – News posting from press announcement with album art, "Fool" download and related links.
http://mi2n.com/press.php3?press_nb=154959