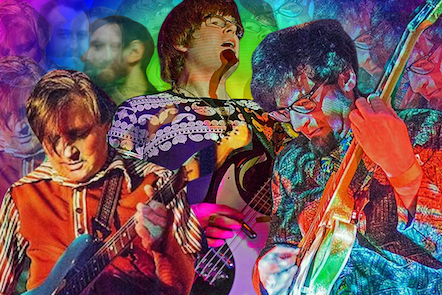 Click here to watch The Prefab Messiahs' trippy new video "Psychsploitation" from their forthcoming album Psychsploitation Today via PopMatters
PUT DOWN YOUR PHONE, TURN ON YOUR MIND, RELAX AND FLOAT DOWN THE RIVER OF TIME WITH VETERAN UNDERGROUND BAND.
The Prefab Messiahs – "Psychsploitation" (video) (premiere)
BY JEDD BEAUDOIN
Some music simply casts us backward to a past that, real or imagined, seems more intense, more romantic than our own. A quick listen to the Prefab Messiahs, and one might think they're hearing some twentysomethings who were weaned on Rock Band, then graduated to guitars and micro-dosing in the final hours of the Obama presidency. The truth is more tangled a conspiracy theory involving the CIA, the Grateful Dead, and a law and order senator from Montana.
This outfit crawled from the basements and alleyways of Wormtown (Worcester, Mass. to the uninitiated) in 1981, died in 1983 and has been resurrected all these decades on to deliver a new and impressive gospel to a generation with its eyes open and tongues extended, excited about receiving a holy communion in which traces of the lysergic and psychedelic abound.
If you were into trading tapes on a wink and a nod, you might have stumbled upon the Flex Your Mind cassette, issued the year The A-Team first beamed its majesty into the hearts and living rooms of America. Otherwise, your only hope of hearing the lads would have come via short-run CD-R titled Devolver, an anthology that poked its head into the light in 1998…. Click here to read more
The Prefab Messiahs' Psychsploitation Today will be available on cassette, CD, digital and streaming formats 26 January 2018 via Lolipop/Burger Records.
http://www.popmatters.com/post/the-prefab-messiahs-psychsploitation-video-premiere/