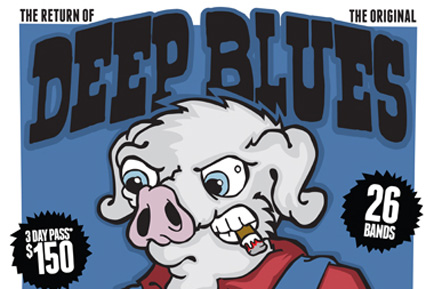 THREE-DAYS OF GREAT MUSIC FROM 26 BANDS SPANNING 4 COUNTRIES & 16 STATES. 3-DAY TICKET ALSO INCLUDES ALL YOU CAN EAT BBQ!
ACTS INCLUDE BUFFALO KILLERS, RADIO MOSCOW, LEE BAINS III & THE GLORY FIRES, JAMES LEG, LEFT LANE CRUISER, BEN PRESTAGE, BRIAN OLIVE, WILLIAM ELLIOTT WHITMORE, DAVID KIMBROUGH JR., POSSESSED BY PAUL JAMES & MANY OTHERS!
ALSO INCLUDING THE U.S. LIVE DEBUT OF WELSH DUO HENRY'S FUNERAL SHOE & FEATURE FILM DEBUT OF "PUT A STAMP ON IT: THE T-MODEL FORD STORY"
After a year hiatus Chris Johnson's original Deep Blues Festival will be returning June 29th through July 1st at Bayport BBQ in Bayport, MN. This year's three-day music fest includes nearly 3-dozen music acts from around the globe, including the U.S. debut of Welsh duo Henry's Funeral Shoe, as well as the feature film debut of "Put A Stamp On It: The T-Model Ford Story." Other acts include Alive Naturalsound recording artists Buffalo Killers, Radio Moscow, Brian Olive, James Leg, Left Lane Cruiser, and newcomers John The Conqueror and Lee Bains III & The Glory Fires, the latter whose track "Opelika" was recently chosen by Rolling Stone as one of their "favorite songs right now" in their new RS Playlist. Other great acts include one-man band Ben Prestage (all three nights), along with Possessed By Paul James, PurgAtory Hill and many others.
DEEP BLUES FESTIVAL will take place June 29-July 1 at Bayport BBQ, 328 5th Ave. N., Bayport, MN
Tickets are $150 for all 3-days and includes all-you-can-eat BBQ.
FESTIVAL TICKET SALES END SUNDAY JUNE 10TH
TO ORDER TICKETS EMAIL: bayportbbq@comcast.net
For more info call: (651) 955-6337
DEEP BLUES FESTIVAL 2012 LINE-UP:
Fri. June 29th
3pm Tijauna Hercules! (Chicago, IL)
4pm The Speaking Tongues (Toronto, Canada)
5pm Rue Moor Counts (Detroit, MI)
6pm Reverend Deadeye (parts unknown)
7pm Lee Bains III and the Glory Fires (Birmingham, AL)
8pm PurgAtory Hill (Sturgeon Bay, WI)
9pm Henry's Funeral Shoe (South Wales, UK)
10pm Ben Prestage (Indiantown, FL)
11pm – Special T-Model Ford documentary screening "Put A Stamp On It: The T-Model Ford Story"
Sat. June 30th
noon catl. (Toronto, Canada)
1pm Charlie Patton's War (Bloomington, IN)
2pm Mark Porkchop Holder (Chattanooga, TN)
3pm Brian Olive (Cincinnati, OH)
4pm James Leg (Chattanooga, TN)
5pm John The Conqueror (Philadelphia, PA)
6pm Left Lane Cruiser (Fort Wayne, IN)
7pm Buffalo Killers (Cincinnati, OH)
8pm Daniel Kroha (Detroit, MI)
9pm Radio Moscow (Story City, IA)
10pm Ben Prestage (Indiantown, FL)
Sun. July 1st
2pm Adam Gussow (Oxford, MS)
3pm Restavrant (Los Angeles, CA)
4pm Molly Gene One Whoaman Band (Warrensburg, MO)
5pm Possessed By Paul James (Boerne, TX)
6pm Delaney Davidson (New Zealand)
7pm Broken Spirits (Denver, CO)
8pm David Kimbrough Jr (Holly Springs, MS)
9pm William Elliott Whitmore (Montrose, IA)
10pm Ben Prestage (Indiantown, FL)
DEEP BLUES FEST ARTISTS ALSO ON TOUR!
JAMES LEG
June 5 @ Tres Hombres – Carbondale, IL
June 6 @ ZaZoo's – Louisville, KY
LEFT LANE CRUISER & JAMES LEG
June 27 @ El Lenador – St. Louis, MO
June 28 @ Ribco – Rock Island, IL
June 29 @ Kruse In – Wausau, WI
June 30 @ Deep Blues Festival – Bayport BBQ, MN
July 1 @ High Noon Saloon – Madison, WI
HENRY'S FUNERAL SHOE
June 24 @ Bayport BBQ – Bayport, MN
June 25 @ PJ's Lager House – Detroit, MI
June 26 @ The Brass Rail – Ft Wayne, IN
June 27 @ Tip Top Deluxe Bar & Grill – Grand Rapids, MI
June 28 @ Grandbar – Chicago, IL
June 29 @ Deep Blues Festival – Bayport, MN
BUFFALO KILLERS
June 29 @ Ace Bar – Chicago, IL
June 30 @ Deep Blues Festival – Bayport, MN
August 16 @ The Glasslands – Williamsburg, NY
August 23 @ Ultra session – Cincinnati, OH
LEE BAINS III & THE GLORY FIRES
June 24 Daytrotter Session – Rock Island, IL
June 26 @ Mickey's Tavern – Madison, WI
June 27 @ Quarter's Rock'n'Roll Palace – Milwaukee, WI
June 28 @ Palmer's Bar – Minneapolis, MN
June 29 @ Deep Blues Festival Bayport BBQ, MN
BRIAN OLIVE
June 9 @ Zazoo's – Louisville, KY
June 30 @Deep Blues Festival – Bayport, MN
RADIO MOSCOW
June 23 @ Whiskey Dicks – Tahoe, CA
June 25 @ Jambalaya – Arcata, CA
June 26 @ Rotture – Portland, OR
June 27 @ Tractor Tavern – Seattle, WA
June 29 @ The Aquarium – Fargo, ND
June 30 @ Deep Blues Fest – Bayport, MN
July 2 @ Bombay's Bicycle Club – Des Moines, IA
July 3 @ The Yacht Club – Iowa City, IA
July 5 @ Rock Island Brewing Co – Rock Island, IL
July 6 @ Grand Bar – Chicago, IL
July 7 @ The Pyramid Scheme – Grand Rapids, MI
July 8 @ The Brass Rail – Ft Wayne, IN
July 10 @ 31st St Pub – Pittsburgh, PA
July 11 @ Bug Jar – Rochester, NY
July 12 @ The Silver Dollar Room – Toronto, ONT
July 15 @ Webster Hall Studio – New York, NY
July 17 @ Golden West – Baltimore, MD
July 18 @ Strange Matter – Richmond, VA
July 20 @ Casbah – Durham, NC
July 21 @ Asheville Music Hall – Asheville, NC
July 22 @ Masquerade – Atlanta, GA
July 23 @ Caledonia – Athens, GA
July 24 @ Bottletree Cafe – Birmingham, AL
July 25 @ Siberia – New Orleans, LA
July 26 @ Fitzgerald's – Houston, TX
July 28 @ 29th Street Ballroom – Austin, TX
Aug 1 @ Marquis Theatre – Denver, CO
Aug 2 @ Launchpad – Albuquerque, NM
Aug 3 @ Yucca Tap Room – Tempe, AZ
Aug 4 @ The Satellite – Los Angeles, CA
Aug 5 @ Cafe Du Nord – San Francisco, CA
FOR MORE INFO ON DEEP BLUES FESTIVAL 2012:
http://www.facebook.com/pages/Deep-Blues-Festival/48314447004
TO PURCHASE DEEP BLUES FESTIVAL TICKETS EMAIL:
bayportbbq@comcast.net
FOR INTERVIEW REQUESTS:
Tony Bonyata
Pavement PR
p: 262.903.7775
e: tony@pavementpr.com