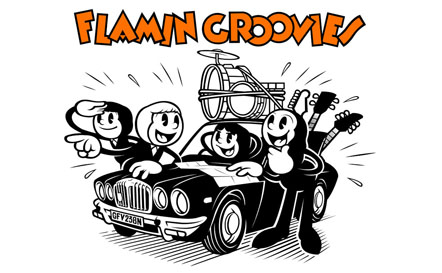 LEGENDARY BAND WILL BE ROAD-TESTING NEW SONGS FROM THEIR FORTHCOMING RELEASE (DUE EARLY 2014) AS PART OF THEIR FALL TOUR!
Having just completed a successful tour of Japan and Australia this year, and then dates in June and July in London, NYC, San Francisco and LA, THE FLAMIN' GROOVIES have returned in full force. The Cyril Jordan, Chris Wilson, George Alexander line-up that rocked the UK, Europe and the US from 1971 – 1980 are BACK IN ACTION. With the addition of Victor Penalosa on drums, they continue to present their own unique and infectious style of rock n roll with such cult classics as "Slow Death," "Shake Some Action" and "You Tore Me Down."
Cyril Jordan and Chris Wilson will be jump-starting their Fall North American dates with a very special performance as part of the Rock and Roll Hall of Fame's Rolling Stones tribute concert on Oct. 26 at Cleveland's State Theater. Along with the Groovies, the all-star band will also feature The Faces' Ian McLagan, vocalist Merry Clayton (who sang on "Gimme Shelter"), Sarah Dash, Bernard Fowler, Steve Jordan, longtime Stones hornsman Bobby Keys, Trevor Lawrence, Steve Madaio, Waddy Wachtel, Willie Weeks, Patterson Hood of the Drive-By Truckers, Nils Lofgren, Public Enemy's Chuck D, Sugar Blue, Lee Fields, Dave Pirner and David Bowie's longtime guitarist Earl Slick.
THE FLAMIN' GROOVIES FALL 2013 TOUR DATES:
Sat. Oct. 26  Rock & Roll Hall of Fame – A Tribute to the Rolling Stones – State Theater – Cleveland, OH
(featuring the Flamin' Groovies' Cyril Jordan & Chris Wilson, and many others)
Wed. Nov. 6  Lee's Palace – Toronto, Canada
Tickets: http://ticketf.ly/18v85k1
Fri. Nov. 8  Magic Stick – Detroit, MI
Tickets: http://tktwb.tw/1f1cSPz
Sat. Nov. 9  Beachland Ballroom – Cleveland, OH  
Tickets: http://tktwb.tw/18QFgPQ
Tue. Nov. 12 U Street Music Hall – Washington, DC (w/ The Young Sinclairs)  
Tickets: http://ticketf.ly/19yvSgj
Thu. Nov. 14  8pm at Radio – Boston, MA (w/  The Connection & Andy Shernoff)
Fri. Nov. 15 Norton Records bash @ Warsaw – Brooklyn, NY (w/ THE SONICS)
Tickets: http://tktwb.tw/170K94k
(additional dates to be announced soon)
The Flamin' Groovies story goes all the way back to 1965 when the band began as the Chosen Few in their hometown of San Francisco, California.  After a name change and a self-released 10 inch album called Sneakers, which sold amazingly well, the band caught the attention of Columbia who signed them up and sent them into the studio with a big budget to record their first real album, Supersnazz, on the Epic label. Their next two albums were on Kama Sutra (home of their heroes, The Lovin' Spoonful): Flamingo and the now revered classic Teenage Head.
Lead singer Roy Loney left the band right after that and lead guitarist Cyril Jordan moved the group to England with Chris Wilson (formerly of Loose Gravel) taking over as front man.  They continued their style of straight ahead guitar driven rock n' roll but this time with a more 60's rather than 50's influence.   A few singles on United Artists, recorded at the legendary Rockfield Studios in Wales with Dave Edmunds producing, followed in the early '70s.  In '76 they signed to Sire Records, who released three true gems of power pop: Shake Some Action, Flamin' Groovies Now and Jumpin' In The Night.
Another lineup change ensued in the next decade with Wilson moving to England and joining the Barracudas.  The Groovies continued on thru the 80's and into the early '90s touring Australia and Europe, putting out a fine but overlooked album called Rock Juice and then finally calling it quits.  Jordan formed a new band called Magic Christian while Wilson released solo albums in Europe.
Now in 2013, Jordan, Wilson and original founding member and bass player George Alexander, have reunited for the first time since 1981. They're joined by drummer Victor Penalosa, a fine musician in his own right who faithfully recreates the style heard on the classic recordings while at the same time adding his own flavor.  The foursome has gone back into the studio to finish up long lost recordings as well as cutting brand new material.  They recently toured Japan and Australia, returning home to San Francisco to do a show that sold out in less than 24 hours.   Fans have been delighted with what is being called "a dream set list", including original songs the band has never performed before onstage.  Newcomers are asking, "Why haven't I ever heard of this group?"  It's hard to say just why the group hasn't gotten the attention they deserve (at least in the USA) but they're back to give everyone another chance at hearing and seeing just why those in the know consider them one of the greatest rock n' roll bands ever.

THE FLAMIN' GROOVIES (left to right: Cyril Jordan, George Alexander, Victor Penalosa, Chris Wilson) photo credit: Anne Laurent
"The Groovies' recent return sees their quest to keep the spirit of beat music alive continuing."  – MOJO Magazine (Nov. 2013)
"The Flamin' Groovies uniquely straddled the garage rock and new wave periods with equally classic output during both, becoming a peerless and legendary San Francisco band." – SF WEEKLY
"Badass rock 'n' roll that predated punk rock by a good decade. The Flamin' Groovies are about as classic a rock band as it gets. And to die-hard fans of rock 'n' roll, they are classic rock legends." – CLEVELAND PLAIN DEALER
"One of San Francisco's best, if somewhat overlooked, bands. – MOTHER JONES
FOR MORE INFO ON THE FLAMIN' GROOVIES:
https://www.facebook.com/TheFlaminGroovies
Twitter (brand spankin' new): https://twitter.com/FlaminGroovies
FOR MEDIA AND INTERVIEW REQUESTS:
Tony Bonyata
Pavement PR
p: 262.903.7775
e: bonyata@wi.rr.com
https://pavementpr.com