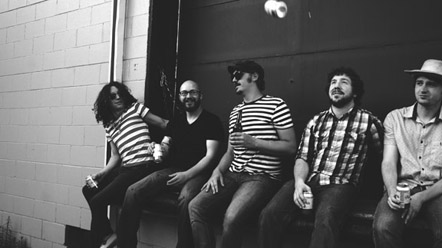 The Delta Routine are set to release their third full-length album Cigarettes & Caffeine Nightmares this fall. On it the Milwaukee quintet taps directly into the jugular of early rock-n-roll; distilling the raw, impassioned power and updating it for a younger generation. The eleven tracks traverse through a number of genres, such as garage, power-pop, punk, classic rock and even a bit of earthy Americana for good measure, and while this may not make it easy to categorize, it's no matter, as it's sure to get the blood pumping, feet moving, and transform a simple get-together into an instant party.
While critics have favorably compared some of their previous work to the likes of The Stones, The Black Crowes and The Strokes, what really emerges on Cigarettes & Caffeine Nightmares is the sound of a fully-realized band with their own distant voice in an all too homogenized rock scene. Infectious hooks, strong melodies and indelible riffs abound on this effort, as do the whip-smart lyrics and musical dynamic that swaggers at times, coos at others and, more often than not, explodes with a reckless abandon.
Cigarettes & Caffeine Nightmares was recorded in Milwaukee and produced by Mike Hoffmann whose production credits include The Verve Pipe, Willie Porter and Victor DeLorenzo (Violent Femmes), among others. The band is comprised of lead singer/rhythm guitar player Nick Amadeus, bassist Evan Paydon, lead guitarist Victor Buell IV, keyboardist Al Kraemer and drummer Kyle Ciske, and on the strength of both their incendiary live shows and 2011 full-length album More About You, the band took home the 2011 Best Band and Best Alternative Artist awards earlier this spring from 88Nine Radio Milwaukee and the WAMI Awards (Wisconsin Area Music Industry), respectively.
The Delta Routine's Cigarettes & Caffeine Nightmares will be available October 9th in both CD and Digital formats, and the band will be touring in support of it throughout the year.
FEEL FREE TO DOWNLOAD & SHARE THE DELTA ROUTINE'S NEW SONG "SWITCHBLADE":
http://soundcloud.com/pavement-pr/the-delta-routine-switchblade
THE DELTA ROUTINE TOUR DATES
Aug 03 Mainstay Rock Club – Cincinnati, OH
Aug 04 Art Beat In The Heat – Milwaukee, WI
Aug 23 Ayre In The Square – Milwaukee, WI
Aug 25 Ulao Creek Festival – Grafton, WI
Sep 15 Rock The Cause – Appleton, WI
Oct 11 Hotel Foster 'Cigarettes and Caffeine Nightmares' Release Party, Milwaukee, WI
Oct 12 400 Bar – Minneapolis, MN w/ Hero Jr.
Oct 13 Mitchell's Pub – Whitewater, WI w/ Hero Jr.
Oct 25 The Hideaway Saloon – Louisville, KY
Nov 02 The Birds Nest Pub – Chicago, IL w/ Hero Jr.
Nov 03 Radio Radio – Indianapolis, IN w/ The Hawkeyes, Hero Jr.
Nov 08 Fontana's – New York, NY w/ Hero Jr.
(more tour dates to be announced soon)
HERE'S WHAT PEOPLE HAVE BEEN SAYING ABOUT THE DELTA ROUTINE:
2011 Band of the Year – 88NINE RADIO MILWAUKEE
2011 Alternative Artist of the Year – WAMI AWARDS (WISCONSIN AREA MUSIC INDUSTRY)
"I'd like to think the Delta Routine called their new album More About You because Cee-Lo and Bruno Mars beat them to "F**k You." 2K11's first great album is one of the great rock and roll kiss-offs. Not a break-up album, it's the kind of disc you reach for when you're done with the break-up albums, when you're ready to stop being mopey and start being pissed off. The Delta Routine have just made a giant leap forward, and one of Milwaukee's greatest rock records. Ever." – Joey Taylor / ROCKSPOSURE
"More About You blends catchy guitar pop (opener "Blame It On Me" and "Felicia") with swaggering blues-rooted rock and roll that nods at The Black Crowes ("Ain't Worth Your Wait"), The Who ("Cause We're Young") and The Rolling Stones ("Nothing You Can Do")." – Bobby Tanzilo / ON MILWAUKEE
Milwaukee's The Delta Routine emulates the sound and swagger of old-school Rolling Stones, and 2011's More About You, is a really fun record. "Ain't Worth Your Wait" is an effective New York Dolls-style glam stomp, and channels both that group and the later solo work of guitarist Sylvain Sylvain. Other tracks find the group practically spelling out its influences in neon: "Cause We're Young" nicks the opening guitar riff of The Who's "I Can't Explain," while "And It Goes" borrows the rough shuffle of The Strokes' "Someday." There's no denying how great this kind of music can sound live, as long as the beer is flowing and sexy people are shaking their hips in front of the stage. –  Steve Hayden / THE ONION'S A/V CLUB
"Fast-paced straight-up f**king rock 'n' roll, The Delta Routine's blue toned power-rock sound tells no lies; their style reminiscent of The Black Keys, or a more pop oriented version of early White Stripes." – Dustin Zarnikow / UWM POST
"The Delta Routine conjures the sound of vintage Rolling Stones and early punk bands like The Stooges and New York Dolls." –  SHEPHERD EXPRESS
"The Delta Routine  come on like a volcano. Live, the act steams up a room. Their following is growing at an amazing rate." – Lane Klozier / MAXIMUM INK
"Plays out like the soundtrack to a good night out. It's very Milwaukee in nature; that is to say, it's eager and energetic, loads of fun and goes down as smoothly as a pint of Pabst." – Julie Lawrence / ON MILWAUKEE

(photo credit: Danielle Hanson at Local Playlist)
FOR MORE INFO ON THE DELTA ROUTINE:
http://www.thedeltaroutine.com
http://www.facebook.com/pages/The-Delta-Routine/32837004660
FOR MEDIA & INTERVIEW REQUESTS:
Tony Bonyata
Pavement PR
p: 262.903.7775
e: bonyata@wi.rr.com
https://pavementpr.com