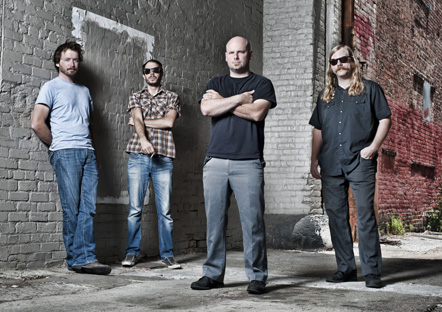 The Chattanooga, TN-based rock band The Bohannons will be hitting the road this month for a string of high-powered shows in further support of their critically-acclaimed 2012 album Unaka Rising. The band has just put the finishing touches on their new follow-up album Black Cross / Black Shield (out later this Fall) and will premiering a healthy number of these songs in their sets as part of this July run.
THE BOHANNONS SUMMER TOUR DATES:
July 13 – 40 Watt, Athens, GA
July 17 – JJ's Bohemia, Chattanooga, TN
July 18 – Hi-Watt, Nashville, TN
July 19- The New Vintage, Louisville, KY
July 20 – South Park Tavern, Dayton OH
July 21 – Quenchers, Chicago, IL
July 22 – Daytrotter Session, Rock Island, IL
July 22 – CBGB, St. Louis, MO
July 23 – White Water Tavern, Little Rock, AR
July 24 – Hi-Tone, Memphis, TN
HERE'S WHAT PEOPLE HAVE BEEN SAYING ABOUT THE BOHANNONS' UNAKA RISING:
"The Bohannons are one of Chattanooga's finest exports, who make heavy rock 'n' roll that's equal parts Mötorhead and Neil Young, with lead guitar chops that rival both."  – Stephen Trageser / NASHVILLE SCENE
"The Bohannons new album, Unaka Rising is a real scorcher. It's an odd thing to say about a band, but their approach to music makes so much sense that it's difficult to understand why their particular cocktail of heavy Southern rock jangle hasn't already been done to death by someone else. A little Two Gallants, a little Black Sabbath, they're as heavy as they are twangy. They manage their heaviness without venturing into melodrama, which is difficult for many artists that venture into darker territory. Their music begs to serve as a soundtrack to a genre of film that doesn't currently exist—some kind of violent, stylized-but-gritty (a la Tarantino) Southern road movie patterned after the classic Western model." – OXFORD AMERICAN
"The Bohannons' Unaka Rising is by far one of the best albums to be released in 2012. I suggest you check it out then catch them live, you will not be disappointed." – Chris Martin / ATLANTA EXAMINER
"Southern rock music is undergoing an interesting revolution these days. It's adding some punk attitude and a bit of grunge sound to the rock, blues, and country it has always had. The Bohannons, from Chattanooga, Tennessee, are a perfect example of what's great about this new roots rock sound on their new release, Unaka Rising. This is not music that invites you to listen passively. This is music that attacks and forces you to engage from the very first notes. The lyrics delve into the rich mines of Southern mythology and are filled with the imagery of their native region. The title of the CD refers, in fact, to the Unaka region of Tennessee. But in The Bohannon's music, that mythology and imagery is mixed with anger, paranoia, and political unease. The sound here is anything but predictable. Yes, there are blues licks and high, lonesome, twangy sounds like the best of bluegrass, but there is also violently raucous guitar, emotionally charged vocals, more than a touch of metal, and above all else, rock and roll.
If you like homegrown rock that defies the norm and demands a response, you owe it to yourself to give The Bohannons a listen. You just may find out that it's exactly what you've been looking for." – Rhetta Akamatsu / SEATTLE POST INTELLIGENCER
"The Bohannons are a pedal-to-the-metal conflagration of strands including Southern boogie, grunge, classic '70s hard rock, punk a la The Clash, The Pogues, and Billy Bragg. Anyone who's really into rock should check these guys out." – Mary Leary / MY OLD KENTUCKY BLOG
"Rebel rock from Tennessee, The Bohannons are like Neil Young's Crazy Horse as interpreted by The Drive-By Truckers in a basement punk rock club where the amps can't be turned down any lower than 9 and everybody's drinking PBR tallboys as if they haven't had anything to drink in days." – THE BIG TAKEOVER
"The Swinging Sounds of the Dying South: The Bohannons' Dystopian Unaka Rising. A melange of all our favorite rocks—hard, southern, punk, garage – Unaka Rising is ten stomping tracks that deconstruct and interrogate America through The Bohannons' loud and cracked prism. Musically, they occupy a unique space somewhere between Skynyrd, The Pixies, and modern southern rockers like Jason Isbell and the Drive-By Truckers. Matt Bohannon's vocals can evoke Frank Black piped through a PA at a demonstration. Lyrically, Unaka Rising concerns itself with the conflict and paranoia of our contemporary milieu, a hodgepodge of angry ideologues and frightened people tottering on the cusp of collective horror." – THREAT + CONSTRAINT
"The Bohannons have been getting rave reviews in respected music blogs and magazines around the country with Unka Rising and it's immediately evident why once you hear it. – CHATTANOOGA PULSE
"The Bohannons are a Chattanooga band that combines swamp boogie, hard blues, full-on glam rock, and punk — and it's just as bracing and crazy as that sounds. If you've enjoyed some of the proud Southern rock varietals we've blogged about this year: The Alabama Shakes, The District Attorneys, Lee Bains III & The Glory Fires, Patterson Hood – this is something you will want to check out." – WHEN YOU MOTOR AWAY
"Are they Country? Are They Blues? Are they '70s glam metal? Yes." – NINE BULLETS
"Taking rock music and embedding it with hints of blues and country, Tennessee-based The Bohannons have created a mixture that has rarely been heard before." – PLUG-IN MUSIC
"You can put whatever label you want on The Bohannons' music, the only one that really matters is, Damn Good!" – CW'S PLACE
"Southern-fried, glam rock boogie merchants The Bohannons debut release Unaka Rising is as good a set of blues-inspired psych-groove as we've heard in a very long while." – THE MAD MACKEREL: UK
"The bottom line is that The Bohannons' are some good 'ol kick a little dirt in your face rock and roll. Hot and heavy as hell." – ALAN CROSS: A JOURNAL OF MUSICAL THINGS
The Bohannons inhabit a musical universe that, while certainly drawing influence from all over, is firmly rooted in their Tennessee home. With their full-length debut album Unaka Rising, they are clearly taking their homegrown, handcrafted rock to a new level, and we think they've set the bar pretty damn high with this one. The album's title references the Unaka province of East Tennessee and western North Carolina— "One of the finest areas in all the world," according to singer/guitarist Marty Bohannon. The region has certainly fueled the Bohannons' fire, providing endless stories and situations from which these songs draw. With a quiver of new material ready to follow up 2011's stellar EP, Days of Echo, the Bohannons spent the better part of the last year tearing up the road between Chattanooga and Athens, GA where they recorded Unaka Rising at Chase Park Transduction, first with David Barbe and later Drew Vandenberg.
The Bohannons' Unaka Rising is out now (through This Is American Music) in CD and Digital formats.
FOR MORE INFO ON THE BOHANNONS:
http://thebohannons.orgttp://thebohannons.org
https://www.facebook.com/Bohannons
FOR MEDIA AND INTERVIEW REQUESTS:
Tony Bonyata
Pavement PR
p: 262.903.7775
e: tony@pavementpr.com
https://pavementpr.compavementpr.com