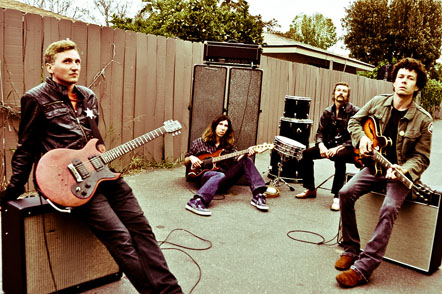 SF WEEKLY (San Fran  weekly) – Positive SF show preview with band photo with I Dream of Bees and Satanic Satellite videos and related link.
The Bloody Hollies, Hot Lunch, WInter Teeth
Sat., September 24
The Knockout
Price: $7
Them Ol' Bloody Blues Are Back
By John Graham
Has it really been four years since the Bloody Hollies' last visit to San Francisco (a December '07 stop-off at Annie's Social Club [R.I.P.], if memory serves correctly)? Should that be true, at least they've finally revealed what made them take their sweet-ass time: Yours Until the Bitter End, the San Diego garage/blues/rock band's long-awaited followup to its te-riff-ic previous LP, Who to Trust, Who to Kill, Who to Love.
The new disc should satiate old fans' cravings for more of the same demon-haunted, blues-oozing rock 'n' roll, but it expands just a tad beyond the basic taters-and-brews backyard slop that keeps many similar bands mired in formulaic rehashes. Album opener "So Grey, So Green," for example, serves up some lurching organ that echoes the Murder City Devils. "Good Night, Sleep Tight" has singer Wesley Doyle dreaming and screaming about creatures from hell — imagine a White Stripes rewrite of Metallica's "Enter Sandman," if you will — and even throws in some hoedown fiddle as if nodding to Charlie Daniels' famous showdown with the devil in Georgia. "Dirty Sex," with its acoustic slide guitar interlude and unironic (albeit necrophiliac) horniness, could either be a Led Zeppelin II outtake or a fan favorite stolen from some obscure Southern Rock band's concert encore setlists. And album closer "John Wayne Brown" leans even more heavily on twangy acoustic blues tropes, complete with handclaps and lyrics about sin, salvation, and corrupting serpents.
Yet these new additions don't represent a major change in the Bloody Hollies' songwriting style — they're more like upgrading beloved old photographs with slightly fancier frames. At their core, the Bloody Hollies remain the same. And when your founding concept is as bedrock-solid as the Bloody Hollies' — as heard in swarming buzzrock songs like "I Dream of Bees" — the same is a pretty good thing to be.
http://www.sfweekly.com/events/the-bloody-hollies-hot-lunch-winter-teeth-2796846/
OC WEEKLY – Long Beach show preview with band photo.
The Bloody Hollies
Alexs Bar
Brandon Ferguson
When it comes to slide guitar infused punk, the Bloody Hollies are second to none. Hailing from New York by way of San Diego this band is equal parts Dead Kennedy's combined with the White Stripes. With four albums under their belt, the band just released its latest Yours Until the Bitter End.
Sun., September 25, 8:00pm
Alex's Bar
Price: $5
http://www.ocweekly.com/events/bloody-hollies-1129056/
THE DELI MAGAZINE (LA  weekly) – Positive Long Beach show preview with band photo.
The Bloody Hollies stick to their guns on new release
A band like The Bloody Hollies has never sugarcoated their image. The San Diego four-piece chugs a raw, unpolished garage sound that may take cues from the formative years of rock n' roll, but their tightly wound musicianship ravenously speaks with a genuine tone. In essence, what you see is what you get – fronted by Wesley Doyle's demanding vocal presence, their bar-band rock styling blazes straight-faced power chords, Chuck Berry-like solos, and an ill-mannered charm that would even impress a Stooge. Their loud, impetuous vigor may instantly scream revivalism, but bearing in mind that hybridization in pursuit of originality mostly backfires, it's a pleasure to still see bands sticking to an agenda that is classic in design and off bounds from any pop sensibilities. On September 25th, they'll be playing at Alex's Bar on Long Beach in support of just-released new album, Yours Until the Bitter End, via Alive Records.
http://la.thedelimagazine.com/7152/bloody-hollies-stick-their-guns-on-new-release
NORTH COUNTY TIMES (Escondido, CA daily) – Feature/interview to preview SD record release show.
Buzz depleted, band looks to kick-start career
By JIM TRAGESER
The Bloody Hollies' new release, "Yours Until the Bitter End," is the band's first LP since 2007's "Who to Trust, Who to Kill, Who to Love." (Courtesy photo)
Four and a half years ago, the Bloody Hollies were one of the up-and-coming bands on the local rock scene, one of those acts that seemed to be on the verge of breaking through nationally —- the next Switchfoot or P.O.D.
Their third CD, "Who to Trust, Who to Kill, Who to Love," was garnering good press not only locally, but nationally. It won the "Best Alternative Album" award in 2007 at the San Diego Music Awards (their previous album, "If Footmen Tire You," had taken "Best Rock Album" the year before).
They were touring the country, building the kind of buzz local bands work years to generate, and then —- and then, here we are in 2011 and their fourth CD is only now coming out. (The band is playing a CD release show Saturday at the Casbah in San Diego.)
Founder, lead singer and guitarist Wesley Doyle said that inadvertently, the relative success of "Who to Trust" threw the band off a little bit and led to the long gap between releases.
"We didn't see any real stardom (from the CD), but we thought it was a pretty damn good record," Doyle said by phone recently from his San Diego home. "It put the pressure on us to do something just as good, if not better. The pressure to write another 'Sad and Lonely' weighed on us a little bit. Whenever we had a song idea, if it wasn't an immediate something-going-off-in-our-heads, we had a habit of just throwing it off to the side. It took a while to write the songs.
"I think we wanted to do something really good; not just repeat the last few records before it."
Bad luck and miscalculations also contributed to the delay.
"We thought it would be a good idea to record the record ourselves, and that ended up being a disaster," Doyle said. "Finally we got it to Jim Diamond in Detroit."
With "Yours Until the Bitter End" finally ready to release, Doyle said he and his bandmates (guitarist Joseph Horgen, bassist Erik Noorgard and drummer Matthew Bennett) recognize the challenges ahead.
"A lot of people who were our biggest fans a few years ago have completely different lives now. We have to build the fan base back up a little bit. I've always heard that bands that tour a lot make it."
With that in mind, the band is heading out on a West Coast swing before winging to Australia for a minitour.
While the band's members are now in their early 30s, and some have started families, Doyle said the opportunity to tour is still good because the band retains some of the name recognition they built up with "Who to Trust."
"Touring is what really lends credibility to a band," Doyle said. "Agencies like to get behind bands that are road warriors. We've done seven-, eight-week-long U.S. tours before. When we go to Europe, we're usually over there for a month. We've done it a lot, but when you compare it to bands that really tour a lot, it doesn't seem like a lot.
"One of my main motivations to want to tour is that there are people on the other side of the country who have never seen the band, but are fans.
"That will always be my thing —- I just want to play. It's one of the few things in life I think I do well, and not doing it bugs me. We've spent the last three years being a theoretical band. I care if people show up, but I just want to get out and play. It's the only way I can prove I'm actually in a band."
The Bloody Hollies
When: 8:30 p.m. Saturday
Where: The Casbah, 2501 Kettner Blvd., San Diego
Admission: $8
Info: 619-232-4355
casbahmusic.com
http://www.nctimes.com/entertainment/music/article_8cdc5e88-1feb-5310-aed7-34e07d95f901.html
SAN DIEGO READER (weekly) – Positive show preview with with Dirty Sex mp3, band photo, album art and related links.
Bloody Hollies Bitter End Sept. 17 at the Casbah
By Jay Allen Sanford
The Bloody Hollies' new full-length Yours Until the Bitter End drops Saturday, September 17, with a release party at the Casbah that will also feature Low Volts, Hocus, and the Old In Out. The latter band will also have a new release to hawk, their new Brittle Bones EP (available on BandCamp), which features new drummer Marco Piro (Vinyl Film).
The Bloody Hollies release will be available on CD Digipack, as well as a digital download, and a red vinyl edition limited to 700 copies. A new video for "I Dream of Bees" is streaming online.
Here's a free preview the new track, "Dirty Sex":
1. https://pavementpr.com/1.mp3s/BloodyHolliesDirtySex.mp3
The Bloody Hollies' were founded by singer/guitarist Wesley Doyle while still living in Buffalo, N.Y., in Summer 1999, with a rotating roster of support players. After the former Marine moved to San Diego, the lineup solidified with guitarist Joey Horgen and drummer Matt Bennett.
They did a 32-city tour of the U.S. in early 2007, which included a stop at SXSW in March, with a European tour beginning June 1. At the 2007 San Diego Music Awards in September, the band took home the award for Best Alternative Album for Who to Trust, Who to Kill, Who to Love, their follow-up release to If Footmen Tire You, which won a 2006 San Diego Music Award for Rock Album of the Year.
In 2008, the band played on John Peel's BBC radio show and were featured on NBC's Knight Rider, which used their song "The Rain" as the background to an action scene.
Yours Until the Bitter End features the band's trademark murder-themed blues/rock anthems reminiscent of '60s and '70s FM radio rock. The new album still embraces the dark side of raw garage rock, but comes armed with a more eclectic and punk-driven array of songwriting and musicianship.
Don't let the touches of organ, violin and xylophone fool you, tho: the band's hybrid mix of blues, rock, and golden age pop continues to shine. Wesley Doyle's voice is in excellent hard rockin' form, as is Joseph Horgen's unique slide-blues guitar style. The rhythm section of Matthew Bennett (drums) and Erik Noorgard (bass guitar) are as solid as ever.
Saturday, September 17: The Bloody Hollies, The Old In Out, Hocus, Stephen Rey & The Slicks, and Low Volts at the Casbah, 2501 Kettner Boulevard, (619) 232-4355, $8
http://www.sandiegoreader.com/weblogs/jam-session/2011/sep/12/bloody-hollies-bitter-end-sept-17-at-the-casbah/