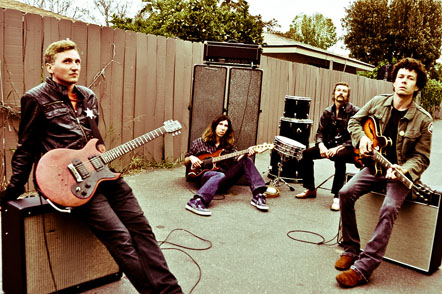 Bloody Hollies: Yours Until the Bitter End
By Stephen Haag 1 November 2011
It goes without saying that over the course of eleven years and five albums, the Bloody Hollies have been more bloody than holly—and that is, in our increasingly sanitized rock 'n' roll world, a very good thing. When the foursome repeatedly conjure up Jack White possessed by demons and fronting '70s southern rock kingpins Blackfoot (with some help from Motor City garage guru Jim Diamond manning the controls) they are truly doing the lord's work on Yours Until The Bitter End… acknowledging that your conception of God may be different from mine.
So yeah, if you're familiar with the Hollies' take on demented garage, blooze and '70s rock, Bitter End is more of the same from one of the genre's most reliable, hardest hitting bands. And if you're new to the band, this is a great place to start, too. Frontman Wesley Doyle, with his yowl, will never fully shake the Jack White comparisons, but his unhinged takes throughout the album—the motorcycle-gang-rumble menace of opener "So Grey, So Green", the gallant "Leave That Woman Alone" and the boogeyman (!) POV "Good Night, Sleep Tight"—ensure that the band his its own identity. Of course it helps that Joey Horgan's Hammond organ puts the appropriate meat on these songs' bones—spooky here ("Sticks and Stones"), hard rock there ("Dead Letter") and Horgen, who also pulls guitar duties, never met a freaked out solo that he didn't love.
All the above make the Hollies a potent riff delivery system, to be sure, but that said, it's their unlikely embrace of boogie rock and Americana that helps separate them from the Leather Jacket Pack. Sure, there are antecedents—the nearest analogue may be Black Rebel Motorcycle Club's 2004 country-punk detour Howl (to say nothing of '80s godfathers like Gun Club), but the dobro-fueled "Dirty Sex" and the back-porch closer "John Wayne Brown", about the titular preacher "out lookin' for the good lord's mystery", show a willingness to stand out and and explore some of rock's back pages. After all, when's the last time you saw Blackfoot referenced in an album review?
http://www.popmatters.com/pm/review/150170-bloody-hollies-yours-until-the-bitter-end/