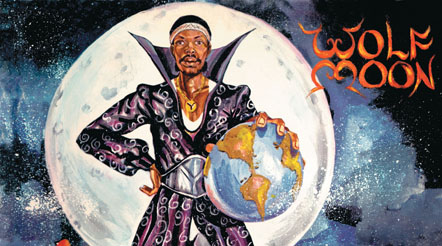 Exclusive Reissue: Wolfmoon by Wolfmoon
Hooray! It's the weekend! And what better way to cut loose than to crank up this AWESOME and historic reissue of Wolfmoon, the self-titled album by the long-lost soul great.
Out next week, this is the first reissue ever, in any format, of this sought-after collectors' album of southern soul and pop gospel. Wolfmoon was produced by R&B, soul & funk legend Swamp Dogg, and is part of Alive Naturalsound Records' ongoing Swamp Dogg Soul & Blues Collection of remastered Swamp-produced reissues.
This terrific album includes great covers of "People Get Ready," "If I Had A Hammer" and "Proud Mary," along with originals penned by The Dogg. Available October 1 as a limited edition color vinyl with original gatefold jacket. Get it from Bomp
Get down with your bad self people!
http://www.bigtakeover.com/news/exclusive-reissue-wolfmoon-by-wolfmoon