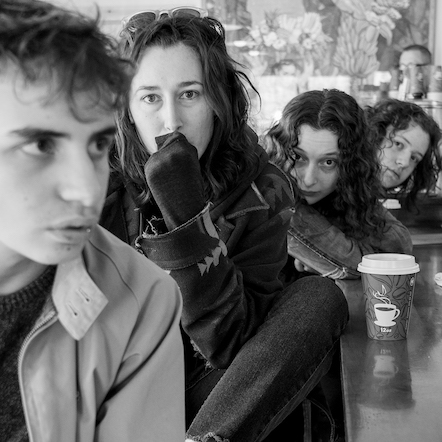 Video Premiere: "Move" by The Bobby Lees
by Big Takeover Exclusives
The Bobby Lees are a young bone-shaking garage rock band out of Woodstock, NY. In the past year they've played with The Chats, Future Islands, Boss Hog, Daddy Long Legs, Shannon & The Clams, and Murphy's Law.
The band's sound mixes classic garage rock 'n' roll with raw punk attitude with tuneful anthems and emotive storytelling. A planned spring tour unfortunately had to be cancelled for obvious reasons, but they're hoping that things get better so they can get back out on the road this summer.
The Bobby Lees will unleash their new album Skin Suit on May 8th via Alive Naturalsound Records. The LP was produced by underground punk legend Jon Spencer of the Blues Explosion.
Sam Quartin (vocals, guitar), Kendall Wind (bass), Macky Bowman (drums), and Nick Casa (guitar) kick up quite a rollicking ruckus on Skin Suit which is filled with energetic, gritty, passionate, and rhythmically antic tracks. One such number is the jaggedly lurching and way-too-brief "Move."
Big Takeover is pleased to host the premiere of the accompanying video for "Move," which matches the intensity of the song with a montage of footage from the band on tour. It's now become a bittersweet look back at the band in action since the pandemic has put so many things on pause, including shows/touring.
The band members are in their element live on the stage, but the viewer also gets quick glimpses of life on the road, including changing a flat tire (yikes!), having fun in the hotel room, and eating out (yum!, and sadly missed now).
Quartin gives some details about the shooting of the roving video, explaining, "We shot this video on tour last month in February. We were really lucky to have a bunch of new people come out to the shows and completely lose their shit.That's what makes a live show fun, if people can get out of themselves and not be scared to move around. That's what this song "Move" is kind of about… among other things like being possessed."
http://bigtakeover.com/news/VideoPremiereMovebyTheBobbyLees