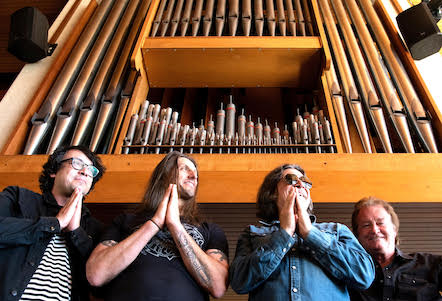 Click here to check out Datura4's new music video "Black Dog Keep Running" via The Big Takeover
Video Premiere: "Black Dog Keep Running" by Datura4
Notable Australian psych-/rock 'n' roll band Datura4 returned with their third studio album, Blessed Is The Boogie, earlier this April on Alive Naturalsound Records and they're currently on a Western Australia tour that kicked off on April 12th.
The Fremantle-based rockers are fronted by Aussie legend Dom Mariani, who came to prominence on the music scene in the 1980s with legendary garage rock combo The Stems, and later went on to form revered power-pop outfits DM3 and The Someloves. With Datura4, Mariani and his bandmates dig into their blues, rock, and boogie roots.
Blessed Is The Boogie's ten new songs build upon Datura4's 'guitars to infinity' approach of Hairy Mountain (2016) and the hard rocking, progressive blues and psychedelic stylings of debut LP Demon Blues (2015). Both albums were released through Alive NaturalSound Records and gained critical acclaim in Australia, Europe, and the U.S.
The Big Takeover is stoked to host the premiere of a video of the track "Black Dog Keep Running" (Wise title advice right there!). In the video, the door opens to a rockin' performance by the band, all gritty guitar burn carving out a rhythmic groove, chugging percussion, determined drum strikes, sudden psychedelic guitar flourishes, and coolly rough and passionate vocals.
The video's visuals are done up in stark black 'n' white with sharp flashes of light, as well as sparks of orange-red burning embers that float upwards into the noir atmosphere.
Mariani sheds some light on the creation of the weighty, but tuneful number, commenting, "The main riff came about from a regular jam one evening. For some reason it had me thinking the Yardbirds and it morphed into something heavier and more powerful as the words were coming quite freely. The more I got into it, the more cathartic it became. "When the blues turn to black you look for the silver bullet to keep the black dog from one's door… let the black dog pass me by.""
https://bigtakeover.com/news/VideoPremiereBlackDogKeepRunningbyDatura4