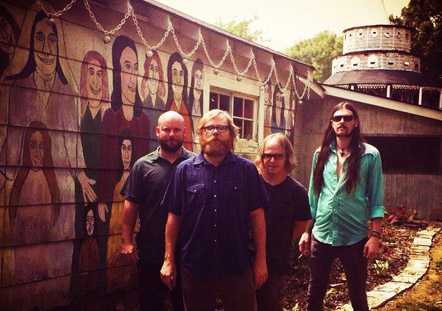 CLICK HERE TO LISTEN TO THE PREMIERE OF BOHANNONS' NEW ALBUM "BLACK CROSS. BLACK SHIELD" VIA THE BIG TAKEOVER! 
"We sequenced this album like a book," says Bohannons front man Marty Bohannon, of the Chattanooga, Tennessee-based rock band's sophomore studio LP, which comes out next week on This Is American Music. "It's bound, it has a beginning and an end. Although it's not a concept record, it does flow on a timeline. From my early childhood to the future witnessing the final Book of Revelation. It's a story as perceived by the past, present and future. The hardest lesson learned for me was coping with loss. It wasn't till just a couple of years ago I decided to 'charge at it,' and thus these songs were born."
Preceded by the Steve Albini-produced debut EP Days of Echo (2010) and the band's critically acclaimed 2012 album, Unaka Rising, Black Cross, Black Shield is a bracing blast of post-punk guitar thunder, spiked with accents of country and blues. We dig the hell out of it and we hope you do too!
Bohannons celebrates the album's release with three barnstorming shows next week: March 26 at The End in Nashville; March 27 at The Earl in Atlanta; and March 28 at JJ's Bohemia in Chattanooga.
Pre-order the album here