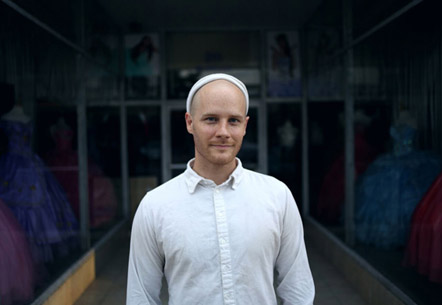 CLICK HERE TO LISTEN TO JACOB METCALF'S NEW SONG" ALL IN DUE TIME" VIA THE ATLANTIC!
Track of the Day: Jacob Metcalf's 'All In Due Time' (premiere)
by Caroline Mimbs Nyce
Texas singer-songwriter Jacob Metcalf just released his debut album, Fjord. The album, imagined over the span of a decade, features material written during Jacob's travels across five continents. In his words:
I daydreamed about returning to the States as an old man. Of course, in a sense it was just a boyish stunt, full of naiveté, but it instilled in me the values of being generous with others and living on next to nothing.
That Mag gave the project a glowing review:
What strikes me the most with Jacob Metcalf's work is the comforting familiarity that emanates from the songs. Yet Fjord never sounds like a pale, copy, imitation, or reproduction of any work, but more like a truthful, honest, and genuine rendition of Metcalf's vision of cinematic-folk. Including rich yet simple and effective arrangements that involve cellos, violins, horns, each and every song off the album are beautiful, both on a lyrical and a musical level: Jacob Metcalf's craftsmanship cannot be disputed. He knows what he is doing and he is doing it well.
http://www.theatlantic.com/notes/2016/01/track-of-the-day-all-in-due-time/433824/