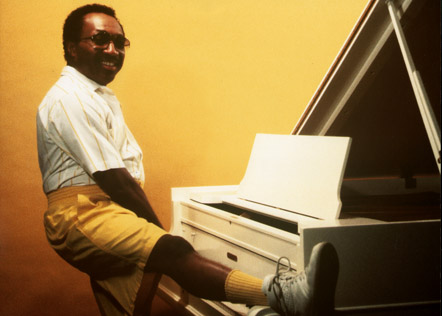 SAN DIEGO UNION TRIBUNE
Singer-songwriter wanted a title that fit his iconoclastic style
By George Varga
Swamp Dogg, with > DJ Claire and Mr. Mazee
When: 9 p.m. Saturday
Where: Bar Pink, 3829 30th St., North Park
DID YOU KNOW?
SWAMP DOGG was born Jerry Williams Jr. on July 12, 1942, in Portsmouth, Va.
Call me Swamp."
It is an uncommon request, even in a pop music world in which the uncommon often seems ordinary. But there is little common about maverick singer-songwriter Jerry Williams Jr., the funk, blues, rock and psychedelic-soul iconoclast who has recorded for the past 43 years as Swamp Dogg.
How uncommon? Let us count the ways.
A quintessential cult artist, Swamp Dogg did not see his classic 1970 debut album, "Total Destruction to Your Mind," go gold (sell 500,000 copies) until 1992. He is the only person who used to manage hip-hop superstar Dr. Dre and co-wrote Johnny Paycheck's 1971 country-music hit "She's All I Got."
In the early 1970s, his very public anti-Vietnam War protests landed him on President Richard Nixon's infamous enemies list, alongside Jane Fonda. In 1971, he composed what may still be the world's only blues opera.
Over the past decade, his songs have been prominently sampled on hit records by Kid Rock, DMX and others. This summer, three early Swamp Dogg albums — "Total Destruction," "Rat On!" and "Gag a Maggot" — were rereleased by Alive Natural Sound, the indie label that put out the Black Keys' 2002 debut. A young hipster audience now embraces him as the missing link between Sly Stone, George Clinton and vintage Memphis soul music.
"I invented Swamp Dogg because a dog can do all kind of things and you still love it and forgive him," said Williams, 71, who made his first hit record as a singer, "HTD Blues," when he was 12.
By 1970, when he became Swamp Dogg, he'd written million-selling hits for Solomon Burke and Gene Pitney, and produced records for The Drifters, The Commodores, Lulu, Patti LaBelle and others.
"To me, the name Jerry Wiliams did not say funk, hard-rock, nasty blues; it didn't say any of that," he noted. "It said: ballads, songs about women, with 'I love you, come back, let's get married' and all that (stuff) lyrics. Swamp Dogg can do, and has done, songs like that, but he's not cemented into that."
Swamp Dogg and his band perform an ultra-rare San Diego club gig Saturday at Bar Pink in North Park. Will he do such barbed love songs as "Choking to Death (From the Ties That Bind)" and "The Love We Got Ain't Worth Two Dead Flies"? Or such politically charged gems as "God Ain't Blessing America" and "I've Never Been to Africa (And It's Your Fault)"?
"I scope out my audience," he replied. "I won't sing a bunch of (stuff) that you're not responding to. I'll keep shooting songs at you until you respond."
For more of our Swamp Dogg interview, go to utsandiego.com/news/
http://www.utsandiego.com/news/2013/oct/24/tp-swamp-doggs-the-name/
SAN DIEGO READER
(San Diego weekly) Positive show preview with Swamp photo
This week in the San Diego clubs, October 24–30
That Southern-soul Doggfather Swamp Dogg brings his thing to Bar Pink Saturday night!
Saturday 26
"Black music didn't start 'til 10 at night, and I was in bed by then. If you strip my tracks, take away all the horns and guitar licks, what you have is a country song." That's Jerry "Swamp Dogg" Williams on NPR's Studio 360. Dogg's raunch-lite rock 'n' soul is curiously outsider, because he's right, there's rootsy simplicity in his songs. But, what they lack in heft they more than make up for in old-school groovin' and croonin' that'll goose your butt and tickle your funny bone, if you got them anatomicals. He'll be at Bar Pink behind this year's remastered 1970 solid-gold Southern-soul classic Total Destruction of Your Mind…. My plan is to catch the Doggfather's set and then crazy-cab it to Casbah, where instrumental mind-benders Earthless will be rocking From the Ages, the trio's latest and greatest, imho.
http://www.sandiegoreader.com/news/2013/oct/23/club-crawler-san-diego-october-2430/
SAN DIEGO CITY BEAT
(San Diego weekly) PLAN A critic's pic show preview
Swamp Dogg, Hunx and His Punx and more San Diego concerts
we're stoked about this week
By Jeff Terich
Saturday, Oct. 26
PLAN A: Swamp Dogg, DJ Claire, Mr. Mazee @ Bar Pink. Virginia soul singer Swamp Dogg performed as Little Jerry Williams for a few years, but he developed his Swamp Dogg persona after his first LSD trip in the 1960s. Eccentric, satirical, a little raunchy but, above all, soulful, Swamp Dogg is a unique icon in funk music, definitely not to be missed.
http://www.sdcitybeat.com/sandiego/article-12340-swamp-dogg-hunx-
DALLAS MORNING NEWS
(Dallas daily)
Swamp Dogg With Special Guest Bobby Patterson
Thursday, Oct 31 8:00p
Kessler Theater Dallas, TX
Raunchy, satirical, political, and profane, Swamp Dogg is one of the great cult figures of 20th century American music. The creation of Jerry Williams, Jr., an R&B producer and songwriter of the '60s, Swamp Dogg fit no tidy category. In sheer musical terms, Swamp Dogg is pure Southern soul, anchored on tight grooves and accentuated by horns, but the Dogg is as much about message as music. Williams incorporated all the mind-bending psychedelic ideas of '60s counterculture — drugs, sex, radical politics, social politics — into the framework of deep soul, establishing his blueprint on 1970's Total Destruction to Your Mind, then spinning out variations over the next several decades, never having hits (although Total Destruction to Your Mind apparently went gold at some point), but earning a rabid cult following while raking in royalties through his behind-the-scenes work, which included penning the country standard "She's All I Got," popularized by Johnny Paycheck. A native of Virginia, Williams began his career recording under the name Little Jerry, releasing a jump blues single called "HTD Blues" in 1954 when he was just 12 years old. For the next decade-and-a-half, he was an R&B journeyman working under the name Little Jerry Williams in the early '60s, then leaving the "little" behind in the mid-'60s, having a minor hit in 1966 with "Baby, You're My Everything." By that point, Williams had made serious inroads into the industry. He was working A&R and he was writing and producing singles, usually for unknown artists but occasionally for big names like Gene Pitney. Eventually, he earned the attention of Jerry Wexler and Phil Walden and began working behind the scenes at Atlantic Records in 1968, engineering and producing singles for the label. He also worked as a writer, and as the decade came to a close, he had written "She's All I Got" with Gary "U.S." Bonds, a song that wound up bringing him royalties for decades.
http://listings.dallasnews.com/dallas_tx/events/show/358047223-swamp-dogg-with-special-guest-bobby-patterson
THE ADVOCATE
(Baton Rouge, LA daily) – Swamp Dogg feature/interview
Williams gets career boost as Swamp Dogg
By John Wirt
Jerry Williams Jr., the psychedelicized Southern-soul singer, songwriter and producer known as Swamp Dogg, is one of the big dogs at this year's Ponderosa Stomp.
The Stomp, a music festival that bills itself as a celebration of the cult heroes of American music, landed Swamp Dogg for a Thursday afternoon music history conference interview and a Friday night show at Rock 'n' Bowl.
Williams' long underground profile got a boost this year via the re-release of his classic early 1970s Swamp Dogg albums "Total Destruction of Your Mind" and "Rat On!"
In the nearly two decades before his late '60s conversion to psychedelic soul, Williams tried to be a conventional rhythm-and-blues singer. He even got an R&B hit in 1966 with his smooth, orchestrated ballad, "Baby, You're My Everything."
Despite the hit, Williams got stuck in music's minor leagues. He never was the type of act who, like Jackie Wilson or Chuck Jackson or Tommy Hunt, thrilled the girls.
"You know how you work on a job and you work and you work and, without being egotistical, you know you are one of the best workers there?" Virginia native Williams asked from Northridge, Calif., his home for 35 years.
"And you know how everybody gets praises and raises but you? Well, that's where I was. People liked my stuff, but I was never going to be the closing act. And I was never going to be the act right before the closing act."
Williams' dissatisfaction with his R&B career and his love for the brilliantly inventive music of Frank Zappa combined to inspire his new musical identity.
"It took me a long time to find out who Jerry Williams was," he said. "Once I found out who Jerry Williams was, I became Swamp Dogg."
The "Swamp" half of his new name came from Jerry Wexler, the Atlantic Records executive and producer who nicknamed the great '60s session musicians of Muscle Shoals, Ala., "The Swampers."
"The dog part is just that something you love," Williams explained. "No matter what he does, you give him another chance."
Swamp Dogg's 1970s debut, "Total Destruction of Your Mind," was an underground hit. He followed it with 1971's "Rat On!" Released by major label Elektra, the album features a cover of the grinning Swamp Dogg riding a giant white rat.
Despite his mid-'60s and early '70s flirtations with stardom, Williams, the producer, co-arranger and writer of his only hit, "Baby, You're My Everything," found his biggest success as a producer and songwriter.
Williams' production credits include Gene Pity, Andre Williams, Kid Rock and Irma Thomas' lost soul classic from 1973, "In Between Tears." Bob Dylan, Patti LaBelle, Tracy Byrd and many others recorded songs he'd written. The more famous of them include Johnny Paycheck's country hit, "Don't Take Her (She's All I Got)."
Until this year's re-releases of his underground classics by the Burbank, Calif.,-based Alive Natural Sounds Records, Williams, 71, occupied himself by occasionally writing for other artists and licensing his various songs and productions to film and TV. The reissue campaign has given him a new career as performer.
"The satisfaction for me is still out there on stage," he said. "So far people are accepting me and loving me. Jerry Williams wasn't star material. Swamp Dogg is star material, if he can hang around long enough."
http://theadvocate.com/utility/homepagestories/7207695-129/williams-gets-career-boost-as
THE TIMES PICAYUNE
(New Orleans daily) Swamp Dogg / Irma feature
Irma Thomas, and Swamp Dogg, are your midday music break
By Alison Fensterstock
This coming weekend is packed with excellent music – from Gretna Fest to the Ponderosa Stomp to the Bayou Blues Festival at the Lakefront Arena, and more – so to celebrate the acceleration of the fall concert calendar, we're dedicating the remainder of this week's midday music breaks to folks you can see live in New Orleans, in the next few days.
First up: Southern soul man Swamp Dogg, whose 1970 album "Total Destruction To Your Mind" was a wild, fuzzy, funky sleeper classic. In 1973, Dogg produced and co-wrote the album "In Between Tears," for Irma Thomas, which to my ears shows a rougher, more passionate and untethered side of the stately soul queen.
"In Between Tears" was reissued on CD in 2007, as "Two Phases of Irma Thomas," on Swamp Dogg's own indie label. Earlier this year, the Alive Records label brought it back again under its original title on vinyl, along with several Swamp Dogg '70s albums. Swamp Dogg plays the Ponderosa Stomp Friday, Oct. 4, at 9 p.m. at the Rock 'n' Bowl. Will Irma Thomas come say hello? Stranger things have happened.
http://www.nola.com/music/index.ssf/2013/10/irma_thomas_and_swamp_dogg_are.html?utm_source=rss&utm_medium=rss&utm_campaign=irma-thomas-and-swamp-dogg-are-your-midday-music-break
THE LOUISIANA WEEKLY
Ponderosa Stomp Roots Out the Swamp Dogg
By Geraldine Wyckoff
Contributing Writer
The Ponderosa Stomp, taking place Thursday, October 3, through Saturday, October 5, at the Rock 'n Bowl, is all about celebrating, remembering and most of all presenting those deep-rooted artists who were vital in the creation and evolution of blues, rhythm and blues and rock and roll. Some could be considered household names like the great R&B and soul singer Maxine Brown (Friday, Oct. 4) who climbed the charts with her self-penned hit, "All In My Mind" and such classics as "Oh No Not My Baby."
Other names, like Jerry "Swamp Dogg" Williams Jr., might not immediately ring a bell though his presence prevails on an array of genres as a composer, vocalist, producer and pianist. He's credited for putting together and arranging the renowned Muscle Shoals horn section that reigned supreme backing artists for Atlantic Records. He, along with good friend Gary U.S. Bonds ("Quarter to Three), wrote the often-covered "Don't Take Her She's All I've Got" that gained country singer Johnny Paycheck a Grammy nomination.
The soul singer was first recognized as Little Jerry Williams who was introduced on his memorable tune, "I'm the Lover Man." The multi-talented artist and noted outspoken renegade took on the handle Swamp Dogg to espouse his political views of the world. In 1970, he released his first album, Total Destruction to Your Mind, using that unusual moniker.
"Would you let somebody else do that to you?" Swamp Dogg asks with a laugh when questioned on the origins of his name. He explains that legendary record producer Jerry Wexler coined the word Swampsters.
"If you listen to "Sweet Home Alabama" you hear them say that Muscle Shoals has got the Swampsters," Swamp Dogg says. "Well the Dogg part happened because I was trying to get out of the conventional R&B, soul, Black thing because it wasn't making it for me. It didn't allow me to do and say what I wanted to do and say."
"The dog is, in my connotation. a word for freedom – freedom of expression, freedom of the mind. That's what the dog represents," Swamp Dogg sincerely yet hilariously continues. "As a dog, you can walk around as a real dog and do just about anything you want to do. Pull up flowers, shit in the house, bite somebody – if you're not rabid – and be forgiven. You'll be forgiven sometime before the day is over."
Thus we get tunes like "God Bless America for What?" from his album Rat On!, the album cover of which shows Swamp Dogg astride a giant rat. He proudly informs that it has been declared one of the worst album covers in history. "Pretty far out – that's where I like to go," he says mentioning that the album is available again on vinyl and CD.
His latest release due out in March, The White Man Made Me Do It, will include "If that Ain't the Blues, Nothin' Is."which addresses the ineptness of Congress. Another recently-penned original on the album is "Prejudice Is Alive and Well," which deals with education, health care and employment in the Black community.
Swamp Dogg also boasts a strong connection to New Orleans as he produced and wrote most of the tunes on Irma Thomas' 1973 album, In Between Tears, that has now been remastered, repackaged and re-released.
"That's my love, writing and production," declares Swamp Dogg who promises to bring some of his Little Jerry Williams soul numbers as well as his more eyebrow raising numbers to the Stomp on Friday night.
For the full schedule of events go to www.ponderosastomp.com. (via Heather West)
http://www.louisianaweekly.com/the-season-of-fall-is-environed-by-music/
OFFBEAT
(New Orleans monthly music magazine)
Swamp Dogg's Mad Soul Genius
by Brett Milano
There will always be argument about the greatest song title in the history of popular music. Poison's "I Hate Every Bone in Your Body but Mine" has its supporters, as does Loretta Lynn and Conway Twitty's immortal "You're the Reason Our Kids Are Ugly." But, to these ears, they all pale beside the majesty of the title for a song that R&B mad-genius Jerry Williams Jr. (a.k.a. Swamp Dogg) wrote for a romantic duet in 1981: "The Love We Got Ain't Worth Two Dead Flies."
Asked to explain his inspiration, Williams says, "It was a buddy of mine who died recently, a DJ in Philadelphia named Steve Turner. I asked him one day, 'Man, why'd you cut that girl loose?' And he said, 'Man, she wasn't worth two dead flies with their wings pulled off.' That kind of stuck with me. I get a lot of song ideas from people I know—I had another friend who was a publicist, and he was with this actress who shall remain unnamed. He thought she had money because she'd been in Clint Eastwood movies or some shit, and she thought he had money because he was a big publicist. Turned out neither of them were well off. So I wrote, 'She married me for the money/ I took the vow to do the same/ Only to find out we were playin' the same game.' They were my subjects, but I already had the concept."
Like most of Williams' work over the past 40-plus years, the song proved too hip for the proverbial room. In fact, the closest thing to a hit that he had under his own name was his debut single, 1970's "Total Destruction to Your Mind." But that wasn't just any hit. It was arguably the first song to really integrate classic R&B with acid consciousness, beating George Clinton by a few trips. The legend is that Williams wrote it after his first overpowering experience with the drug. "That's true and untrue," he says, "because I first did LSD back in 1966, and right now I do believe that some of my little mental problems are flashbacks from that shit. But in writing, your mind expands and you write some shit that don't nobody understand but you."
That song led to a major-label signing with Elektra and a brace of studio work—including the 1973 album In Between Tears with Irma Thomas. One of Thomas' funkiest and least-characteristic albums, it featured some gritty monologues on infidelity and divorce, more up Millie Jackson's alley but without the bawdy humor. Williams wrote most of that material with his main collaborator at the time, a pre-comeback Gary U.S. Bonds. "I knew that she had a hit voice, I just wanted to make some hit songs," Williams says of Thomas. "She can sing anything and it always comes out as Irma; it don't remind you of no one. Those divorce songs, they were the kind of thing that Gary U.S. Bonds and I were writing at the time—we were into that unfaithful husband shit. Both of us were brought up in houses full of strong women, not little sissy women. So we wanted to write from that standpoint."
Another legend is that Swamp Dogg wound up on Richard Nixon's official enemies list after playing some "Free the Army" shows with Jane Fonda. "Far as Nixon was concerned, I'm sure that everybody who didn't vote for him wound up on that list," he explains. "And I voted for Nixon, but he was like the guy who comes to town and you let him stay with you, then he's got bad hygiene and dirty ways and he runs your phone bill up. That's how Nixon was, an untidy motherfucker. The benefits I did with Jane Fonda, my wife Yvonne put those together—she was the one that was super political. So I would vote from her book, because we agreed on everything—from politics to raising children, everything. Only thing she didn't agree with me on was me running around sometimes."
Williams continues to record. His latest batch of demos includes "Where Is Sly?"—a killer tune about the errant Family Stone mastermind. Meanwhile, the Alive label has just reissued four of his early albums. And he still gets sampled by hip-hop artists, which should help keep his name alive.
"You mean, is that how I make my living?" he shoots back when asked about the reissuing and sampling of his work. "It's partly that I own 90 percent of the music I made from the '60s up 'til now. So a label like Alive, they don't own my shit. It's rented. I was able to build a very big publishing firm because at the time no one thought I could write. And then if someone like Kid Rock samples me and sells 18, 19 million, that'll keep the liquor flowing for a week or two. Then once in a while I'll go to the Netherlands, or to Third World places like Suriname and shit—I draw like a motherfucker over there. So that's how I make my living. I sure don't make it from singing, because that wouldn't give me enough to get on welfare." (via Heather West)
http://www.offbeat.com/2013/10/01/swamp-dogg-mad-soul-genius/

PORTLAND TRIBUNE
You must see this show: Swamp Dogg Sept. 14 th at Dante's in Portland,
There are many reasons NOT to miss underground legendary soul artist Swamp Dogg's upcoming show, but we can only list a few.
1. He made President Richard Nixon's enemies list.
2. His album cover for "Rat On," which features him sitting astride a white rat, was voted "Worst Album Cover of All Time."
3. He's probably the only artist who's been compared to both Sly Stone and Frank Zappa.
4. And last, but far from least, he's invited his 91-year-old mother, Vera Lee, to open the show. Now that's class.
In other words, in a world of soul, R 'n' B and funk pretenders, Swamp Dogg is a true king, a funny, sincere, soulful cat who digs white country music (which he loves to sing) as much as black blues, which makes him as much a reason to hope for a better, harmonious America as you could ever find this side of heaven.
Swamp Dogg, The Pynnacles, Vera Lee, 9 p.m. Saturday, Sept. 14, Dante's, 350 W. Burnside St. $15. Info: 503-345-7892, www.danteslive.com.
http://portlandtribune.com/pt/11-features/161577-live-music
THE PORTLAND MERCURY
Up & Coming
This Week's Music Previews
SWAMP DOGG, THE PYNNACLES at Dante's Saturday 9/14
While Swamp Dogg's tight, kicking, '70s funk tunes may not ring a bell, his record sleeves might. The most (in)famous features Dogg riding the back of a giant albino rat. He is stocky, mustachioed, and black, wearing a fringed leather vest and a matching shirt and beret while smiling wide, his arms raised in celebration. Recently Dogg—AKA Jerry Williams—expounded on the image to LA Weekly: "That cover was about me finally getting on top of the white man… Notice that the rat is smiling. He knows I'm gonna fall off soon." Indeed, Dogg is nothing if not far out. And while his latest touring incarnation may appear a bit more anodyne, a bit more church band than the crisp, raspy, quick-burning folk-funk found on the original recordings—in particular, the album The Total Destruction of Your Mind—Swamp Dogg's oeuvre amounts to much more than just a few iconic images. ANDREW R TONRY
http://www.portlandmercury.com/portland/up-and-coming/Content?oid=10500442T
THE STRANGER
(Seattle weekly) – Positive Seattle show preview.
Up & Coming
Thursday 9/12 Swamp Dogg, Brother James & the Soul-Vation at Triple Door
Those who've slept on Swamp Dogg—i.e., most of us—can catch up, to a degree, with reissues of three key early-'70s albums by the Virginia-born soul man: Gag a Maggot, Rat On!, and best of all, Total Destruction to Your Mind. These releases (back in circulation via Alive Naturalsound Records) evidence a vocalist of raw, soulful vigor and a lyricist of sociopolitical insight and irreverent humor. The man's music from this era is a loose-limbed combo of Southern-fried funk, animated blues rock with surprising country undercurrents, and heart-punching soul. Now Swamp Dogg (aka Jerry Williams Jr.) is doing a rare late-career tour, and it would be a serious blunder to miss him. He may be 71 now, but recent footage reveals Mr. Dogg's voice has lost very little of its vibrant timbre or emotional turbulence. DAVE SEGAL
http://www.thestranger.com/seattle/up-and-coming/Content?oid=17715415
WILLAMETTE WEEK  
(Portland, OR weekly) – Positive Portland show preview with photo & video interview.
Primer: Swamp Dogg
Born: Jerry Williams Jr. in Portsmouth, Va., in 1942.
Sounds like: A country-tinged, rock-informed soul shouter, wailing witty, dirty lyrics about conflicts between rich and poor, black and white, man and wife.
For fans of: Southern soul, Sly Stone, Frank Zappa, Blowfly.
Latest release: Three of the Dogg's first four albums—Total Destruction to Your Mind, Rat On! and Gag a Maggot—have just been reissued. An album of new material is anticipated next year.
Why you care: A true independent, Swamp Dogg has been making funny, savvy and obscure R&B since 1970, his singular voice encompassing a piercing wail, the grit of the chitlin' circuit and that gargle in the back of the throat that made MLK turn heads. At once self-effacing and self-aggrandizing, his album titles tell the story: I Called for a Rope and They Threw Me a Rock; I'm Not Selling Out/I'm Buying In!, whose cover depicts the Dogg dancing in white tie and tails atop a boardroom table surrounded by nonplussed executives; and the quintessentially braggadocious If I Ever Kiss It…He Can Kiss It Goodbye! His way with a title extends to the songs themselves: political screeds, from 1971's "God Bless America For What" to the 2007 anti-Bush blast "They Crowned an Idiot King"; racial explorations such as "I've Never Been to Africa (And It's Your Fault)"; and countless meditations on marital infidelity, such as "Choking to Death (On the Ties That Bind)" and "Did I Come Back Too Soon (Or Stay Away Too Long)." And when he puts that unreal voice to another writer's song, sparks fly, as on his damn near definitive reading of John Prine's junkie-vet lament, "Sam Stone."
SEE IT: Swamp Dogg plays Dante's, 350 W Burnside St., on Saturday, Sept. 14. 9 pm. $15. 21+.
http://www.wweek.com/portland/article-21117-primer_swamp_dogg.html
KEXP RADIO: SEATTLE
Swamp Dogg's "Wife Sitter" & "The Mighty Mighty Dollar Bill" aired on Greg Vandy's show 'The  Roadhouse' Sep. 11th with Seattle show shout out.
Swamp Dogg played last night too. Talk about feeling conflicted, that's exactly how I felt when the soul funny man was booked on the same night as our showcase event with Los Colognes. So, you'll hear two tracks from the recently re-issued 1973 LP from Swamp Dogg called Gag A Maggot (2013's best re-issue), that was presented to the live listening Seattle radio audience as a choice – Swamp or Los Colognes? It was a win-win, I suppose.
http://americanstandardtime.com/home/2013/9/13/listen-to-roadhouse-radio-now-091113-99-ways-to-get-down.html
KBOO RADIO: PORTLAND
(Portland, OR Community Radio)
Swamp Dogg phone interview with Jeff Rosenberg Fri. Sep. 13th at 2pm PDT.
KEXP RADIO: SEATTLE
Recommended Events: Swamp Dogg with Brother James & The Soul-Vation 9/12 at Triple Door in Seattle! http://kexp.org/events/details/8662
PLUG IN MUSIC  
(online music site) – News post , with  photo, tour dates and related links.
Swamp Dogg Hits The Road For Rare US Tour Dates
http://www.pluginmusic.com/news/article/swamp-dogg-hits-the-road-for-rare-us-tour-dates
BLURT MAGAZINE
(national music magazine) – Feature/reviews of first three Swamp Dogg LPs.
SOUTHERN FRIED SOUL: Swamp Dogg
As evidenced by a recently-inaugurated reissue series, the larger-than-life character—and first-rate songwriter—born Jerry Williams, Jr. had substance, personality, and above all, soul.
BY CARL HANNI
The world of soul, funk and R&B is heavily populated with major characters and outsize personalities, which is hardly surprising: they are entertainers, after all. Popular music is also one of the few realms where eccentric behavior can be celebrated as opposed to shunned. Yesterday's high school outcast or town weirdo can be tomorrow's chart topper or night club headliner, given the right set of circumstances.
R&B and funk seems to be particularly populated with willful eccentrics and those whose fires burn especially bright. Think Screamin' Jay Hawkins, Andre Williams, Blowfly, Sly Stone, George Clinton, Rufus Thomas and yea, you also better think Swamp Dogg, aka Jerry Williams, Jr. In March Alive Natural Sound reissued Dogg's first two full length classics, Total Destruction To Your Mind (1970) and Rat On! (1971); he had previously recorded some sides under the name his parents called him growing up. Dogg is a first class character, from the whack cover art on his records, to his hilariously surreal and self congratulatory liner notes to his all-over-the-place lyrical musings. Fortunately the man has substance, not just personality, and both of these are red hot platters of burning Southern Soul.
Rat On
Both discs were recorded at a high water mark for Southern Soul, Total Destruction… at Capricorn Studios in Macon, GA, and Rat On! at Quinvy Studio in Muscle Shoals, AL. And both use the world class musicians available in those studios, including drummers Johnny Sandlin and Jaspur Guarino, bass player Robert Popwell, guitarist Jesse Carr, keyboard player Paul Hornsby and various horn players and back up singers. These cats lay down a swampy soul groove to equal most anything at the time, all bathed in the wondrously warm analog sound of the era. Swamp Dogg wrote or co-wrote most of the material, produced and arranged everything, plays piano and "everything else of any importance" as he so modestly puts it. And of course he sings it all in his strong, Southern dipped voice, comfortable in the mid and especially higher registers.
Williams/Dogg's outsized personality infuses most everything with a touch of the surreal, from the see-it-to-believe-it photo on the cover of Total Destruction… to the cheeky liner notes (he name checks Gene Autry, Moms Mabley, Phil Walden, Snow White, Jerry Wexler and Wally Roker in one sentence), and then on to the music, even the straight up soul numbers. How about we just lay a few song titles out there? We've got "Dust Your Head Color Red," "Sal-A-Faster," "Mama's Baby, Daddy's Maybe," "Redneck" (by Joe South), "Synthetic World," "Total Destruction To Your Mind" and six others from the first record, and "Predicament #2," "That Ain't My Wife," "God Bless America For What," and seven more on the more straight-ahead second. It's important to know that these aren't novelty songs in any way at all, and Dogg's isn't a jokey performer, per se: sure, some of them are funny, others are topically pissed off, but most are straight up soul numbers that could have been on the radio at the time. He may be a bit off-the-wall, but there's always an underlying sense of integrity to what he's doing, at least as far as these two releases go.
Most importantly, they really are great songs, from start to finish on both records. Check "Total Destruction…," "Remember, I Said Tomorrow," "Creeping Away," "Mama's Baby, "Daddy's Maybe," "Do You Believe," "Do Our Thing Together," and really just about anything here and you'll find the vintage goods, sounding as good today as they the day they were laid down.
Gag a Maggott
The third Alive Natural Sound installment turned up recently, 1973's Gag a Maggot, which picked right up where its two predecessors left off, a wide territory that spans the distance between the surreal and the soulful. The beauty of Swamp Dogg is that he scores both coming and going: he's both a hilariously in-your-face character with a wicked, deeply off-the-wall sense of humor, and a terrific soul singer and songwriter. He also benefited from recording in some of the great southern studios which were stacked with world class house musicians. Gag a Maggot was cut in Miami, and benefits immeasurably from the smooth, funky guitar playing of Willie Hale, aka Little Beaver, one of the great blues/soul fusion guitar players of the era. The band (Little Beaver, bass player Ron Bogdon, drummer Ivan Olander, some horns and Williams on piano) cooks up tight, tasty southern soul grooves than bridge the gap between gospel, soul and country.
Gag a Maggot features nine Dogg/Williams originals, several co-written with one S. McKinney, a decent version of "Midnight Hour," and a throw away version "Honky Tonk Women," one of two bonus tracks not on the original LP. As always, the songs titles tell a lot of the story: "Wife Sitter," "Choking to Death (From the Ties that Bind)," "I Couldn't Pay For What I Got Last Night," "Plastered to the Wall (Higher Than the Ceiling)" and a live version of his nasty slow blues classic "Mama's Baby, Daddy's Maybe," the other extra track.  The material flows effortlessly from raunchy to topical to sweet, a nice trick if you can pull it off.
But seriously, the record is worth the price of admission for the recently penned liner notes alone, both in the insert and the CD sleeve. Williams has not lost a step over the decades since these tracks were cut: "Henry (Stone, southern soul industry maven) wasn't like other industry heads. He fucked you and made you love it. You'd wake up the next day and ask 'what was that and what else can I do to contribute to the cause?' Henry used a condom, some gel and fatback grease. You almost apologized for being unresponsive."
Or "I've been told that I was light years ahead of myself with my music. Well I've finally caught the fuck up. My trip was so long that when I got back, vinyl was back and the president was black. I must have been frozen in ice for several decades. People now telling me how great I am and I'm a genius. Hell I was great back then, but I was the only one who knew it or gave a good goddamn." Elsewhere he name checks Nixon and Bernie Madoff back to back, and drops something about a 'faggot great dane.' Man, this guy just does not have a filter. Which, of course, is a large part of the charm of the persona known as Swamp Dogg, which, one suspects, is essentially a larger version of Jerry Williams, Jr.
Whatever it is, it works, and we're all a little stranger and better off for it.
FYI, Dogg is still kicking it. There's a nice NPR piece here:
http://www.npr.org/player/v2/mediaPlayer.html?action=1&t=1&islist=false&id=16322903&m=16322952
http://blurtonline.com/feature/southern-fried-soul-swamp-dogg/
SKOPE MAGAZINE
(online music site) –  News post on tour with related link.
SWAMP DOGG 2013 TOUR DATES
Swamp Dogg (aka Jerry Williams) has been enjoying a renaissance in his musical career this year, thanks to Alive Naturalsound Records' ongoing Swamp Dogg Soul & Blues Collection. Critics and fans alike have been singing the praises of these highly sought-after and long out-of-print rarities, all remastered and available on vinyl for the first time in decades. This collection, thus far, includes Swamp's first three solo records, Total Destruction To Your Mind, Rat On! and Gag A Maggott, as well as the Swamp Dogg-produced albums In Between Tears from the 'Soul Queen of New Orleans' Irma Thomas, Charlie Whitehead's Raw Spitt and Lightnin' Slim's High & Low Down.
SWAMP DOGG 2013 TOUR DATES:
Sept 12 @ Triple Door – Seattle, WA
Sept 14 @ Dante's – Portland, OR
October 3-5 @ The Ponderosa Stomp – New Orleans, LA
Oct 26 @ Bar Pink – San Diego, CA
Oct 31 @ The Kessler – Dallas, TX
Nov 1-2 @ Continental Club – Austin
http://www.skopemag.com/2013/08/26/swamp-dogg-2013-tour-dates
VENTS MAGAZINE
(online music site) –  News post on tour.
Swamp Dogg hits the road for rare seven-city U.S. tour! http://ventsmagazine.com/swamp-dogg-hits-road-rare-seven-city-u-s-tour%E2%80%8F/
WITH GUITARS
(online music site) –  News post on tour with Swamp photo.
Soul legend Swamp Dogg Embarls On Rare Seven-City U.S. Tour!
http://www.withguitars.com/soul-legend-swamp-dogg-embarks-on-rare-seven-city-u-s-tour/