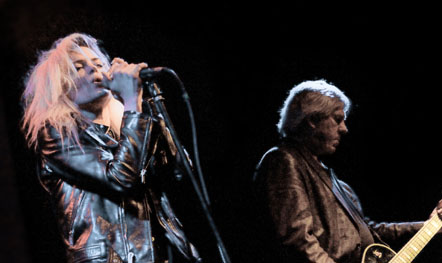 LEGENDARY STOOGES' GUITARIST JAMES WILLIAMSON PERFORMS WITH A NUMBER OF SPECIAL GUESTS ON LAST CALL WITH CARSON DALY!  
CLICK THE FOLLOWING LINKS TO WATCH JAMES PERFORM WITH…
ALISON MOSSHART (DEAD WEATHER / THE KILLS)
LISA KEKAULA (THE BELLRAYS)
JELLO BIAFRA (DEAD KENNEDYS)
CAROLYN WONDERLAND
In support of his recent critically-acclaimed solo album, Re-Licked, The Stooges' guitarist James Williamson was featured musical guest on, not one, but two episodes of Last Call with Carson Daly. On Wed. Feb. 4th the Rock & Roll Hall of Famer was joined by vocalists Jello Biafra (Dead Kennedys / Guantanamo School of Medicine) and Texas blues belter & guitarist Carolyn Wonderland. And then on Wed. Feb. 25th Alison Mosshart (The Kills / Dead Weather) & Lisa Kekaula (The Bellrays) joined James for two riveting performances.
photos: Heather Harris
For these two late night TV performances Williamson & friends performed early Iggy Pop/ Williamson-penned Stooges' rarities as featured on the guitarist's Re-Licked album. These songs include "Head On The Curve" (with Biafra), "Open Up and Bleed" (with Wonderland), "'Till The End Of The Night" (with Mosshart) and "I Got A Right" (with Kekaula).
FOR MORE INFO ON JAMES WILLIAMSON:
http://straightjameswilliamson.com 
FOR MEDIA AND INTERVIEW REQUESTS:
Tony Bonyata
Pavement PR
p: 262.903.7775
e: tony@pavementpr.com
https://pavementpr.com