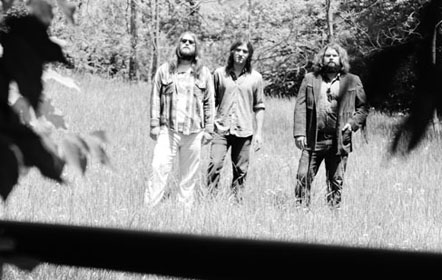 AOL Music's Spinner is featuring the world premiere of Buffalo Killers' new track "Hey Girl" from Dig. Sow. Love. Grow. Click here to check it out… and to download the song for free!
Here's what Spinner has to say about it…
Buffalo Killers have long hair, beards and a wonderful new tune "Hey Girl" that harkens back to '60s psychedelia, CSNY hooks and lava-lamp love.
Even though the song possesses a delightfully flowery vibe, "Hey Girl" packs a delicious punch that's filled with more than your average acid tablets. The Cincinnati band's new single has a hell of a lot of heart.
"I wrote 'Hey Girl' on my way home from rehearsal one night," guitarist Andy Gabbard tells Spinner. "In my head it was a Stevie Wonder song. The whole thing just came right out. Words and all. I was heavy into Stevie at the time. Zach and Joey took it to the next level. As did the jangly second guitar."
The band's previous records 3 and their 2008 Dan Auerbach-produced Let it Ride seem like rock 'n' roll stepping stones compared to what's next.
Buffalo Killers' new album Dig. Sow. Love. Grow. is a cool addition to the band's canon and will hit shelves Aug. 7 via Alive Naturalsound Records.
http://www.ymlp.com/app/archive_showmessage.php?PHPSESSID=303725806ea6266971d8d80d1b8ff3ba&id=3659