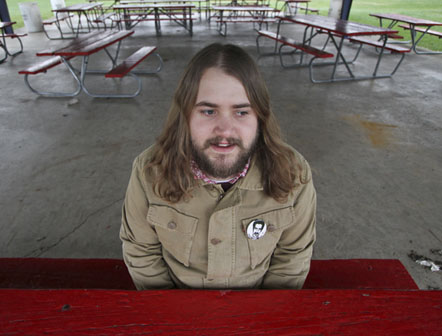 CLICK HERE TO WATCH THE PREMIERE OF ANDY GABBARD'S "MORE" VIDEO VIA SPIN MAGAZINE!
Andy Gabbard Asks for 'More' in Trippy New Video.
It's from the Ohio singer's forthcoming solo effort, 'Fluff'
written by Rachel Brodsky
With its "Saved By the Bell"-esque neon detailing, obvious lo-fi production, and ironic zoom-in/zoom-out camera trickery, Andy Gabbard's "More" video could easily be written off as little more than a collection of gimmicks — good thing then that all of those visual aspects make the clip all the more charming. Playing off of the single's three-chord simplicity and free-spiritedness ("[It's] about being young and realizing you can do whatever you want," Gabbard tells SPIN over email), the video is simply Gabbard — who some might recognize from his work in Cincinnati guitar-charged harmonizers Buffalo Killers — playing with a cohort of nonchalant fringed types and sometimes jumping out to serenade the camera in Wayfarers. Get some "More" above, and look out for Gabbard's forthcoming solo effort, Fluff, out on March 24 via Alive Naturalsound Records.
http://www.spin.com/articles/andy-gabbard-more-video