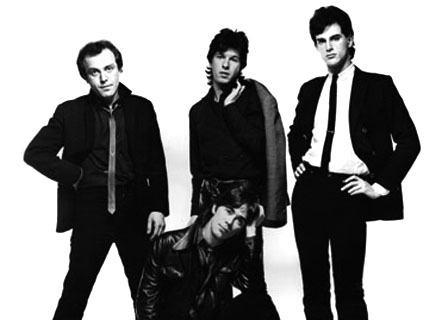 WASHINGTON CITY PAPER (weekly)
Arts & Entertainment : Picks – Sorrows at Quarry House Tavern Saturday, October 15
By Steve Kiviat
Sorrows is back. No, not the forgotten 1960s English band—this Sorrows is the forgotten late 1970s/early '80s New York power-pop combo with no "the" in its name. The skinny tie-wearing, shaggy-haired outfit was led by Warsaw-born guitarist Arthur Alexander, who likened Sorrows' sound to "Abba meets the Sex Pistols." Thirty-some years later, Alexander and guitarist Joey Cola have reunited—without ties—and added a new bassist and drummer. But the band's roughed-up British Invasion tunes remain just as timelessly catchy. On Bad Times Good Times, released last winter, "Teenage Heartbreak" delivers sped-up Chuck Berry riffs and a memorable chorus; the wistful "I Can't Go Back" recalls The Hollies; and "Lonely Girl" melds punk propulsion with exuberant call- and-response vocals.
Sorrows plays at 10 p.m. with The Spectacles and Les Sans Culottes at Quarry House Tavern, 8401 Georgia Ave., Silver Spring. Part of the Hail Hail Rock n Roll Festival. Free.
http://www.washingtoncitypaper.com/articles/41605/sorrows-at-quarry-house-tavern-october-15/
WASHINGTON POST (daily)
Hail Hail Rock 'n' Roll Festival
This garage rock fest takes its name from a Chuck Berry song (it's a line from "School Days"), and although none of the 10 acts playing over three nights sound particularly like the Father of Rock-and-Roll, they all adhere to no-frills, back-to-basic sounds. Acid Baby Jesus, Thursday's headliner at Asefu's, comes from Athens — the Greek Athens, not the college-rock hot spot in Georgia — and plays fuzzy psych-punk with the proper amount of swagger. New York's Sorceress is all about big hair, big riffs and big solos, bringing some glam strut to the proceedings Friday at Comet Ping Pong. Saturday's headliners at Quarry House Tavern, Sorrows, have been cult favorites on the power-pop circuit for three decades, playing sharp, concise and hook-filled songs that sound good no matter the decade.
Saturday at 10 p.m. Quarry House Tavern, 8401 Georgia Ave., Silver Spring. www.pinklineproject.com/event/13737. Free.
http://www.washingtonpost.com/goingoutguide/going-out-guide-nightlife-agenda/2011/10/11/gIQAVWrbdL_story.html
WASHINGTON POST (daily)
All Hail Garage Rock
By Christopher Porter
D.C.'s best garage-rock fest returns for its third year — and it's now on its third name: Hail Hail Rock'N'Roll Fest. But much like the classic music it promotes, nothing else has changed.
Hail Hail closes Saturday at Silver Spring's Quarry House Tavern with a free show featuring D.C. power-poppers the Spectacles, Brooklyn's Les Sans Culottes (Francophone rock) and New York City's Sorrows, pictured. The Sorrows formed in 1977 and sound like the Sex Pistols if they highlighted their early-Beatles side. The 2010 reissue collection "Bad Times Good Times" inspired bandleader Arthur Alexander to give performing another go — because garage rockers are always ready for one more round.
http://www.expressnightout.com/2011/10/all-hail-garage-rock/
MERIDEN RECORD JOURNAL (daily)
The Sorrows perform tonight in Wallingford
By Ashley Chin
WALLINGFORD – When the British power-pop band The Sorrows formed in 1977, they never thought their fan base would be as strong as it is today.
The band that originally formed in New York City consists of Arthur Alexander, Joey Cola, Ricky Street, and Jeff Harris. They will play a show at the Cherry Street Station, 491 N Cherry Street Ext., tonight at 8 p.m., one of the first stops on their East Coast tour to promote the release of their album, "Bad Times Good Times."
"We just finished the West Coast tour, we took a two-week break," said Alexander, front man of the band.
Alexander said that the band has played in Connecticut before, but this is the first time in many years, especially since the band has been inactive for years.
"The album came out last October, and we're supporting it, this is our first full-fledged tour," said Alexander.
The band's sound can be compared to The Beatles and The Who, who Alexander said are two of their inspirations, and bands they grew up listening to.
The Sorrows have played with well-known bands and artists such as Blondie, the Talking Heads, the Ramones, and Crazy Squeeze back in the 1980s.
"We only wish we could have them here, they were a blast," Alexander said.
The bands were a blast and the crowds were large, but the band never would have thought after all the years of being out of the spotlight that they would have appealed to not only a larger crowd, but younger.
"All the young kids are coming out and looking up to us, it's been absolutely fantastic, and a big surprise to us," Alexander said.
http://www.myrecordjournal.com/wallingford/article_4dae1354-f056-11e0-a9a3-001cc4c002e0.html