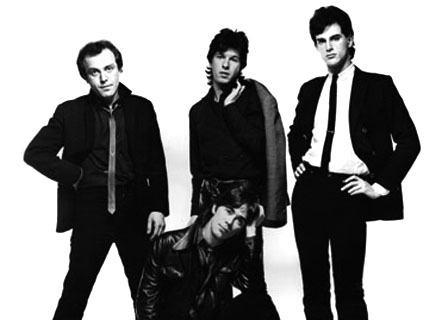 Sorrows rejoices in Clifton
BY TONY GICAS
A fusion of pop-punk and new wave sounds will grace the stage tonight when a battle-tested, New York City-founded rock band comes to Clifton during its comeback tour.
As part of a series of East Coast dates and recent record release, Sorrows, an influential punk group formed nearly 35 years ago, will first perform tonight at the Clash Bar on Harding Avenue.
The concert will mark the first time the band members have been on stage together since they stopped touring in the 1980s.
The band's ascension and recent reemergence has taken Arthur Alexander, the group's frontman, on quite a journey.
Alexander, who was born and raised in Warsaw, Poland, came to the United States as an inspired teenager obsessed with music.
"From early childhood I've been banging on something, beginning with piano, drums and then came the guitar," Alexander said. "I will never forget my first rock n' roll concert. I was just a kid and I sneaked in to see Big Bill Broonzy. I was totally freaked out by the experience and it changed my life. I thought 'this is rock n' roll' and I was ready to die for it."
In 1974, Alexander and three other musicians forged the Poppees, a band defined by a punk-like sound infused with British Pop tones which would later become known as "power pop."
Over the next several months, the band tirelessly pursued a record deal and were on the verge of calling it quits when they were forwarded to a startup label – Bomp Records – which ultimately recorded and distributed two of their singles. The producer, Craig Leon, went on to record tracks for Blondie as well as the self-titled debut album for the Ramones, who would proceed to become one of the legendary bands of the punk rock era which dominated New York City during the late 1970s and early 80s.
Although they left their mark on the scene, the Poppees experienced internal squabbles regarding the musical direction of the band, and ultimately disbanded in 1976.
The following year, Alexander called up Jett Harris, another former member of the Poppees, with the idea of creating a new band with a new sound.
Harris asked for the concept.
"ABBA meets the Sex Pistols," Alexander told him.
Within seconds, Harris was in. After recruiting guitarist Joey Cola and bassist Ricky Street, the new act, Sorrows, came to fruition.
A smorgasbord of sound, which included early 1960s rhythm and blues, the hard edge of New York's punk rock as well as inspired rockabilly riffs, Sorrows' distinct style and powerful backbeat earned them a major record label deal.
Alexander noted the new wave sound which permeated clubs at the time was incorporated into other unique musical influences such as Little Richard, John Lee Hooker and the Beach Boys.
Over the next decade, the band recorded two critically acclaimed albums, several singles and toured with some of the genre's biggest acts like the Dead Boys, the Ramones, the Heartbreakers and Blondie.
"I still get goose bumps thinking about it," Alexander said, three decades later.
The group ultimately dissolved in the mid-1980s, but today, the band is back riding the critical success of their newly released album "Good Times Bad Times," which marks the its first recorded material available on compact disc as well as vinyl.
Tony Bonyata, head of Pavement PR, the publicity firm which represents Sorrows, as well as popular artists like Iggy Pop, said he is a huge fan of their music.
"Their recently released album is a prime example of high-energy, post-punk, power-pop," Bonyata said. "For my money, this record is about as close as you can get to pop-rock perfection. And, on a personal note, [it] served as my own summer soundtrack this year."
Bonyata, as many have before him, struggled to provide a clear-cut comparison of the Sorrows sound.
"That's a tough one," he said. "While they may share some similar elements of early power-pop acts as, say, The Nerves, Flamin' Groovies, The Beat and even The Beatles in their early days, there's an underlying punk edge that I feel lends more of a sense of danger to Sorrows' music."
To the band's delight, the record and their recent live performances have been met with overwhelming support.
"It's been incredible," Alexander said. "It's truly remarkable and gratifying to not only discover how many people were, and have remained our fans from that time, but to see kids today going nuts over our music and looking up to us. It feels great that every venue we play we make new friends and new fans."
The band hopes to reel in some Clifton fans on Sept. 30 at 8 p.m. when they will take the Clash Bar stage for the first time.
"I've heard about the place over the years, but this will be the first ever show for Sorrows at the club and we're really stoked about it," Alexander said. "When this tour started taking shape we made sure the Clash Bar was on the short list of the venues we'd play. We just love to play and are passionate about rock n' roll so we know that if we do it from our heart and soul, the rest will follow."
http://www.northjersey.com/community/130833108_Sorrows_rejoices_in_Clifton.html