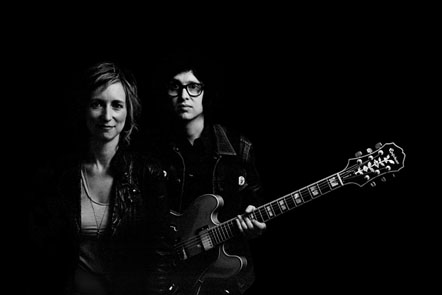 FEEL FREE TO SHARE THE SINGLES' FIRST THREE SINGLES FROM THEIR NEW LP!
HERE'S WHAT PEOPLE HAVE BEEN SAYING ABOUT THE SINGLES:
"A warm blend of '60s garage band energy and late '70s powerpop sweetness, with a hint of stomping glam grooves and sweet harmony vocals courtesy of drummer Nicky Veltman. Vince Frederick's songs are perfectly formed pop jewels crammed full of catchy hooks. There's a sense of real elation and celebration beneath the surface of these songs. They surge and soar, creating a genuine sense of euphoria a million miles away from the fake posturing and arch-cynicism of most rock revivalists. A lovely, feelgood gem of a record." – SHINDIG!
"If you need a rock 'n' roll release… I think I have the perfect song. The Singles' 'Inamorata' hooked me instantly. The duo, which formed in Detroit, pulls from some of my favorite bands to create a glam garage sound all its own." – USA TODAY
"Los Angeles via Detroit rockers The Singles excel in '70s/'80s style American power pop, all crunchy chords, catchy melodies and killer harmonies." – POPMATTERS
"Throughout 13 tracks, you'll find sundry, buzzed love (Inamorata), sorrow-fueled twang (It's So Hard To Get Over You) and the misleadingly optimistic (We Don't Talk Anymore)." – CMJ
"The informed garage-pop hits full-force on The Singles' track "Inamorata," solidifying the duo of guitarist/vocalist Vince Frederick and former Gore Gore Girls drummer, Nicky Veltman's commitment to their Detroit roots of stripped down rock 'n' roll." – THE GHETTOBLASTER
"Vince and Nicky's vocals blend together perfectly over the wash of noisy guitars and pounding drums, bringing out a tension between the bluesy rock influence and the pop-centered harmonies". – (THE) ABSOLUTE
"In the sound of 'Inamorata' you can clearly (and loudly) hear from where Vince Frederick and Nicky Veltman hail. Natives of Detroit and based in Los Angeles, the duo, known as The Singles, have a keen feel for power pop, glam and unadulterated rock 'n' roll." – KDHX RADIO
"Stripped down, jaunty garage-pop boldly nods to T. Rex's influences, but done this well that is no bad thing at all." – THE MAD MACKEREL
"Uplifting guitar-pop goodness with just a little extra edge" – THE SOUND OF CONFUSION
 THE SINGLES' 2014 SUMMER TOUR DATES:
FRI 6/27 Brooklyn, NY – The Rock Shop
SAT 6/28 New York, NY – The Delancey
THU 7/10 Kalamazoo, MI – Bells Brewery
FRI 7/11 Milwaukee, WI – Stonefly Brewery
SAT 7/12 Bloomington, MN – 400 Bar
MON 7/14 Rock Island, IL – Rozz-Tox
WED 7/16 Chicago, IL – TBD
THU 7/17 Indianapolis, IN – The Hi-Fi
FRI 7/18 St Louis, MO – Koken Art Factory
SAT 7/19 Louisville, KY – The New Vintage (Forecastle Fest afterparty)
SUN 7/20 Nashville, TN – Basement
MON 7/21 Cleveland, OH at Beachland Tavern
TUE 7/22 Cincinnati, OH – The Drinkery
WED 7/23 Pittsburgh, PA – Arsenal Lanes
THU 7/24 Columbus, OH – Ace of Cups
FRI 7/25 Ferndale, MI – Loving Touch
SAT 7/26 Ann Arbor, MI – Zal Gaz Grotto
THU 7/31 Long Beach, CA – Alex's Bar
TUE 8/05 Los Angeles, CA – TBD
WED 8/06 Ventura, CA – Billy O's Tavern
THU 8/07 San Francisco, CA – Thee Parkside
FRI 8/08 Eugene, OR – Cozmic
SAT 8/09 Portland, OR – Millennium Music In-Store 2pm
SAT 8/09 Portland, OR – Doug Fir
TUE 8/12 Seattle, WA – El Corazon
WED 8/13 Boise, ID – Neurolux
THU 8/14 Salt Lake, UT – Burts Tiki Club
FRI 8/15 Denver, CO – The Walnut Room
SAT 8/16 Albuquerque NM – Burts Tiki Lounge
MON 8/18 Dallas, TX – Prophet Bar
TUE 8/19 Austin, TX – Hotel Vegas
WED 8/20 El Paso, TX – TBD
THU 8/21 Scottsdale, AZ – Rogue Bar
FRI 8/22 San Diego, CA – Tin Can Alehouse
SAT 8/23 Las Vegas, NV – TBD
THU 8/28 – Laguna Beach, CA @ Marine Room Tavern
(additional dates to be announced soon)
The Singles are Vince Frederick (guitar/lead vocals) and Nicky Veltman (drums/back-up vocals). Hints of garage rock, power pop, glam, blues and punk all find their way into the music. Both originally from Detroit, the two joined forces in LA in 2012 to restart The Singles— a moniker Vince had used in the past to release his songs with different incarnations of the band.
With the help of friends on bass, the band began playing locally, bringing stripped down rock-n-roll to the LA music scene. Things got serious once they met producer Rick Parker, who was brought on to mix their single "(She's Got) A Heart of Stone" in early 2013. His chill vibe, part surfer, part jedi studio master, was the perfect counterpoint to the off-kilter energy of the band.
Equipped with an arsenal of songs and Rick's genius, the band went back into the studio to record their latest full-length album Look How Fast A Heart Can Break.
The Singles' Look How Fast A Heart Can Break is out now on CD, digital and limited edition vinyl (via Cobraside Distribution).
FOR MORE INFO ON THE SINGLES:
http://www.thesingles.us
FOR MEDIA AND INTERVIEW REQUESTS:
Tony Bonyata / Pavement PR
e: tony@pavementpr.com
https://pavementpr.com