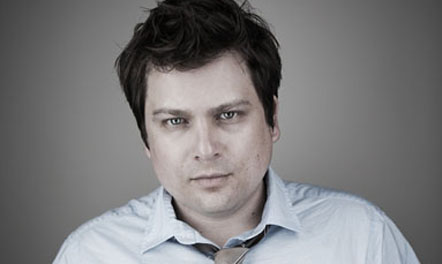 NICKEL CREEK HITS THE ROAD IN SUPPORT OF THEIR RECENT ACCLAIMED EFFORT "A DOTTED LINE"
During a nine year recording hiatus from his Grammy award winning band Nickel Creek, singer/songwriter/guitarist Sean Watkins released his third solo album Blinders On, teamed up with Switchfoot singer, Jon Foreman, to form the band Fiction Family, as well as co-founded the experimental supergroup Works Progress Administration (WPA). In addition, for the last decade Sean & his sister Sara Watkins (also from Nickel Creek) have hosted a monthly residency at the Hollywood club, Largo, for their popular music show, Watkins Family Hour, which has featured guests such as Fiona Apple, Jackson Browne, Booker T, Grant Lee Phillips, John C. Reily, among many others.
Sean has toured as a side man with Jackson Browne and Lyle Lovett. His session work resume includes playing guitar, mandolin and singing on records by notable artists such as Dolly Parton, Lyle Lovett, Steve Martin/Edie Brickell, the Chieftains, Bela Fleck and the Flecktones, Hank Williams Jr. and Dan Wilson.
Sean is currently busier than ever. Hot on the heels of Nickel Creek's recently released acclaimed sixth studio album, A Dotted Line, he's set to hit the road with the reunited band for a summer-long U.S. tour (dates below), and will be releasing his fourth solo album, All I Do Is Lie, on July 1st. These 10 self-penned numbers were recorded in pieces between June 2012 and July 2013 in Los Angeles, Encinitas, Davenport, IA, Ann Arbor, MI and in a few hotel rooms across the Midwest. Joining Sean on this effort are his sister Sara, Gillian Welch and Greg Leisz, among others.
Sean Watkins' All I Do Is Lie will be available on CD and digital formats via Roaring Girl Records on July 1st.
SEAN WATKINS "ALL I DO IS LIE" TRACK LISTING
1. Since The Day That I Was Born
2. Wave As We Run
3. All I Do Is Lie
4. Made For TV Movie
5. Don't Say You Love Me
6. This Will End In Tears
7. What Wanting Means
8. The God You Serve
9. Keep Your Promises
10. Meredith
NICKEL CREEK 2014 SUMMER TOUR:
Jun 19 Telluride Bluegrass Festival – Telluride, CO
Jul 09 Meijer Gardens – Grand Rapids, MI w/ Sarah Jarosz
Jul 10 Kresge Auditorium – Interlochen, MI w/ Sarah Jarosz
Jul 11 Taste of Chicago – Grant Park, Chicago, IL w/ Emmylou Harris & others
Jul 12 Michigan Theater – Ann Arbor, MI w/ Secret Sisters
Jul 14 An Appalachian Summer Festival – Boone, NC
Jul 15 Roanoke Performing Arts Center – Roanoke, VA w/ Secret Sisters
Jul 17 Grey Fox Bluegrass Festival – Oak Hill, NY
Jul 18 Cain Park – Cleveland Heights, OH w/ Secret Sisters
Jul 19 LC Pavilion – Columbus, OH w/ Secret Sisters
Jul 20 Forecastle Festival – Louisville, KY
Jul 22 Stage AE – Pittsburgh, PA w/ Secret Sisters
Jul 24 Celebrate Brooklyn! Prospect Park Bandshell – Brooklyn, NY w/ Secret Sisters
Jul 25 The Green at Shelburne Museum – Shelburne, VT w/ Secret Sisters
Jul 26 Newport Folk Festival – Newport, RI
Aug 01 Chateau Ste. Michelle Winery – Woodinville, WA w/ Secret Sisters
Aug 01 Pickathon – Happy Valley, OR
Aug 03 Mondavi Center – Davis, CA w/ Secret Sisters
Aug 04 Mountain Winery – Saratoga, CA w/ Secret Sisters
Aug 06 Idaho Botanical Garden – Boise, ID w/ Secret Sisters
Aug 07 Wlima Theatre – Missoula, MT w/ Secret Sisters
Aug 08 Targhee Bluegrass Festival – Alta, WY
Aug 09 Festival at Sandpoint – Sandpoint, ID
Aug 13 The Filene Center at Wolf Trap – Vienna, VA w/ Josh Ritter
Aug 14 Koka Booth Amphitheatre – Cary, NC w/ Josh Ritter
Aug 15 nTelos Wireless Pavilion – Portsmouth, VA w/ Josh Ritter
Aug 16 Hot August Music Festival – Cockeysville, MD
Aug 18 The Pageant – St Louis, MO w/ Sarah Jarosz
Aug 19 Uptown Theatre – Kansas City, MO w/ Sarah Jarosz
Aug 20 Cain's Ballroom – Tulsa, OK w/ Sarah Jarosz
Aug 22 The Majestic Theatre – Dallas, TX w/ Sarah Jarosz
Aug 23 ACL Live at the Moody Theater – Austin, TX w/ Sarah Jarosz
Aug 24 ACL Live at the Moody Theater – Austin, TX w/ Sarah Jarosz
Aug 31 JAS Aspen Snowmass – Aspen, CO
FOR MORE INFO ON SEAN WATKINS:
http://seanwatkins.com
FOR MORE INFO ON NICKEL CREEK:
http://nickelcreek.com
FOR MORE INFO ON ROARING GIRL RECORDS:
http://www.roaringgirlrecords.com
FOR MEDIA AND INTERVIEW REQUESTS:
Tony Bonyata
Pavement PR
p: 262.903.7775
e: bonyata@wi.rr.com
Twitter: @PavementPR