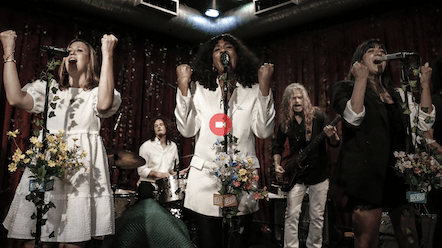 It's hard to believe that it's been less than a year since the Brooklyn-based vocal trio of Piya Malik, Nya Gazelle Brown, and Sabrina Mileo Cunningham debuted as the soul-funk tour de force that is Say She She — and even more so considering that a chance encounter, courtesy of some thin apartment walls and late night vocal runs, brought the three pro singers together.
Their immediate chemistry led to late night writing sessions and subsequent jams with their most skilled musician friends (credits include Orgōne, The Dap-Kings, The Shacks, and Chicano Batman), resulting in one of the most funkily compelling debut singles in recent memory — February's "Forget Me Not" b/w "Blow My Mind."
Melding luxurious grooves, school-you melodies, skin-tight harmonies, and powerhouse songwriting, Say She She arrives on the scene as an artist fully formed; subsequent standalone singles and shows have served up explorations of funk, R&B, trip-hop, and discodelia, all steeped in their own future-forward je ne sais quoi.
Now, it's album time. Ahead of Say She She's debut LP "Prism," out Oct. 7 via Karma Chief Records, the group joins us to celebrate with a knockout KCRW Live From session and interview. Lose yourself amidst the stratospheric high notes, show-stopping horn solos, and rhythmic abandon that the robust band brings to Bob Clearmountain's legendary Apogee Studio. Malik, Brown, and Cunningham also join Morning Becomes Eclectic co-host Anthony Valadez for a candid conversation going deep on their commitment to activism, an abiding love for Chic's Nile Rodgers, and the occasional upsides to apartment living.
Click here for the full story and session.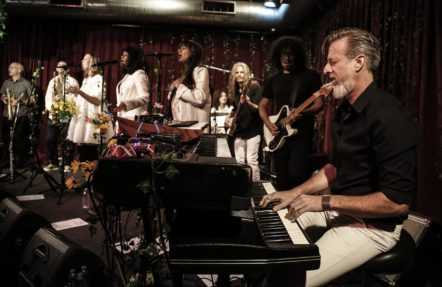 Photos by Larry Hirshowitz