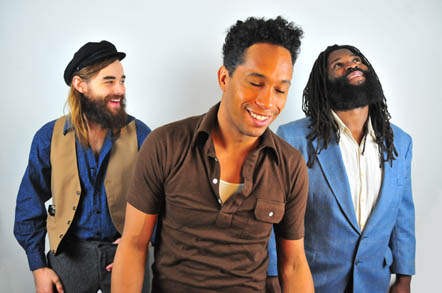 CLICK HERE TO LISTEN TO "WAKING UP TO YOU" VIA ROLLING STONE!
 
JOHN THE CONQUEROR TO RELEASE SOPHOMORE ALBUM THE GOOD LIFE ON FEB. 25TH THROUGH ALIVE NATURALSOUND RECORDS!
 
PHILLY-BASED BLUES-ROCK TRIO TO EMBARK ON EUROPEAN WINTER TOUR FOLLOWED BY U.S. DATES IN THE SPRING
"I'm a blues man; all I got are stories," admits John The Conqueror's singer-songwriter Pierre Moore. And not unlike many blues greats before him, the stories that fill out the Philly-based trio's second full-length studio effort, The Good Life, are based on Moore's own personal experiences that span from his Mississippi youth to his current life – much of it spent on the road.
"When I started this album," Moore said, "I completely devoted myself to becoming a better writer." And after witnessing these 11 impassioned, often explosive tracks, Moore's decision to focus on his art paid off with well-crafted songs of truth, clarity and power. All of the compositions were penned by Moore except for their swaggering take on Randy Newman's "Let's Burn Down The Cornfield." Building on the soulful blues-rock foundation of their acclaimed 2012 self-titled debut, The Good Life moves forward with both Moore's own life experiences turned to song, and the tight-but-loose rhythms of drummer Michael Gardner & bassist Ryan Lynn as well as Moore's own snaky, sinewy guitar leads.
While John The Conqueror follows the path laid down for decades by like-minded bluesmen who 'told it like it was,' on The Good Life Moore and co. have also updated the blues idiom for a new generation – melding hard truths with hard-ass blues-rock.
John The Conqueror's The Good Life will be available on CD, digital formats and limited edition vinyl on February 25th through Alive Naturalsound Records.
THE GOOD LIFE TRACK LISTING:
01 Get 'Em
02 Mississippi Drinkin'
03 Waking Up To You
04 What Am I Gonna Do
05 Golden Rule
06 Burn Down The Cornfield
07 Road To Bayport
08 You Don't Know
09 John Doe
10 Daddy's Little Girl
11 She Said
JOHN THE CONQUEROR'S 2014 EUROPEAN TOUR DATES
Jan 24 @ Fuzz Yon – La Roche Sur Yon, FR
Jan 25 @ MOFO Festival – Paris, FR
Jan 26 @ Cafe Wilhemine – Eindoven, NL
Jan 28 @ Patronaat – Haarlem, NL
Jan 29 @ DNA – Brussels , BE
Jan 30 @ Trix – Antwerpen, BE
Jan 31 @ Asterix – Leunwerden, BE
Feb 1 @ Milla Club – Munich, DE
Feb 2 @ ASTA Kneipe – Rosenheim, DE
Feb 3 @ El Lokal – Zurich, CH
Feb 4 @ Grabenhalle – Saint Gallen, CH
Feb 6 @ Dachstock – Bern, CH
Feb 7 @ Treibhaus – Luzerne, CH
Feb 8 @ La Grange à Musique – Creil, FR
Feb 12 @ Bootleg – Bordeaux, FR
Feb 13 @ Hika Ateneo – Bilbao, SP
Feb 14 @ La Boite – Madrid, SP
Feb 15 @ Apolo 2 – Barcelona, SP
Feb 20 @ Des Lendemains qui Chantent – Tulle, FR
Feb 22 @ Le Manège – Lorient, FR
(U.S. Spring 2014 dates to be announced soon)
HERE'S WHAT PEOPLE HAVE BEEN SAYING ABOUT JOHN THE CONQUEROR:
"John the Conqueror's raw, bluesy old-school soul track "Time To Go" is just one of many gems on the Philadelphia trio's self-titled debut album." – USA TODAY
Sounds like the work of a supergroup power trio made up of three vets who just wanted to get together and lay it down, making gutsy, raw, bluesy music for the sheer joy of it. The fact that this is the first time in a studio for the members of this band is mind-blowing. –  JAMBANDS/RELIX
"Heavily influenced by blues musicians that Moore and Gardner grew up with in Jackson, MS, John The Conqueror provide a raw, honest edge that truly sets them apart from other bands. It doesn't matter if they're jamming hard or slowing things down, there's so much soul you simply feel throughout the album. I'd say for a debut, this is pretty damn impressive." – 215 MAGAZINE
"Power trio John the Conqueror has made a splash in Philly scene over the past year, dishing out a moving blend of blues, soul and rock n' roll… The swaggery trio might be Philly's answer to Gary Clark Jr." – WXPN's THE KEY
"A fine punk-blues rock record that sounds like The Jon Spencer Blues Explosion if JSBX were from the Mississippi Delta. It's all smokestacks, greasy ball bearings, mudslides, and corn liquor swilled from mason jars; raggedly scorching guitar riffs, a thunderous rhythm section, and howled vocals. A hell of an impressive debut."  – HAPPENING! MAGAZINE
"This self-titled debut album from Philadelphia trio John the Conqueror is a solid output of blues and rock n' roll.  The vocals and guitar playing of Pierre Moore are impressive in their own right, but along with bassist Ryan Lynn and drummer Michael Gardner, the band's sound really grooves together nicely. It's not really fair to compare these guys with veteran groups like the Black Keys or the White Stripes, but John the Conqueror prove on their first album that they have noteworthy chops." – SLUG MAGAZINE
"The trio from Mississippi, now based in Philly, have the smoothness of classic '50s soul mixed with a southern twang. Named after an African-American mythological folk legend, of whom the likes of Dr. John, Muddy Waters, and Willie Dixon have sung, the band possesses a magical power that empowers emotion."  – KNUCKLE RUMBLER
"Leader Pierre Moore has a matter-of-fact singing voice, tasteful six-string skills and a tuneful writing style that balances licks & melody and avoids classic rock overload."  – THE BIG TAKEOVER
"Powerful blues with a soulful edge."  – VANGUARD ONLINE
"They will bring you from the church to the juke joint in four quick minutes." – MADD CHICAGO
"John the Conqueror's trademark sound is based around laid back, loose funky blues riffs, laconic drumming, and succinct song writing that takes less than a minute to fall in love with." – SKRBBLR
"John The Conqueror are an amazing young band on the verge of greatness.. Born in the Delta of Mississippi, and currently based in Philadelphia, the trio blends a totally unique mix of blues and rock, with equal amounts of Robert Johnson and Queens of the Stone Age." – BLOG TALK RADIO
"John The Conqueror has released a solid debut that's steeped in Mississippi Delta, juke joints and a penchant for vintage soul." – J Felton / RECORD DEPT.
"Like a grainy, saturated film image of Otis Redding, John The Conqueror ooze a classic soul vibe." – JESTER JAY MUSIC
"Is there a category of music called Hard-Arse Soul? J the C has nailed it. The 10 tracks here bristle with surly attitude that I'm told living in the City of Brotherly Love can bring on. Pierre Moore's smoothly assured vocal echoes with a tinge of menace. Bass-man Ryan Lynn is the local guy who lays down a fine and fluid rumble, while Pierre's cuzz Michael Gardner delivers the requisite backbeat laden with wrecking ball swing." – I94 BAR
"If you remember what you've always liked about rock music that hews close to the blues and soul traditions, you will be well-disposed to enjoy what John The Conqueror is doing. There's also a punk influence, best heard on stuff like the fast guitar intro to 'Say What You Want.' which is a 2:25 rant that keeps a high energy level throughout." – WHEN YOU MOTOR AWAY
"John The Conqueror hit the right bluesy rock nerve on their excellent self-titled debut." – THE FIRE NOTE
"This gritty, sexy, blues-infused rock album is not to be missed." – LOCAL PLAYLIST: MILWAUKEE
FOR MORE INFO ON JOHN THE CONQUEROR:
http://www.johntheconqueror.com
FOR MORE INFO ON ALIVE RECORDS:
http://www.alive-totalenergy.com
 
FOR MEDIA AND INTERVIEW REQUESTS:
Tony Bonyata
Pavement PR
p: 262.903.7775
e: tony@pavementpr.com
https://pavementpr.com