Click here to watch Nitzer Ebb's never before seen 1984 music video "So Bright So Strong" via Revolver Magazine.
WATCH NITZER EBB'S RARE, UNSEEN MUSIC VIDEO FOR 1985'S "SO BRIGHT SO STRONG"
Plus, see industrial pioneers talk reuniting with original members, rehearsing in barns, upcoming retrospective boxset
text JOHN HILL
Over the past thirty years, Nitzer Ebb have been key players in revolutionizing the worlds of EBM and industrial. Their influence is profound: everyone from veterans like Nine Inch Nails to new-school powerhouses Youth Code owe a debt to the British act. To honor their prolific career, Nitzer Ebb is releasing a massive boxset uncovering their entire discography from 1982-2010. Not only does the set include all five albums released on Geffen and Mute Records, but five additional LPs filled with rarities from throughout their career.
As part of those rarities, today (September 11th) the band is premiering the never-before-seen video for their 1985 single "So Bright So Strong." The video was originally filmed in either 1983 or 1984 by their original manager Chris Piper. The video is filled with pure youth and energy, Bon Harris, Douglas McCarthy, and then drummer David Gooday all dancing around a very DIY set along to the song. The video isn't dissimilar to the larger budget affairs they would put on later throughout their career, there's a heavy focus on physicality in the clip (EBM is Electronic Body Music for a reason), and the emphasis on percussion that would show up in videos like "Murderous" is on display here.
In addition to the uncovered music video, Nitzer Ebb have taken the time to record a video interview, explaining the process behind the new boxset, and what fans can expect. "What makes this release unique is it's pretty much the most comprehensive collection of albums, singles, remixes, bonus tracks, it's the biggest collection of all that material in one single place," says Harris. They also speak on reuniting with original members Simon Granger and David Gooday for an upcoming reunion tour, which Harris promises will be "a lot more fresh, more relevant today, but most of all fun, the four of us getting back together and doing it in a little more improvised way."
The original "So Bright So Strong" video was shot at a farm where they had a lot of parties and would rehearse frequently, using black plastic against the walls for the aesthetic.
"I imagine this was the first video we shot with our original manager," Harris says. "Most of my recollections of that time are incredibly vague, other than we would did a lot of stuff homegrown, go do our own flyering campaigns … it was the logical extension of do it ourselves."
"Looking back at this vantage point, it pretty much signals something any creative artist is going to face, which is working with what you have at the time, embracing whatever the limitations are, and going ahead with creating something, putting something out there, the type of work that you want to see without any judgment or self-consciousness.
You can pre-order Nitzer Ebb 1982-2010 Boxset here through Pylon Records.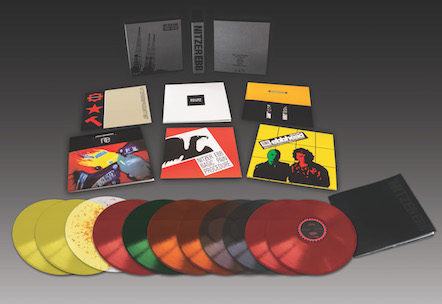 https://www.revolvermag.com/music/watch-nitzer-ebbs-rare-unseen-music-video-1985s-so-bright-so-strong