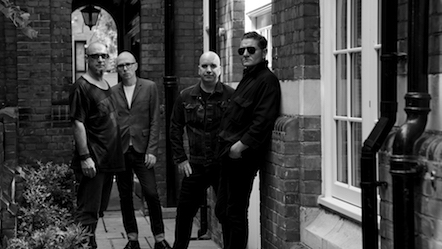 Nitzer Ebb reunite, announce retrospective box set through Pylon Records
1982-2010 will collect the band's first five Mute albums, along with rarities and remixes.
British EBM band Nitzer Ebb are returning with a retrospective box set and new live shows.
The influential group has been on hiatus since 2010, but this week announced that at 2019's Amphi Festival in Cologne next July, core duo Douglas McCarthy and Bon Harris will reunite for a live show with all four founding members. It'll be the first time they've all played together since 1987.
Coming sooner, in October, is a new box set through Pylon Records collecting the band's five albums that were originally released through Mute and Geffen. Titled 1982-2010, it features each album expanded to double-vinyl format with bonus tracks and extended mixes, all remastered.
A limited-edition version of the box set, pictured below, will also include the group's self-released 1983 album Basic Pain Procedure. The regular release will include empty slots meant for Basic Pain Procedure and the duo's latest LP, Industrial Complex from 2010, both of which are currently in print and widely available.
1982-2010 boasts a book with liner notes from McCarthy and Harris, plus photos, flyers and other artwork detailing the group's progression. The box set marks the first time these records have been reissued on vinyl.
Listen to the group's 1987 classic "Join In The Chant."
For the full tracklist and details, check out the Pylon Records website.
Pylon Records will release Nitzer Ebb: 1982-2010 on October 5th, 2018.
https://www.residentadvisor.net/news.aspx?id=42247