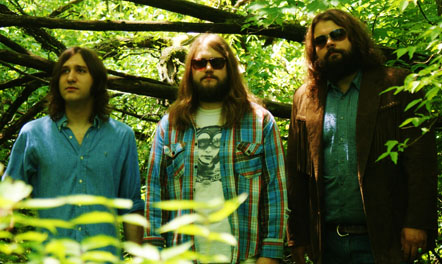 BUFFALO KILLERS' NEW ALBUM "DIG. SOW. LOVE. GROW." OUT AUGUST 7TH THROUGH ALIVE NATURALSOUND RECORDS!
On Buffalo Killers' fourth full-length effort Dig. Sow. Love. Grow. the Ohio-based trio have created an album that stampedes with the ferocity of their first two albums (the Dan Auerbach-produced Let It Ride from 2008 and their self-titled debut from two years prior), yet it also incorporates much of the loose, organic nature from last year's highly-praised album 3.
Dig. Sow. Love. Grow. is a heady synthesis of not only their own previous efforts, but also the many unique styles of music cultivated on American soil over the last five decades. From late '60s psychedelia, blues, Americana, garage rock and the folk-rock sounds that rolled out of Laurel Canyon in the early '70s like a sweet cloud of Acapulco Gold, brothers Zachary and Andrew Gabbard along with Joseph Sebaali have brought them all together to create an intoxicating album that sounds as timeless as it does remarkably fresh… and quite unlike anything else being released today.
Buffalo Killers have toured extensively with greats such as The Black Crowes, The Black Keys and, more recently, North Mississippi Allstars, and will be announcing tour dates shortly in support of Dig. Sow. Love. Grow.
Dig. Sow. Love. Grow. is set for release on August 7, 2012 through Alive Naturalsound Records and will be available in CD and Digital formats, as well as 300 Limited Edition Orange Vinyl LPs exclusive to mailorders through Bomp!
Relix is featuring the world premiere of Buffalo Killers' new track "Get It" from Dig. Sow. Love. Grow. Click here to check it out… and to download the song for free!

BUFFALO KILLERS 2012 SUMMER TOUR DATES
06.22 The Union – Athens, OH
06.23 Peach's Grill – Yellow Springs, OH
06.29 Ace Bar – Chicago. IL
06.30 Deep Blues Festival @ Bayport BBQ. Bayport, MN
07.18 The Basement – Nashville, TN
07.21 Double Door – Chicago, IL
08.16 The Glasslands – Brooklyn, NY
08.18 Happy Dog – Cleveland, OH
(more dates to be announced soon)
HERE'S WHAT PEOPLE HAD TO SAY ABOUT BUFFALO KILLERS LAST ALBUM "3"
"A seductive listen and a real contender for album of the year." – Alan Brown / SHINDIG!
"Buffalo Killers take aim at garage, swamp blues, '60s psych, Canyon harmonies and Southern roots and land their prey every time. 3 is the third – and best – album from this beardy Cincinnati trio." – Nigel Williamson / UNCUT
"Golden nostalgic bliss…Cincinnati's incredible Buffalo Killers will show you exactly where Kings of Leon went wrong." – Chris Deville / THE COLUMBUS DISPATCH
"Buffalo Killers' 3 finds this band easing into an comfortable but deep groove, and not many bands have mined a late hippie-era approach with more satisfying results." – Mark Deming / ALL MUSIC
"Twelve tracks of melancholic psych rock with twists of folk, 3 is perfect summer music." – VIVE LE ROCK
"Big riffs rule, and at no time more than the '70s did they dominate the airwaves. Cincinnati's Buffalo Killers evoke the blurry Polaroid sounds of those years, grooving like Foghat one minute, recalling the melodic gold of Badfinger another, and utterly, unironically rocking like ZZ Top. There's nothing quite as simple and effective as a "'power trio.' The three were members of the dearly departed garage rock outfit Thee Shams, but Buffalo Killers isn't three chord frat rock at all. The songs are thick and greasy, and listening to the trio live, you can see why they've made fans of The Black Keys and The Black Crows." – Jason Woodbury / PHOENIX NEW TIMES
"3 is at times graceful and serene, beautiful and calm, but the obvious power behind this beast is never for a moment forgotten. Truly some of the Buffalo Killers finest work." – Brian F. Johnson / MARQUEE MAGAZINE
"Buffalo Killers definitely have a cool Joe Walsh/James Gang influence in their sound. I dig 'em." – Alice Cooper / NIGHTS WITH ALICE COOPER
"For those expecting another disc's worth of psychedelic smoke and thunder from the Killers, 3 offers more than a few surprises (including cameo appearances by Brian Olive and the Breeders' Kelley Deal). This time out, the trio exudes a sweeter Pop vibe, as though they're channeling their inner Joe Walsh. A world-class album that exudes summer warmth and a sunshine bright charm, while still maintaining the band's signature sonic presence if at a slightly less dense level. 3 could easily push Buffalo Killers to the next tier of Rock stardom." – Brian Baker / CINCINNATI CITY BEAT
"Cincinnati trio Buffalo Killers find that drawing from '60s and '70s rock icons continues to provide fresh ideas filled with a tunefulness and musical vocabulary that is indebted to rock's golden era with a refreshing vibrancy." – Kyle Melton / DAYTON CITY PAPER
FOR MORE INFO ON BUFFALO KILLERS:
http://www.buffalokillers.com
http://www.facebook.com/buffalokillers
http://www.alive-totalenergy.com/x/?page_id=666
FOR MORE INFO ON ALIVE RECORDS:
http://www.alive-totalenergy.com
FOR MEDIA AND INTERVIEW REQUESTS:
Tony Bonyata
Pavement PR
p: 262.903.7775
e: tony@pavementpr.com