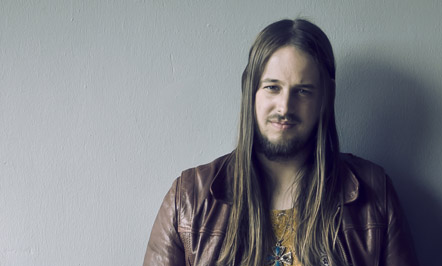 BOSTON PHOENIX (Boston weekly) – "If You Want Blood" news story, with, Ames live video, tour dates and related links.
"Last song with this lineup ever!" Radio Moscow draw blood on stage in Iowa; Cambridge gig still on, but with new dudes
This week in Anton Newcombe-esque epic onstage meltdown news: The former drummer of psychedelic marauders RADIO MOSCOW fucked singer/guitarist Parker Griggs up something gnarly immediately after their tour kickoff Saturday in Iowa. Shit gets real about 35 seconds into this clip when Griggs chucks his guitar in the general direction of the drum kit, prompting disgruntled band mate Cory Berry to hurl the ax back at Griggs' skull with deadly accuracy.
But all's well that ends well. According to the exceptionally entertaining press release: Griggs got his forehead sewn back together with 14 stitches, swiftly rounded up a fresh rhythm section (his bassist also quit that night), and didn't even miss the next scheduled tour stop in Chicago a day later. Catch 'em at the Middle East Downstairs tomorrow night, opening for Swedish retro-prog outfit Graveyard.
Let's hope the new Radio Moscow drummer has a gentler disposition than the old one…or, at least, shittier aim.
http://blog.thephoenix.com/BLOGS/onthedownload/archive/2012/01/12/quot-last-song-with-this-lineup-ever-quot-radio-moscow-draw-blood-on-stage-in-iowa-cambridge-gig-still-on.aspx
STYLE WEEKLY (Richmond, VA weekly) – Feature with Parker interview and band photo to preview show
The Big Come Up
Radio Moscow brings the '60s back to life.
When a band passes off an unsolicited demo to a record label, nine times out of 10 it doesn't receive even a cursory listen. In the case of the Black Keys, however, mailing the head of Alive Naturalsound Records a rough copy of "The Big Come Up" earned the duo a contract and an official release.
When Radio Moscow frontman Parker Griggs handed the group's demo to the Black Keys' merchandise guy, he had no idea that the Keys' Dan Auerbach was going to pay it forward. After falling for the power trio's heavy psychedelic blues, Auerbach brought Radio Moscow to Alive Naturalsound and offered to produce its eponymous debut.
"It was all recorded on his vintage '60s reel-to-reel," says the Iowa-bred Griggs, on the phone from his current home base in Northern California. "We recorded it pretty quick without much overdubs, so it's simple and to the point."
Folks who think Blue Cheer is chronically underrated or that Fleetwood Mac peaked in 1970 with its 24-minute, live version of "Rattlesnake Shake" quickly caught on to the band's swampy, zigzagging guitar jams, pounding percussion and vocals reminiscent of Cream's Jack Bruce. Subsequent touring brought Radio Moscow through Richmond a handful of times to perform at the cozy, now-defunct venue Nara Sushi. "(Nara) was usually packed, the crowd was right in front of the band and they got into it," Griggs says.
To record the follow-up to their second full-length, "Brain Cycles," Griggs and bassist Zach Anderson moved out to Prairie Sun Recording, a secluded ranch in Cotati, Calif. "The area doesn't get phone reception or much of anything, so we were out here being loner mountain men trying to make music," Griggs says. The result was 2011's wild and grizzled "The Great Escape of Leslie Magnafuzz," a record that landed on many year-end top 10s. If Jimi Hendrix had stretched the opening feedback on "Foxy Lady" completely over that song's chunky riffs, waxed the screeching wah-wah, and tossed in harmonica, sonically it would resemble the latest songs from Radio Moscow. "I think the new record is a little more intense, more in your face," Griggs says.
Currently on tour with like-minded Swedish act Graveyard, Radio Moscow recruited a member of the '60s psychedelic scene to help flesh out its performances visually. Lance Gordon, as Mad Alchemy, originally projected his liquid light shows onto venues like the Fillmore and Avalon Ballroom in San Francisco. For this tour he'll be creating a chemical-induced backdrop for Radio Moscow's sizzling sets of rock 'n' roll. Says Griggs, "We're really going for it."
Radio Moscow will appear with Graveyard on Jan. 17 at Strange Matter. Doors open at 8 p.m. and tickets cost $12. For information, go to strangematterva.com.
Graveyard, Radio Moscow @ Strange Matter
929 W. Grace St. http://strangematterrva.com
o Tue., Jan. 17, 9 p.m.
http://www.styleweekly.com/richmond/the-big-come-up/Content?oid=1653534
BLURT (national print and online music magazine) –  "If You Want Blood" news story, with, Ames live video, tour dates and related link.
Radio Moscow Implodes w/Onstage Fight
Frontman Parker Griggs after receiving 14 stitches to the forehead last Saturday night.
By Blurt Staff
Last month we reviewed the mighty Radio Moscow's recent album The Great Escape of Leslie Magnafuzz (Alive), noting that it "feeds from the teat of late sixties and seventies Nuggets comp forefathers, vocal effects and hallucinogens dripping from the speakers and the psychedelic, heavy, effects-driven guitar of Parker Griggs."
Apparently all that heaviness and aggression went into overdrive Saturday night at the start of the band's North American tour when the members had, in the label's words, "a physical meltdown onstage during their hometown record release show in Ames, IA. With internal friction between the threesome apparently boiling over, the band made it to the final song of their setlist before things came to a head. Literally. The drummer grabbed Griggs' guitar and, according to Griggs, hurled it as hard as he could at the guitarist, leaving a gaping wound in his forehead and blood everywhere. Griggs was then rushed to the local emergency room, where he received 14 stitches."
Interestingly, if you check the viewer comments below the video at YouTube, some of the notes were apparently penned by fans who were in attendance and saw the events go down. For example, "BluesPills" wrote, "Nice editing… you left out all the parts where parker was bashing his band on stage on the mic to all the friends and family in the audience. You also left out the the guitar actually hit Cory in the neck, Cory just reacted, there was no time for aim are you serious… oh one more thing… just so its clarified. The night before Parker threw a beer can at a womans face. That woman being The bassists girlfriend. That woman being the singer of Blues Pills."
Another commenter, "somewhere646," added, "I think you should post the uncut version from Saturdays second set. Let people hear all the shit parker was saying about the bassist and drummer before he threw the guitar at the drummer. Can tell your friends with Parker. Because everyone else who was there thought Parker was the ass."
So clearly there is a divergence of opinion here. But that's none of our business, and besides, Griggs has already put together a new version of the band. According to the record label:
"Needless to say that was the end of this particular incarnation of Radio Moscow (but then Parker always has toured with an ever-changing set of guitarists and drummers in the past, not to mention that he plays all of the instruments on Radio Moscow's albums).  With only one day before their Chicago show, Griggs enlisted two new musicians into the band – bassist Billy Ellsworth from San Diego and drummer Lonnie Blanton from Salt Lake City, who flew into Chicago yesterday and arrived at the venue just hours before their gig. Radio Moscow is reborn and once again ready to rock the nation… hopefully now with a lot less bloodshed."
As the tour will continue, Alive is also offering a previously unreleased Radio Moscow track, "The Stranger," which is featured on Alive's new various artists sampler Where Is Parker Griggs. Good luck to Radio Moscow, and here's hoping they make it through the tour. Dates are below.
http://blurt-online.com/news/view/5876/
THE VINYL DISTRICT (online music blog) –  "If You Want Blood" story, with, Ames live video, tour dates and related link.
Radio Moscow's Psychedelic Soap Opera
By Mike Newman | Published: January 12, 2012
Psychedelic blues rockers, Radio Moscow, start their tour with heavy psych rock Swedes, Graveyard tonight at the Bowery Ballroom with a brand new rhythm section.
The trio was playing a few shows to get warmed up on their drive out to NYC to meet up with Graveyard. And here's what happened at show number two on January 7th before they made it out of their home state of Iowa…
So, who's to blame in this psychedelic soap opera?
The next night, Radio Moscow mastermind, Parker Griggs flew out a new bassist and drummer and the band didn't even miss the show the next night in Cedar Rapids. Below are the Graveyard/Radio Moscow tour dates and be sure to catch the trio on my Beyond Beyond is Beyond show on East Village Radio today from noon to 2pm EST. Maybe I can get to the bottom of the drama!
And be sure to check out the former bassist and drummer other killer band, Blues Pills. One of my favorite new bands!
Thu/Jan-12 New York, NY Bowery Ballroom
Fri/Jan-13 Boston, MA Middle East
Sat/Jan-14 Philadelphia, PA Northstar Bar
Sun/Jan-15 Baltimore, MD Golden West
Mon/Jan-16 Washington, DC DC9
Tue/Jan-17 Richmond, VA Stange Matter
Wed/Jan 18 Charlotte, NC Casbah @ Tremont Music Hall
Thu/Jan-19 Asheville, NC Asheville Music Hall
Fri/Jan-20 Nashville, TN Exit/In
Sat/Jan-21 Atlanta, GA Masquerade – Hell Stage
Sun/Jan-22 Memphis, TN Hi-Tone Café
Mon/Jan-23 Texarkana, TX Dave's Skate Park (no graveyard)
Tue/Jan-24 Houston, TX Fitzgeralds
Wed/Jan-25 Austin, TX Mohawk
Fri/Jan-27 Tempe, AZ Yucca Tap Room
Sat/Jan-28 Los Angeles, CA Bootleg Bar
Sun/Jan-29 Santa Cruz CA The Catalyst, (no graveyard)
Mon/Jan-30 San Francisco Cafe Du Nord
Tue/Jan-31 Portland, OR Doug Fir Lounge
Wed/Feb-01 Seattle, WA Tractor
http://www.thevinyldistrict.com/newyork/2012/01/radio-moscows-psychedelic-soap-opera/?utm_source=rss&utm_medium=rss&utm_campaign=radio-moscows-psychedelic-soap-opera
EAST VILLAGE RADIO / BEYOND BEYOND IS BEYOND (NYC RADIO STATION) –  "If You Want Blood" story, with band photo, Ames live video, tour dates, album art and related links.
Radio Moscow Go Beyond Thursday…With a New Lineup
OK, so this WAS Radio Moscow. Led by singer/guitarist Parker Griggs in the center. Drummer Cory Jack Berry (right) and Zack Anderson (left) left the band on January 7th on the second night of their tour after a bit of inter-band violence. Watch the psychedelic soap opera unfold here…
Like psychedelic sands through the hourglass…
So Radio Moscow are slated to play live on Beyond Beyond is Beyond on East Village Radio on Thursday, so we'll see what goes down. Hopefully they'll come rock for us. Their new album, The Great Escape of Leslie Magnafuzz on Alive Naturalsound Records, was one of my favorites from 2011.
So tune in the EVR.com on Thursday from noon to 2pm (EST) as Radio Moscow's new lineup goes BEYOND…
* Radio Moscow on Alive Records
* East Village Radio
* Beyond Beyond is Beyond archives
http://beyondbeyondisbeyond.com/archives/3688
METROMIX DES MOINES (Des Moines, IA online A&E site) –  "If You Want Blood" story with band photo, Ames live video and related links.
Radio Moscow's Ames show was short, interesting
I didn't make it up to Radio Moscow's show at DG's Tap House in Ames, but it was an important one for the band. Near the end of the set singer/guitarist Parker Griggs threw his guitar at drummer Cory Berry's kit. In response, Berry threw it back. Into Parkers' face.
It was captured pretty well for Youtube:
Needless to say, Berry is no longer a part of the band. Bassist Zach Anderson (who is Berry's step brother) is also gone. Anderson and Berry had been a steady part of the band for several years.
According to Radio Moscow's website, new members Lonnie Blanton and Billy Ellsworth were flown in last night for a show in Chicago.
So the next time we see Radio Moscow, they're going to be looking pretty different.
http://desmoines.metromix.com/music/blog_post/radio-moscows-ames-show/2977316/content
LEICESTER BANGS (UK music blog) –  "If You Want Blood" story (from press announcement), with Parker photo and related links.
http://leicesterbangs.blogspot.com/2012/01/if-you-want-blood-radio-moscows-got-it.html
BMAN'S BLUES REPORT (Blues music blog) –  "If you Want Blood" story (from press announcement), with Parker photo, album art and related links.
http://www.bmansbluesreport.com/2012/01/radio-moscows-previous-lineup.html
THE LANTERN (Columbus college weekly) – Feature with Parker interview and band photo to preview show
Radio Moscow hopes to woo American audience in Columbus gig
By Caitlyn Wasmundt
Hoping to overcome one of its biggest obstacles, Radio Moscow members are eager to attract a crowd with their '60s-influenced psychedelic blues music.
The band is scheduled to play at Ace of Cups bar at 8 p.m. Tuesday.
Parker Griggs, frontman for Radio Moscow, said the largest challenge the band has had to face is playing the music it loves for this generation.
"There's not that big of a fan base for our style (of music)," Griggs said.
Radio Moscow's psychedelic sound is inspired by many influences such as British blues and acid rock, Griggs said.
The band doesn't follow music trends, Griggs said.
The band, which started out as Griggs' solo project, has added two members, with drums played by Cory Berry and collaborative songwriting by bassist Zach Anderson.
Griggs said they are now able to put forth a better show for their audience.
"It's been a lot better to have the real thing (drums) — it's louder, and it's better to see," he said.
Even though the biggest challenge for the band has been gathering a fan base, it has also been one of its greatest achievements.
The members have been able to attract their idols, such as Johnny Ramone of The Ramones, and other musicians from the '60s and '70s to their music.
"Its cool to know that other psychedelic rockers are digging what we're doing," Griggs said.
It's not only psychedelic rockers of the past who have seen potential in Radio Moscow, but contemporary artists also. Dan Auerbach, of The Black Keys, discovered the band and facilitated a record deal for them from Alive Naturalsound Records.
Since then, Radio Moscow has been compared to The Black Keys, who are also set to perform in Columbus, with a tour stop scheduled for Mar. 4 at the Schottenstein Center.
"Griggs' vocals are soulful and tastefully gritty, similar to contemporary blues outfit Black Keys," wrote Dan Rankin, for "Blare Magazine."
Nathaniel Barbone, a second-year in art, said Jimi Hendrix sound is one thing that attracts him to Radio Moscow's music. He said he has listened to the band for two years, and is excited to see it live.
"He (Griggs) sounds like Jimi Hendrix, I think. I like that fuzz tone on a guitar, it's like old school rock 'n' roll vintage, but now-a-days," Barbone said.
Most of Radio Moscow's inspiration comes from boredom and seclusion. The band members live in the middle of nowhere, and "the songs are inspired by loneliness," Griggs said.
The show in Columbus will be part of the band's North American tour promoting its newest album, "The Great Escape of Leslie Magnafuzz."
Griggs said the set list has yet to be established, but he is expecting a mix from all three of the band's albums, with some of its newest songs such as, "Little Eyes" along with some of their older works.
Even though Radio Moscow has never played at Ace of Cups, Jeff Kleinman, booking manager for the venue, said he is expecting a pretty large crowd.
After its Ace of Cups debut, Radio Moscow will be joining Swedish band Graveyard .
Griggs said he is looking forward to being paired with a "like-minded band."
Presale tickets have already sold out for the show. Local musicians, Eye and TK Webb (of Sundown), will be opening acts. Tickets are $10 at the door.
http://www.thelantern.com/a-e/radio-moscow-hopes-to-woo-american-audience-in-columbus-gig-1.2739280
DONE WAITING (online music site) – Positive Staff Pick show preview with band photo
Staff Pick: Radio Moscow at Ace of Cups
Dear Mr. Clapton –
I know that you've probably retreated to one of your homes situated in a warmer client. However, if for some reason the warmer-than-usual winter has kept you and your family in Columbus, I'd like to invite you to Ace of Cups on Tuesday night to bear witness to the fuzzy, psychedelic blues sounds of the Iowa (yes, Iowa!) trio Radio Moscow. I know you've been seen around town taking in performers that have been influenced by you and I think … no, scratch that, I KNOW that Parker Griggs owes a great deal of gratitude to the likes of you (particularly your work with Cream), Hendrix, and Blue Cheer for inspiring his playing style.
Current Rolling Stone cover boys The Black Keys are also fans of Radio Moscow and BK's Dan Auerbach signed the band to AliveNaturalsound in 2008 after seeing them perform. If that's not a ringing endorsement, I don't know what is.
So, Mr. Clapton, will I see you there on Tuesday night? The show should be over by midnight, so you can get home at a reasonable hour (at least in the world of rock n' roll where many shows aren't over until 2am). I bet I can get you on the guest list if you're so inclined. -Chip
TK Webb (of Sundown) and EYE open the show. Music starts around 9pm. Tickets are $7 in advance, $10 at the door.
http://www.donewaiting.com/2012/01/08/tuesday-radio-moscow-ace-of-cups/
COLUMBUS ALIVE (Columbus, OH weekly) – Day-of-show " Concert Pick" with band photo
Tuesday concert pick: Radio Moscow at Ace of Cups
Looking to rock this Tuesday? Look no further than Ace of Cups, 2619 N. High St., where Iowa psych-blues slammers Radio Moscow headline a bill also featuring like-minded locals EYE and a solo appearance by Sundown's TK Webb. For more info, check my staff pick from the most recent issue.
http://www.columbusalive.com/content/blogs/sensory-overload/2012/01/radio-moscow.html
COLUMBUS ALIVE (Columbus, OH weekly) – The A-List Staff Pick show preview
Staff Pick: Radio Moscow at Ace of Cups
By Chris Deville
The Columbus Dispatch
Like Sabbath with soul or Dan Auerbach fronting Cream, Radio Moscow magnificently blazes through the bluesy raunch of heavy metal's afterbirth. The touring circuit suffers no shortage of back-to-basics psych rock, but few are quite so gnarly as the band that banged out last year's rock-solid "The Great Escape of Leslie Magnafuzz" on Alive Naturalsound (no relation to this fine publication). Add Eye and TK Webb of Sundown to the equation and you've got yourself a rock show of repute.
Ace of Cups
8 p.m. Tuesday, Jan. 10
2619 N. High St., North Campus
http://www.dispatch.com/content/stories/life_and_entertainment/2012/01/05/9a-bits05-g1bfetac-1.html

THE COLUMBUS DISPATCH (Columbus, OH daily) – Brief show preview.
Radio Moscow : Throwback sounds are key for the modern Iowa psych-blues trio, whose music has been compared to that of Cream and the Allman Brothers Band.
DOORS OPEN 8 p.m. Tuesday
TICKETS $7
http://www.dispatch.com/content/stories/life_and_entertainment/2012/01/05/9a-bits05-g1bfetac-1.html
LITTLE VILLAGE (Iowa City weekly) – Positive show preview with video.
FRIDAY
Radio Moscow, Brutus & the Psychedelic Explosions // Gabe's // 9:00 PM // $10
Radio Moscow continues the weekend's face melting with some heavy psychedelic blues-rock. What started as a solo project by frontman Parker Griggs, quickly became a full band affair personally endorsed by perhaps the biggest rock band in American right now, The Black Keys. These dudes can shred. Hailing from Story City, IA, Radio Moscow has played SXSW a few times and has released three albums in the past four years. Their latest, The Great Escape of Leslie Magnafuzz was released in October, 2011 and they've been touring the world to support it. Iowa City band, Brutus & the Psychedelic Explosions open this one.
http://littlevillagemag.com/weekender/iowa-city-weekender-january-5-7/?utm_source=rss&utm_medium=rss&utm_campaign=iowa-city-weekender-january-5-7
PRESS-CITIZEN (Iowa City daily) – Brief critics pick show preview.
Play: Events not to miss this week
Radio Moscow
Radio Moscow, Brutus & the Psychedelic Explosions and Johnny Scum will share the stage at 9 p.m. Friday at Gabe's. The Radio Moscow trio is touring on the heels of its second studio album, "Brain Cycles." Tickets are $10 through www.icgabes.com.
http://www.press-citizen.com/article/20120105/GOIOWACITY/301050001/Play-Events-not-to-miss-this-week
RAG ON THE ROAD (Spanish music site) – Positive review in Spanish.
http://ragontheroad.blogspot.com/2012/01/radio-moscow-great-escape-of-leslie.html
AMES TRIBUNE (Ames, IA daily) – Positive feature/interview to preview Ames show.
Radio Moscow returns to roots with Ames show
Chad Taylor
Radio Moscow is kind of a big deal. Coming from a state with a "middle-of-nowhere" reputation, Radio Moscow is probably Iowa's best opportunity to contribute something real to the greater musical landscape.
Trends come and go, but the idea of a bunch of guys getting together in a garage and playing the kind of music that makes the neighbors call the cops — that's forever. And it's that idea that's crystallized in the form of Radio Moscow, more so than any other local product.
There's no hipster lo-fi. No digital manipulation to muddle the sound or Slipknot-style gimmicks to distract from it. Radio Moscow is rock music as the gods intended: recorded straight to tape and full of dirty amps, manic drums; syrup-thick bass lines and some of the best modern-day guitar hooks this side of Buckethead.
Parker Griggs – the magician responsible for those licks and pride of Story City – is not just a cheap homage to dervishes like Hendrix and Jeff Beck. Rather, he's a direct descendant, cobbled together from whatever pieces of cosmic cloth were left over from their creation and handed a guitar.
The band plays live as a power trio but are, for all practical intents and purposes, a two man operation. All three of the group's studio albums have featured bassist Zach Anderson, with Griggs pulling duty on most everything else.
"I write the drum tracks myself," Griggs said. "The guys we play with live play most of the songs pretty close. But for the albums, there are just some things that I want done a certain way, so I just do them."
Signed to Alive Natural sound Records by The Black Keys' Dan Auerbach (Auerbach also produced their self-titled debut), Radio Moscow's production level has been as consistent and unrelenting as their sound, with an album coming out just about every 18 months.
Griggs has no immediate intentions of altering that pace, either.
"Since the album ['The Great Escape of Leslie Magnafuzz'] came out, I've written about another half album worth of songs," he said. "We'll finish this tour out, and probably be back in the studio in early 2012."
Radio Moscow returns to Ames this week for a concert at DG's Tap House, 127 Main St., Saturday night. The band will also give an interview and perform at KURE 88.5 earlier that afternoon. The concert is the second of five Midwest performances before Radio Moscow begins its U.S. tour with Graveyard.
Event: Radio Moscow, DG's Tap House, 127 Main St., 8 p.m. Saturday, Jan. 7, $10
http://amestrib.com/articles/2012/01/04/ames_tribune/news/entertainment/doc4f038e1a21de3661555889.txt
DES MOINES CITYVIEW (Des Moines daily) – Positive feature/interview  with band photo to preview Ames show.
Radio Moscow's Parker Griggs carries the torch for psychedelic rock
By Michael Swanger
Radio Moscow's frontman and founder Parker Griggs doesn't just play stoner rock; he is stoner rock.
The proof is in his wafer-thin frame and long hair, his pot-inspired album artwork, his imprisonment for possession of hash and his unapologetic devotion to classic psychedelic rock and proto-metal blues inspired by Blue Cheer, Jimi Hendrix, Deep Purple and Cream. It is so ingrained in every fiber of his being that one could argue that he arrived on the scene 40 years too late.
Yet before anyone accuses Griggs of being the musical equivalent of an acid flashback, consider the modest success Radio Moscow has earned in its short life during a time when boring, predictable, corporate-backed musicians rule the roost. To be sure, the "new is old philosophy" that applies to retrogressive predecessors like The White Stripes, The Black Keys, Amy Winehouse and Raphael Saadiq applies to Parker.
"When we started, there wasn't anything like us going on," said Parker, 27, from his California home. "There's more of the old school influence starting to pick up now, but there's still not a lot of it out there."
When Parker began his musical journey in his parents' basement in Story City, Iowa, he did so with the encouragement of his father who played guitar and the inspiration of the 1990s grunge and alternative rock movements.
"I got into that and started playing guitar and drums at the same time," Griggs said. "I liked the rawness of it. It was something I could relate to."
Griggs began recording under the solo alias Garbage Composal before adding bassist Serana Anderson to form Radio Moscow. The singer/songwriter/guitarist/drummer would pre-record drum tracks for the duo to play along to at shows.
"I recorded the drum tracks because we couldn't find a drummer to play with us for such a long time," Griggs said. "There's not a lot of people to jam with."
That would change after Griggs moved to Colorado in 2005 and attended a concert by The Black Keys. After the show, he gave the band's merchandise manager a copy of his demo of instrumental tracks and his phone number. Later that night, The Black Keys' Dan Auerbach called him back to inform him that he dug it and wanted to work with Radio Moscow.
"I was pretty surprised the dude from The Black Keys was calling my phone that night. I'm glad he checked it out," Griggs said.
Soon afterwards, Auerbach signed Radio Moscow to Alive Naturalsound Records, and Griggs and new bassist Luke McDuff traveled to Auerbach's home in Akron, Ohio, to record the band's self-titled debut album that would be released in 2007. Griggs said the experience was enjoyable and informative.
"He's a pretty no-nonsense guy. We got it done in a few days and he helped me with my vocals, getting me to be more confident to sing," he said.
That growing confidence can be heard on the band's 2009 album "Brain Cycles" and 2011's "The Great Escape of Leslie Magnafuzz." The latest album features bassist Zach Anderson and Griggs on tunes like the wah-and-phased delirium of "Little Eyes," the UK blues-rock of "Creepin'" and the Middle Eastern-inspired "Densaflorativa."
This year might prove to the be the band's most prolific and newsworthy to date. On Jan. 10, Alive Naturalsound will release a compilation of exclusive tracks from Radio Moscow and their label mates entitled "Where Is Parker Griggs?" to be followed later this year by an album of basement recordings Griggs recorded during his teen years in Iowa.
After concluding a tour next month with Swedish hard rockers Graveyard, Griggs will recruit replacements for Anderson and drummer Cory Berry because "they want to stay in the Midwest, and I want to stay in California." He will also continue working on new material for an album he hopes to release later this year, while squeezing in a tour of Europe this spring.
"I guess I always wanted to try as hard as I could to make good music. I always wanted it to work out," he said. CV
Radio Moscow performs Saturday, Jan. 7 at 8 p.m. at DG's Taphouse in Ames. Admission is $10.
http://www.dmcityview.com/2012/01/05/music/sound.html
THE AUSTIN CUT (Austin, TX weekly) – Brief show preview
Graveyard w/ Radio Moscow
Wed, 01/25/2012 – 6:30pm
Mohawk Outside
Four dudes with long hair and random mustaches usually put on a good show. Graveyard seriously rocks, but still claims to play folk/blues/classic stuff. Radio Moscow is more hair, and more psychedelia. "Psychedelic blues for your soul!"
http://austincut.com/event/2012-01-25/mohawk-outside/graveyard-w-radio-moscow
DES MOINES REGISTER'S THE JUICE (Des Moines daily) – Positive feature/interview  with band photo to preview Ames show.
Radio Moscow back to civilization
The psychedelic blues band has been spending time off the grid
by Erin Randolph
Where is Parker Griggs? The 27-year-old lead singer of psychedelic blues band Radio Moscow may as well be off the grid entirely.
Griggs created Radio Moscow in his hometown of Story City, though it was relocated to Colorado, then back to Iowa, and now to a secluded cabin in an unincorporated area of northern California.
"It's a strange mix of folks out here," Griggs said. "It's quite different."
It's the kind of seclusion that hardly exists in the 21st century: no Internet access, spotty phone reception and few neighbors. But it is an ideal practice space and home for a band looking for the freedom to play music on its own terms and disappear for a few months to create a new album. The band is currently on a North American tour in support of its third album, "The Great Escape of Leslie Magnafuzz," including a stop in Ames at DG's Tap House on Saturday night.
"The Great Escape of Leslie Magnafuzz" was released in October on Alive Records, the original label of The Black Keys — who helped Radio Moscow get signed after Griggs passed a cassette tape to the band's merch guy at a show. The album was recorded in a studio north of San Francisco and fed through old tape machines to give it a vintage vibe, referencing genre idols such as Cream and Jimi Hendrix. The songs on the album are the product of the loneliness and eccentricities of the band's temporary home in remote Rancho Tehama, where the songs were written.
Though Griggs has a difficult time explaining exactly how the isolation of the ranch impacted the sound of the album, he acknowledges the presence of this outside force in the creative process.
"This place is pretty secluded and it's kind of lonely," Griggs said. "It's quite different than most places in America. We can't really get phone calls or get online. It gave the album sort of a different weirdness than the previous albums because we were so isolated."
It's that same isolation that inspired Alive Records to release a compilation called "Where is Parker Griggs?" It's an apparent acknowledgment of how difficult it is to get a hold of Griggs in his remote locale, not to mention the difficulty of attempting to reach the band while touring extensively in Europe, which Radio Moscow has done multiple times and to bigger fanfare than in its homeland.
"Our shows are twice as big over there as opposed to the average American gig," Griggs said. "The promotion is better and more people go out to rock and roll shows."
Though Europe has its own appeal, Griggs is looking forward to returning to Iowa, where his family still resides. Griggs cut his teeth in Ames as a teenager with dyed-blue hair playing drums in a punk rock band. His dad introduced him to British blues rock, and Griggs hasn't looked back since. When Griggs pulls into town this time, it will be in support of the music that inspires him: blues-meets- garage rock with a psychedelic spin. And if playing that music means living in a remote cabin in Northern California, unreachable to much of the outside world, then so be it.
Radio Moscow
Where: DG's Tap House, Ames
When: Saturday, 8 p.m.
Cost: $10, at midwestix.com
http://dmjuice.desmoinesregister.com/apps/pbcs.dll/article?AID=2012301030060
THE AQUARIAN WEEKLY (NYC / NJ weekly) – Positive show preview with band photo.
Radio Moscow: Storm's Brewin'
—by Roz Smith, January 9, 2012
On Jan. 12, Sweden's Graveyard and Iowa natives Radio Moscow will be tearing up NYC's Bowery Ballroom. The psychedelic garage-rock trio is currently touring the country with the Swedes in support of their latest release, The Great Escape Of Leslie Magnafuzz, which is out on Alive Naturalsound Records. Tickets for the Jan. 12 show are $13 in advance and $15 the day of. Doors are at 8 p.m., and the show is 18+. Don't miss the blues-rock power trio as they show the East Coast what the Dust Bowl has been stirring up.
http://www.theaquarian.com/2012/01/09/radio-moscow-storms-brewin/
EXAMINER: CENTRAL IOWA (online A&E site) – Positive Ames show preview with band photo and related links.
Radio Moscow comes to DG's Tap House on January 7
Radio Moscow will play a show at DG's Tap House (127 Main Street, Ames) on Saturday, January 7.  Doors open at 8 pm, and the show starts at 9 pm.  Tickets are $10 and can be purchased online through MidwesTix.  Bright Giant is slated to open.  You must be 21 or older to attend this show.
Radio Moscow is a psychedelic blues rock band that got its start in Story City, Iowa.  Though the band has moved around some and turned over some members, founder Parker Griggs still has the band on the cusp of breaking big.  The band currently features Griggs on vocals and guitar (and also drums when recording) and Zach Anderson on bass.  The band uses a variety of drummers when they tour.  The band is currently on a tour that has them playing nearly every single day in January, and includes dates in 16 different states from coast to coast during the month.
http://www.examiner.com/music-scene-in-des-moines/radio-moscow-comes-to-dg-s-tap-house-on-january-7
ALAN CROSS: A JOURNAL OF MUSICAL THINGS (online music blog) –  "If You Want Blood" story, with Parker photo, Ames live video, and related link.
http://www.alancross.ca/a-journal-of-musical-things/2012/1/11/radio-moscows-bloody-breakup.html
PLUG IN MUSIC (online music site) –  "If You Want Blood" story, with Parker photo, Ames live video, The Stranger mp3, tour dates and related link.
http://www.pluginmusic.com/news/article/radio-moscow-suffer-physical-meltdown-on-stage-during-show
DSM VIBE (online music blog) –  "If You Want Blood" story, with Ames live video.
The break-up and rebirth of Radio Moscow
Posted on January 11, 2012 by dsmvibe
In case you haven't heard, or were curious about our cryptic tweets from Saturday night's Radio Moscow/Bright Giant show, the video below should explain everything behind the break-up and rebirth of Radio Moscow.
http://dsmvibe.com/2012/01/11/the-break-up-and-rebirth-of-radio-moscow/