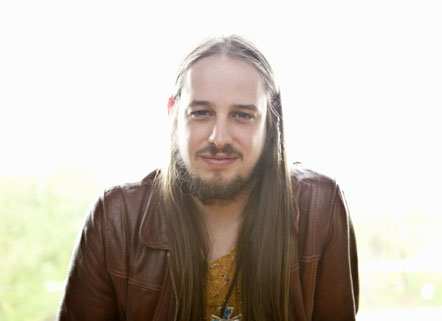 NORTH COAST JOURNAL WEEKLY
THE HUM / By Bob Doran
Summer Music
Radio Moscow
(June 21, 2012)
You may remember the psychedelic blues power trio Radio Moscow from the time they spent living in Humboldt. They relocated here from Iowa, where the band first came together. The fiery center of the band is guitarist Parker Griggs. In fact in the beginning, when he was still a 17-year-old, Radio Moscow was just him. Alive Naturalsound recently released 3 & 3 Quarters, a collection of previously unreleased tracks from his garage rock period, songs he recorded on his own, overdubbing drums, bass and guitar.
"I was into the Nuggets box sets and that mid-'60s sound," he said, calling from his new home, a "rancho" in the woods near Red Bluff. "I grew up with the whole grunge rock punk thing, then started getting into '60s music and blues, looking into older styles different from the more depressing stuff I was into. The instrumental parts were more complex and more fun to play."
When he moved from garage rock into wilder blues a la Hendrix and Cream, he started drawing more attention with his wailing guitar sound full of wild abandon. People wanted to hear him play live, so he put together a rhythm section and hit the road, eventually playing all over the United States and in Europe.
At the beginning of 2012, he had a new record, The Great Escape Of Leslie Magnafuzz, and a string of gigs to go with it. But at the start of the tour back home in Iowa, his bandmates rebelled and said they did not want to continue. Tempers flared. On day two of the tour the disagreement erupted onstage. "Some stuff got thrown around on the last song," said Griggs, who ended up getting his head cut open by a flying guitar. After he got stitched up, he fired his rhythm section, hired a new one and continued the tour.
Now it's summer and he's about to hit the road again with his new sidemen, playing in two dozen states and in Canada between now and early August. This time, day two is a Monday show at the Jambalaya with Dirty Streets, a like-minded psyche/soul band out of Memphis. You can expect fireworks, but only in the music, not between the musicians.
http://www.northcoastjournal.com/music/2012/06/21/summer-music/
TIMES-STANDARD (CA Northcoast daily) – Feature story with photo to preview Arcata show.
Blues-rockers Radio Moscow return to Arcata Frontman describes band's new re-release "primitive"
Myles Cochrane/Tri-City Weekly
The last time Parker Griggs and his mighty blues-rock trio Radio Moscow made their way into Arcata they shared the stage with Humboldt's own Ethan Miller and his Rick Rubin-supported psych-rock quintet Howlin Rain in February. Griggs, a friend of and collaborator with Dan Auerbach of the Black Keys (who produced 'Moscow's 2007 self-titled LP), is no stranger to the North Coast.
"I lived in Eureka for a year so it was kinda like a hometown show," Griggs said. "Got to see a lot of old friends from the area and that was good. Stuck around and hung out for a few days after also. "I like the Arcata-Eureka area a lot."
With Jimi Hendrix-esque riffs, psychedelic Cream-ish breakdowns, bluesy and powerful vocals in the same vein as Auerbach's and a riveting mix of the psychoactive 1960s, the rockin' and rollin' 1970s and the thunderous and stadium-ready blues-rock of today, Radio Moscow will take the stage on Monday night at the Jambalaya after a performance by classic rock trio The Dirty Streets out of Memphis.
Influenced heavily by the grungy "Seattle sound" scene made popular in the late 1980s and early 1990s, Griggs first picked up a guitar at age 10. "I was into sports like most kids earlier but then got inspired by grunge rock and lost all my interest in being in sports and most other things," he said. "(I) started a grunge band when I was around 12 but I was on drums and vocals. I did write the guitar parts for the songs though."
Formerly known under the solo name Garbage Composal, Griggs' first big break with Radio Moscow was when he was able to get a demo into the hands of Auerbach several years ago. "I passed along a demo to the Black Keys merch guy at a show and got a call later that night from Dan saying he really liked my music and that he was going to give it to a record label," Griggs said. "Maybe a year later I got another call saying come to Ohio and lay this stuff down. I added lyrics to the music then went to Ohio, and we recorded it all in two days. Dan was a cool dude and showed me a lot of good bands when I stayed at his place. It was a cool way to start Radio Moscow´s career."
Radio Moscow currently shares a spot on the Alive Records' lineup with the likes of The Black Keys, Buffalo Killers and more. After releasing their incredible self-titled, 2010's "Brain Cycles" and the blues-rock-roller-coaster ride that is 2011's "The Great Escape of Leslie Magnafuzz," Griggs just recently released a collection of minimalist White Stripes-esque Radio Moscow tracks that he recorded solo in 2003 called "3 & 3 Quarters."
"It's my old garage rock basement recordings from when I was 18," Griggs said. "The record label dug it so I had it re-released. It's a different thing than Radio Moscow is now though. Much more primitive."
While the lineup for Radio Moscow on drums and bass has changed often, the current incarnation features Billy Ellsworth on bass and Lonnie Blanton on drums. "I hope (they're here to stay for a while)," Griggs said. "It's quite bothersome to reteach the songs all the time (laughs)."
Before kicking off this next leg of his tour, Griggs is currently vacationing after a three-month stint in Europe. "We toured with (Swedish blues-rock quartet) Graveyard and I think they're great," Griggs said. "I'm vacationing in Spain right now and I've been hanging out and jamming with a brand new band called Prisma Circus from Barcelona. They're very good."
While Griggs has lived all over the place in Iowa, Colorado, Utah and California (hence the title of Alive Records' recent label compilation album "Where Is Parker Griggs?"), the musician says his home is "on the road" for now. "I have a house in the woods in Northern California about three hours from Humboldt but I think I'm relocating somewhere else when I return from the next tour," he said. "It was hard to stay on top of things and catch all the opportunities when I was living in the woods."
The next tour which hits Humboldt on Monday will see the trio travel to 35 cities all over the United States and even to Canada — a first for Parker.
Another exciting possible first would be the formation of a heavy supergroup with Griggs on drums. "I've talked with Dan (from The Black Keys) about starting a heavy psych power trio with me on drums and Dan on guitar and someone else on bass," Griggs said. "But it's been awhile since we discussed that."
Before the show on Monday, Radio Moscow fans in Humboldt might be able to be victorious in playing "Where Is Parker Griggs?" if they look in the woods, the mountains and the local record shops. "It's nice to make some time to check out nature and get out of town for awhile," he said. "I try to go record shopping in town before shows too if there's time. I've got some cool stuff from traveling around."
Tickets for Monday night's 21-and-over show at the Jambalaya can be purchased for $8 at the door. "Should be a good night," Griggs said. "We have a band called Dirty Streets from Memphis with us and they are rad. Come hang."
If you go
What: Radio Moscow, The Dirty Streets
When: 9 p.m. Monday
Where: Jambalaya, 915 H St., Arcata
Admission: $8 (door), 21+
http://www.times-standard.com/entertainment/ci_20888779/blues-rockers-radio-moscow-return-arcata-frontman-describes
HUMCITY (CA Northcoast online blog) – Brief Arcata show preview with band photo and Grimey's video.
http://humcity.blogspot.com/2012/06/radio-moscow-at-jambalaya-in-arcata.html