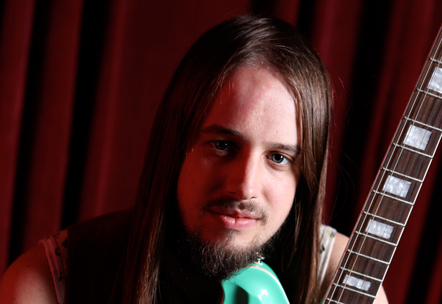 RADIO MOSCOW (Copyright Photo – Robert Matheu)
This summer Radio Moscow will be unleashing their own brand of super-heavy, lysergic-laced rock as part an aggressive tour where the Iowa power trio of Parker Griggs, Billy Ellsworth and Lonnie Blanton will be playing virtually every corner of this fine nation later this month and continuing through August. This tour is in support of their well-received third full-length The Great Escape of Leslie Magnafuzz, an album that Rolling Stone proclaimed is "fifty minutes of psyche-rock fireworks…. like spending an evening with Jimi Hendrix, Cream, ZZ Top, Deep Purple, Thin Lizzy and The Black Keys.
Joining Radio Moscow on this tour is the Memphis-based band Dirty Streets, whose own mix of proto-punk, soul roots and late '60s psych-rock should make for one helluvan explosive double-bill.
In other Radio Moscow news, Alive Naturalsound has also recently released Parker Griggs' debut album 3 & 3 Quarters, which up until now has been previously unreleased. Recorded entirely by Parker Griggs (he plays all the instruments) when he was only 17, this is garage music reminiscent of the Nuggets and Pebbles compilations, with a dash of Killed By Death dropped into the mix.
Both The Great Escape of Leslie Magnafuzz and 3 & 3 Quarters are available on CD, Digital and Ltd. Edition Colored Vinyl through Alive here.
RADIO MOSCOW SUMMER 2012 TOUR DATES
* w/ Dirty Streets
Jun 23 @ Whiskey Dick's,  Lake Tahoe, CA *
Jun 25 @ Jambalaya,  Arcata, CA *
Jun 26 @ Rotture,  Portland, OR *
Jun 27 @ Tractor Tavern,  Seattle, WA *
Jun 29 @ The Aquarium,  Fargo, ND *
Jun 30 @ Bayport Blues Fest,  Bayport, MN
Jul 02 @ Bombay Bicycle Club,  Clive, IA *
Jul 03 @ Yacht Club,  Iowa City, IA *
Jul 05 @ Rock Island Brewing Company   Rock Island, IL *
Jul 06 @ Grand Bar,  Chicago, IL *
Jul 07 @ The Pyramid Scheme,  Grand Rapids, MI *
Jul 08 @ The Brass Rail,  Fort Wayne, IN *
Jul 09 @ Now That's Class – Cleveland, OH *
Jul 10 @ 31st Street Pub,  Pittsburgh, PA *
Jul 11 @ Bug Jar,  Rochester, NY *
Jul 12 @ The Silver Dollar Room,  Toronto, ONT
Jul 15 @ Webster Hall Studio,  New York, NY *
Jul 16 @ Brighton Bar – Long Branch, NJ *
Jul 17 @ Golden West,  Baltimore, MD *
Jul 18 @ Strange Matter,  Richmond, VA *
Jul 20 @ Casbah Durham,  Durham, NC *
Jul 21 @ Asheville Music Hall,  Asheville, NC *
Jul 22 @ The Masquerade,  Atlanta, GA *
Jul 23 @ Caledonia,  Athens, GA *
Jul 24 @ Bottletree Cafe,  Birmingham, AL *
Jul 25 @ Siberia,  New Orleans, LA *
Jul 26 @ Fitzgerald's,  Houston, TX *
Jul 28 @ 29th Street Ballroom,  Austin, TX *
Jul 30 @ The Conservatory – Oklahoma City, OK *
Jul 31 @ The Czar Bar – Kansas City, MO *
Aug 01 @ Marquis Theatre,  Denver, CO *
Aug 02 @ Launchpad,  Albuquerque, NM *
Aug 03 @ Yucca Tap Room,  Tempe, AZ *
Aug 04 @ The Satellite,  Los Angeles, CA *
Aug 05 @ Cafe Du Nord,  San Francisco, CA *
(more dates to be announced soon)
HERE'S WHAT PEOPLE HAVE BEEN SAYING ABOUT RADIO MOSCOW'S RECENT ALBUM THE GREAT ESCAPE OF LESLIE MAGNAFUZZ:
"Californian based band lovingly concoct a Cream/Hendrix inspired album of cosmic blues. Mainman Parker Griggs is a great guitarist and he's clearly having a ball…. exhilarating stuff." – THE DAILY TELEGRAPH – UK
"Psychedelic, acid-laced guitar-based rock that will shake you to your soul." – MUSIC SAVAGE
"A bona fide blues-meets-psych-rock staple."- SALT LAKE CITY WEEKLY
"Radio Moscow is as close as you can get to the dirty, growling and honest heart of power trio rock without a DeLorean. The Great Escape of Leslie Magnafuzz is a victory for Radio Moscow in general and Parker Griggs in particular. The Story City, IA front man is possibly the most singularly gifted guitarist working today. This is your father's rock, in all the best ways." –  CITYVIEW
"Radio Moscow has released three albums blending blues and hard stoner rock on Alive Natural Sound Records, but in contrast with label-mates The Black Keys and Left Lane Cruiser, they add a potent psychedelic sound to the mix, bringing to mind late '60s/early '70s bands such as Blue Cheer, Hawkwind, Flower Travellin' Band and Cream." – SSG MUSIC
"The Great Escape of Leslie Magnafuzz is a piping hot batch of overdriven, wah-wah and THC-soaked jams and is Paker Grigg's homage to the heavier sounds of the Age of Aquarius. Radio Moscow's music is a bottom-heavy blues-bomb, with grooves that recall MC 5 and the contemporary Black Mountain, and shredding like a more structurally minded Jack White, with each note bleeding into the next under a sea of overdrive." – GOOD TIMES WEEKLY
"Parker Griggs and his band take it to the next level of power-trio psychedelic blues-rock with their third album, The Great Escape of Leslie Magnafuzz. The album opens in full hypersonic stride, with the bass and drums threatening to run away from the ear-clearing wails of Parker's fuzzed guitar, and the bombast doesn't let up until disc's end. There are a few production touches – stereo pans, phase effects and feedback – but the bulk of the album is straightforward, take-no-prisoners hard rock." – HYPERBOLIUM
"A solid collection of blues-metal-psych-boogie for your buck. Not much for pondering their navels or gazing at their shoelaces, Parker Griggs and company pound out rock and roll with chops, foot firmly on the fuzz/wah pedal and stop-on-a-dime dynamics… the results are gratifying." – LOS GRILLOS
"Radio Moscow bleeds Cream and The Jimi Hendrix Experience. They are not a normal blues group. They are not a normal psychedelic stoner-rock group. They are Radio Moscow, and this album cements their sound and place as an eclectic group in today's music scene."  – ALL CAMPUS RADIO NETWORK
"A hard rocking, blues heavy, growling rock masterpiece. This is the third Radio Moscow album and it is easily their most adventurous, most precise and most unique album.  It is also their best." – DES MOINES IS NOT BORING
"If you're into blues, classic rock, Led Zeppelin or Jimi Hendrix then this record is about to send you to heaven. The Great Escape of Leslie Magnafuzz is just another gem to add to the amazing collection of this band." – DR. DOOM'S LAIR
"Radio Moscow are aficionados of the golden age of dusty rock, and clearly proud to admit it. There's no hint of any of that sad-sack 'ironic' nostalgia at work here; this is the real deal, delivered with due reverence and plenty of enthusiasm. The Great Escape of Leslie Magnafuzz starts off with a hiss and a roar and never really lets up. It reverberates with stacks of thunderous fundamental riffs that have been twisted into some hard-rockin', good-times, prehistoric metal. Do yourself a big favour and seek this one out immediately. I'm off to invest in their first few albums; you best do the same, brother." – MANUAL MAGAZINE / NEW ZEALAND
"A muscular combination of effects, feedback, and sound-towers that makes for a bracing listen next to Hendrix, Blue Cheer and Robin Trower." – DAGGERZINE
"The band has a style and rhythm reminiscent of Blue Cheer and MC5, but with—believe it or not—more impressive guitar work. For those desiring music with layers, Radio Moscow is every bit as bluesy as it is early garage." – SANTA FE REPORTER
"If you're fond of classic grooves from acts like 10 Years After, Cream and the Jimi Hendrix Experience, these guys are definitely worth checking out." – IDAHO STATESMAN
"Radio Moscow have the perfect chemistry between percussion, vocals, and guitar…oh the guitar. It just shreds. I don't even know how to begin to explain." – SURROPA
"Do you pine for psychedelic blues rock in the vein of the Jimi Hendrix Experience, Blue Cheer, and the MC5? Ames, Iowa's Radio Moscow possess big, fuzzy riffs, a drummer who makes the full use of his toms, and a vocalist who may or may not have time traveled here from the Summer of Love. This is some sprawling stuff and all expertly executed. A rock blowout." – THE STRANGER WEEKLY
"This album comes on like an unholy mix of Blue Cheer and The Black Keys." – ELECTRIC GHOST / UK
"For a band that's had over three decades worth of sub-genres to get influences from (and lots of drugs too, I'm sure) their sound remains true to their late-'60s/mid-'70s core, but Radio Moscow is just so damn good that they manage to sound refreshing." – FABRIKA
"An eclectic mix of head-banging hard rock and psychedelic soulful vocals that with will creep through your headphones to your earholes' delight."  – THE WASTER
"The Great Escape of Leslie Magnafuzz may be the best album released this year."  – THE SODA SHOP
"If you don't find yourself banging your head at the 2:00 minute mark into this album, I'm fairly certain you're clinically dead." – MUSIC THAT ISN'T BAD
"Filled with delicious, heavy and spacy guitar solos. It rocks, hard, but is plenty psychedelic. These guys are completely and unapologetically committed to a heavy rock sound. I could throw enticing influences (Blue Cheer, Jimi Hendrix Experience, Deep Purple, Black Sabbath) at you all day, and continue to play the Black Keys card, if that would induce you to give a listen. If you're not familiar with their previous records, and you like this sound at all, you're in for a treat." – WHEN YOU MOTOR AWAY
"Cream would be proud. And if Hendrix were alive, he'd be honored. This power-trio created by two children of the corn, and a Colorado add-on create some of the most energetic music I've heard in a while. With a mix of traditional blues rhythms, upbeat boogie, psychedelic pedal effects, and cataclysmic solos that can peel the paint off the walls, the music that Radio Moscow produces is truly a jaw-dropping experience." – TYMPANOGRAM
"From note one [at their recent SLC show], Radio Moscow killed. Parker Griggs' guitar playing was unearthly groovy, his funky flourishes and hoarse, soulful vocals combined to make him a powerful stage presence throughout the show. His body rocked back and forth with the power of his mighty guitar, while Zach Anderson and Cory Berry backed him up with an unflinching, nonstop rhythm. Wild melodies spurred some truly crazy crowd antics as fans pushed eagerly towards the front, turning the stagefront into a wildly waving frenzy of scrambling, dancing fans as they moved to some deeper beat in the music – that classic psychedelic rock vibe that gives Griggs' music its cycling, hypnotic quality." – SLUG MAGAZINE

RADIO MOSCOW (Copyright Photo – Robert Matheu)

FOR MORE INFO ON RADIO MOSCOW:
http://radiomoscow.net
http://www.alive-totalenergy.com/x/?page_id=161
FOR MORE INFO ON ALIVE RECORDS:
http://www.alive-totalenergy.com
FOR MEDIA AND INTERVIEW REQUESTS:
Tony Bonyata
Pavement PR
p: 262.903.7775
e: bonyata@wi.rr.com