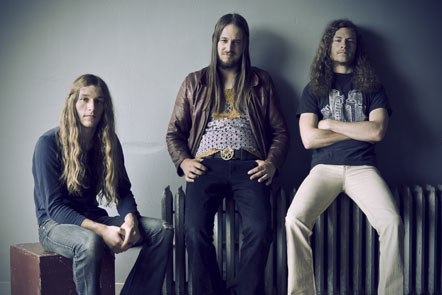 DES MOINES CITYVIEW (weekly alternative)
Radio Moscow
"The Great Escape of Leslie Magnafuzz"
Alive Records
By Chad Taylor
Radio Moscow is as close as you can get to the dirty, growling and honest heart of power trio rock without a DeLorean. "The Great Escape of Leslie Magnafuzz" is a victory for Radio Moscow in general and Parker Griggs in particular. The Story City front man is possibly the most singularly gifted guitarist working today. In this latest album, Griggs channels everything from Hendrix to Jeff Beck. Griggs' guitar work is feverishly creative, unapologetically old school and fraught with pissed off riffs that bring to mind Blue Cheer and the Yardbirds. Indicative of the vintage sound are tracks like the trippy, bass-heavy "Speed Freak" as well as "I Don't Need Nobody," a punishing five-minute reminder of the glory days of rock that shifts the spotlight between Griggs, bassist Zach Anderson and drummer Cory Berry with manic alacrity. This is your father's rock, in all the best ways. CV
http://www.dmcityview.com/2011/10/27/music/check.html#.TqrPWRDe35w.facebook
DES MOINES IS NOT BORING (Des Moines, IA music blog)
Radio Moscow
"The Great Escape of Leslie Magnafuzz"
Alive Records
My father was my first exposure to music.  I remember thumbing through his album collection as a toddler/preschooler and seeing names like Led Zeppelin, Steve Miller, Bob Seger and Eric Clapton.  I remember staring at the cover of the Blind Faith album trying to figure out if I was staring at a naked lady or just a shirtless hippie.  I also remember the guy with forks in his eyes from the cover of The Scorpions' Blackout and being absolutely petrified of it (to this day I have a recurring nightmare where Fork Eyes chases me around the skywalk).
The funny thing about all those albums is that is pretty much where he left off, musically.  Its like he found musical perfection in Great White's …Twice Shy and he just decided to call it.  It's too bad really.  I mean, I guess, if he's happy, I'm happy.  It just seems like he's missing out on some wonderful things that he would like; Radio Moscow, for example.
It is hard for me to know where to start with a band like Radio Moscow.  On one hand, they are loud and heavy.  They carry with them the Zeppelin swagger and blues guitar riffs that would fit in on the Dazed and Confused soundtrack without missing a beat.  The music is a heavy mix of loud and fuzzy riffs and psychedelic effects to time travel back to a time where your guitar was more than just a musical instrument.  It was a weapon and a lectern and a way to express yourself without using lyrics; as well as an occasional phallic representation (okay, a pretty much constant phallic representation).
Radio Moscow is a tribute of sorts to the classic rock I grew up with, but it is also a modern day auteur project that you wouldn't expect right away.  The bulk of the songwriting is done by Parker Griggs, who is also the vocalist, guitar player and studio drummer.  He also produced the most recent album The Great Escape or Leslie Magnafuzz.  The analog sound they used to produced this album, as well as the effects of the vocals seem like a very conscious use of their studio space, but also an intimate and wide-eyed understanding of their sound and what it's supposed to be.  The understanding and knowledge of the studio equipment and how they want their sound presented is an art in and of itself and seems far removed from sex drugs and rock and roll the sound implies.
These two dynamics come together to create both a hard rocking, blues heavy, growling rock masterpiece and a modern rock art project.  It is a fusion that many have tried, but few have ever achieved.  This is the third Radio Moscow album and it is easily their most adventurous, most precise and most unique album.  It is also their best.  I would recommend this album to people who haven't changed their radio dial from 94.9 in thirty years to people who don't even know that over the air radio still exists.  I may even try to get my dad to listen, but I won't go to his house until he removes his copy of Blackout. Fork eyes, man.  Scary stuff.
http://www.desmoinesisnotboring.com/wordpress/radio-moscow-the-great-escape-of-leslie-magnafuzz/