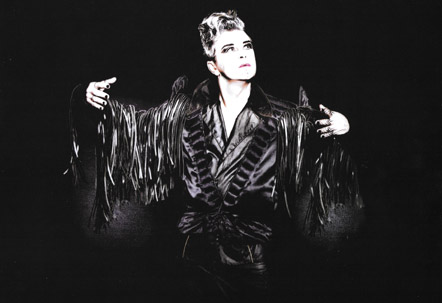 We are deeply saddened to hear to the news of Visage frontman and New Romantic icon Steve Strange's untimely death this Thursday. Steve passed from a heart attack at a hospital in Sharm el-Sheikh, Egypt. He was 55.
We had the pleasure of working press here in the States in 2013 for Steve and Visage's last studio album, Hearts and Knives (on Pylon Records). The album, which hearkens back to the sound of classic Visage records from the early '80s, was well-received by both media and fans, which pleased Steve immensely.
God bless you, Steve…. hopefully, wherever you are, there's a makeup kit and a microphone.
Here's a link to watch Visage's 2013 EPK video for Hearts and Knives album… https://www.youtube.com/watch?v=LiwSn1JSh6U
And here's what critic's had to say about Visage's Hearts and Knives…
"With its synth and disco-influenced feel Hearts and Knives is vintage Visage." – ROLLING STONE
"Recalling the new wave era when bands like Human League, Duran Duran, Heaven 17, Japan, Depeche Mode ruled the airwaves and some clubs here and abroad, Visage manages to get that vibe and take it into the 21st Century in a new fresh and interesting way." – CHICAGO SUN TIMES
"Aided by gloriously warm, analogue synths rather than impotent computer plug-ins, the retro-pop effect is well realized." – CLASSIC POP MAGAZINE
"This is new wave, art rock with a dash of punk thrown in. If you like program-driven dance music with a message – Visage is for you."  – LEE COUNTY COURIER
"The Top 10 Albums of 2013: Hearts and Knives slick electronic production, the atmospheric vocal power of Steve Strange and the album's inventive lyrics firmly remind us that Visage are still at the top of their game – despite their almost thirty year absence from the music world. The band have seamlessly adapted their signature sound for 2013 in what feels like a very-contemporary, yet very-Visage album." – CULTURE FIX
"… infectious" – PENNY BLACK MUSIC
"One of the year's best new albums. Steve Strange's voice hasn't aged a day and his album sounds both like fresh modern dance music AND the album Human League has been trying to make ever since Crash. If you like new romantic and new wave, this album and the OMD disc are the perfect one-two punch. – POPDOSE
"Visage still have it – they just kept it under wraps for 29 years. Hearts and Knives, in culminated opinion, sees Steve Strange and his group venture into new territory while displaying all the hallmarks of classic retrospectivity. Bravo. – SUBVERSION
"Hearts and Knives revels in its old-school synth pop feel, recalling the days when guitars and a real drumkit held hands with keyboard bass and programmed electronics. Not to mention melodies, the emphasis on which really sets Visage apart not only from today's rhythm-happy electro-rockers but even a lot of the band's contemporaries. – THE BIG TAKEOVER
"…the original vibe is here in full flower." – MIDWEST RECORD
"After a 30 year hiatus and the introduction of a new lineup, Visage returns with a familiar new wave sound that is so classic it should only be sold on vinyl or cassette." – EQ MUSIC
"New Romantic founders return with their first new music in 29 years, just in time for the re-emergence of synth-pop as a major creative force." – POPMATTERS
"If you ever had a soft spot for Steve Strange's lot back in the early 80's, I highly recommend their new album, they've managed to retain the electronic backbone of their first two albums, whilst adding more guitar and bass on top of it. There are some strong songs on it too, it's a great listen and will be in my year end top 5. It's retro yet modern sounding at the same time." – MELODIC ROCK
"Hearts and Knives is a time machine worth hopping on." – SANTA FE NEW MEXICAN
[photos: David Levine]