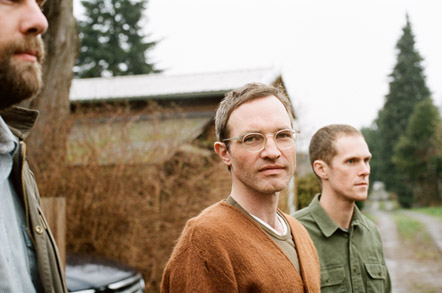 CLICK HERE TO LISTEN TO LONESOME SHACK'S HYPNOTIC NEW TRACK "TO THE FLOOR" VIA PUREVOLUME!
PREMIERE: Lonesome Shack — "To The Floor"
Veteran rockers Lonesome Shack are known for their no-frills, dirty blues rock. Their upcoming album, The Switcher, promise to be an ambitious step forward. The band challenged themselves to create a collection that packed the same pulverizing punch as their live show. The result is some of the band's finest work yet. We're stoked to premiere the band's first single, "To the Floor," from that album. The vibe is dark and a has a distinct roadhouse rock vibe, that can only be satisfied with a cold beer. Pacing steadily, but uneasy, "To the Floor" will leave you wondering what the band has in-store next.
"This is the first song of the album and I think it sets the tone well," singer Ben Todd says. "It's a good struttin' groove, with one main riff moving it along. The bottle drop you hear at the beginning is a ritual on all of our records. This song is about dancing and there's not much more to say. Thanks for listening!"
Lonesome Shack's The Switcher will be released on June 24 via Double Vinyl.
http://www.purevolume.com/news/PREMIERE-Lonesome-Shack-To-The-Floor